No paper trail.
No taxation.
No customs declarations.
Often preferential exchange rates.
Money laundering.
Due to the illegal nature of the process, the people transferring money (in this example Abdul and Mohammad) are now open to blackmail, giving the hawala traders and their associates leverage over their clients if needed.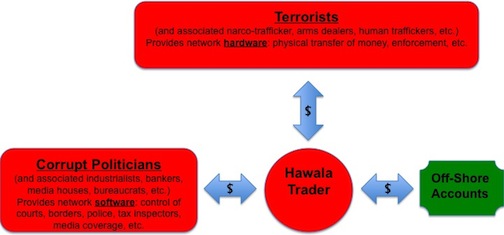 Deal for purchase of property i.e. Chateu Gutsch [sic] in Lucerne was finalized and during payment, USB [bank] informed that USD 300,000,000 the fund have arrived tagged with comment "Funds from Weapon Sales.
the issue of unaccounted monies held by nationals, and other legal entities, in foreign banks, is of primordial importance to the welfare of the citizens. The quantum of such monies may be rough indicators of the weakness of the State, in terms of both crime prevention, and also of tax collection. Depending on the volume of such monies, and the number of incidents through which such monies are generated and secreted away, it may very well reveal the degree of 'softness of the State.' [...] If the State is soft to a large extent, especially in terms of the unholy nexus between the law makers, the law keepers, and the law breakers, the moral authority, and also the moral incentives, to exercise suitable control over the economy and the society would vanish. Large unaccounted monies are generally an indication of that.
SUBSCRIBE AND FOLLOW
Get top stories and blog posts emailed to me each day. Newsletters may offer personalized content or advertisements.
Learn more