Sea-lanes and ports in relatively calm waters (increasingly important as China, in particular, increases trade with South America);
Access to fisheries (something increasingly important as the Atlantic is fished out);
Agricultural exports (especially important as concerns over food security increase in countries such as China);
Unknown but potentially valuable underwater resources;
Geostrategic military basing sites;
Crucial votes in international fora (Pacific Island countries represent around a dozen votes in the UN - a substantial voting block).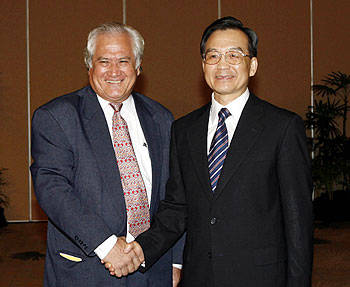 Chinese Premier Wen Jiabao (R) shakes hands with Dr. Fred Sevele, prime minister of Tonga, at the opening of the the First Ministerial Conference of the China-Pacific Island Countries Economic Development and Cooperation Forum in Nadi, Fiji, April 5, 2006.
SUBSCRIBE AND FOLLOW
Get top stories and blog posts emailed to me each day. Newsletters may offer personalized content or advertisements.
Learn more