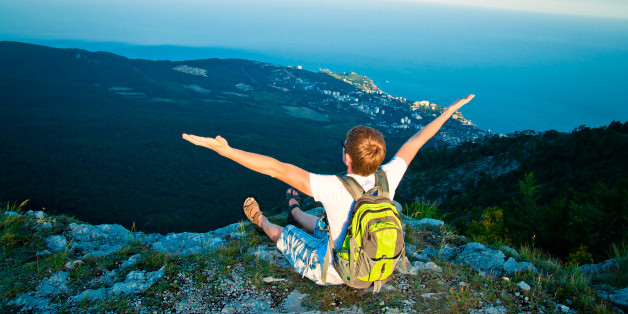 Katie and I are two Americans taking a Gap Year. We're spending time in Southeast Asia, Central America, South America, and Europe. There's a lot to see while we're traveling and the tools that we've carried with us help us stay safe, have more fun, and stay connected.
Five years ago you would see backpackers toting around heavy laptops covered with scratched paint and spilled coffee. Technology has become a lot more elegant and lighter since then. We've brought with us an iPad Mini and a bluetooth keyboard. So far the iPad has been an essential way to stay connected. As WiFi is becoming universal, we can communicate with friends and family over Skype, Facetime, Facebook, and email from almost anywhere. It has also allowed us to blog and process the stream of photos/videos that we're taking.
There are some distinct flexibility perks of having a tablet along for the ride. We're able to book flights, look up travel advice, email with hotels, and even translate using our tablet. It can also be a nice distraction from transit. We've seen quite a few others traveling with locally activated phones. While there's some distinct benefits there (especially with maps), I quite enjoy being disconnected most of the time. It keeps me more present and focused on where I am.
Something else that we can do on our tablets is watch movies on long airplane flights. We found a great trick which allows us to store a large selection of movies on our iPad without sacrificing storage space for apps, videos, and pictures. We've formatted our extra movies, loaded them onto SD cards, and purchased a lightning to SD card reader. When we're ready to watch, we plug the SD card reader into the iPad and download the movies one at a time. That allows us to store an unlimited amount of movies as long as we keep them organized.
The other primary use for the SD cards are our cameras. We have a standard point and shoot camera for day trips and beautiful sunsets. We also have a GoPro Hero camera which is the real star. We can take it underwater, drop it, and otherwise abuse it in its sturdy case. Most recently we attached it to a helmet and took it with us on an eight day motorbike tour of northern Vietnam.
We did think about bringing a digital SLR camera on our travels. It is a great tool for the professional photographer, but not for the professional traveller. It would be a heavy, luxury item for us to carry and protect. It would also put us behind the lens more often than we'd like - especially as we get farther away from cities and the first world.
As we travel farther from the concept of filtered tap water, another standout item is the SteriPen. We use it to clean the water we drink which saves us from buying countless bottles of water. The SteriPen is a small device that fits inside our Nalgene bottle and uses UV light to sterilize tap water in any country we visit. Not only does it save us money, but it is extremely convenient and helps us do our part to take care of the environment.
We want to make sure that all these valuable travel tools I've mentioned stay safe during our journey. Something that gives us that peace of mind when we're outside of our hotel or home-stay is a Pacsafe bag that we can lock our valuables inside while we're out. It is a steel-reinforced container that we can lock to anything sturdy in the hotel room. I'm certain that someone could break into it if they really wanted to, but it would require considerable extra effort and that's what I count on keeping my valuables safe.
A few other obvious things to bring: good sunglasses, waterproof bag, medication, sunscreen, bathing suit, sandals/shoes, and a backpack. All that said, all you really need is your passport, some money, and a sense of adventure but I hope that these tips help you in your planning for long or short term world travel.
If you'd like to follow our adventures or hear more, please have a peek at our travel blog: www.codyandkt.com.
SUBSCRIBE TO & FOLLOW LIFESTYLE
Get top stories and blog posts emailed to me each day. Newsletters may offer personalized content or advertisements. Learn more