To advance from a nuanced dissent to a compelling vision, progressive policymakers should turn to the great mainstay of twentieth-century U.S. foreign policy: liberal internationalism, which posits that a global system of stable liberal democracies would be less prone to war.

Washington, the theory goes, should thus offer assertive leadership -- diplomatic, economic, and not least, military [our emphasis] -- to advance a broad array of goals: self-determination, human rights, free trade, the rule of law, economic development, and the quarantine and elimination of dictators and weapons of mass destruction (WMD).
In a confidential memo, the "Red Cell" wrote:
The Afghanistan mission's low public salience has allowed French and German leaders to disregard popular opposition and steadily increase their troop contributions to the International Security Assistance Force (ISAF). Berlin and Paris currently maintain the third and fourth highest ISAF troop levels, despite the opposition of 80 percent of German and French respondents to increased ISAF deployments, according to INR polling in fall 2009.

Public Apathy Enables Leaders To Ignore Voters ...

Only a fraction (0.1-1.3 percent) of French and German respondents identified 'Afghanistan' as the most urgent issue facing their nation in an open-ended question, according to the same polling. These publics ranked 'stabilizing Afghanistan' as among the lowest priorities for US and European leaders, according to polls by the German Marshall Fund (GMF) over the past two years.

According to INR polling in the fall of 2009, the view that the Afghanistan mission is a waste of resources and 'not our problem' was cited as the most common reason for opposing ISAF by German respondents and was the second most common reason by French respondents. But the 'not our problem' sentiment also suggests that, so for, sending troops to Afghanistan is not yet on most voters' radar.

But Casualties Could Precipitate Backlash

If some forecasts of a bloody summer in Afghanistan come to pass, passive French and German dislike of their troop presence could turn into active and politically potent hostility. The tone of previous debate suggests that a spike in French or German casualties or in Afghan civilian casualties could become a tipping point in converting passive opposition into active calls for immediate withdrawal.
...messaging that dramatizes the potential adverse consequences of an ISAF defeat for Afghan civilians could leverage French (and other European) guilt for abandoning them. The prospect of the Taliban rolling back hard-won progress on girls' education could provoke French indignation, become a rallying point for France 's largely secular public, and give voters a reason to support a good and necessary cause despite casualties... Outreach initiatives that create media opportunities for Afghan women to share their stories with French, German, and other European women could help to overcome pervasive skepticism among women in Western Europe toward the ISAF mission...Media events that feature testimonials by Afghan women would probably be most effective if broadcast on programs that have large and disproportionately female audiences.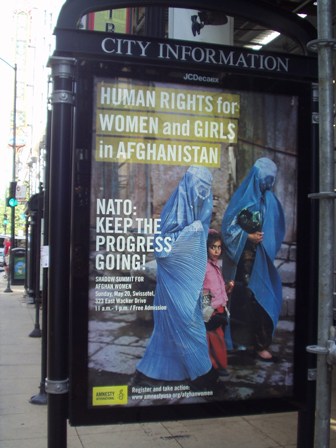 The feminist victory may be complete in America, but on the international stage it's not doing so well with three quarters of the world's women still under often-severe male domination. Afghanistan is an extreme case in point in what might be termed the first feminist war ... a war that now may not be won even if Hillary Clinton dons a flack jacket and shoulders an M16 on the front lines. Still, since the Bush Administration to the present America 's top foreign policy office has been held by women ... women who have promised not to desert their Afghan sisters.
...Could someone from AI please explain why Madeleine Albright was invited to participate in this event? We (and especially those of us who are familiar with AI) should all be able to understand that the wording on the poster was a genuine, albeit damaging, mistake. But why Ms. Albright?

The posters are pro-NATO and play into prevailing tropes about so called "humanitarian intervention" via "think of the women & children" imagery. The posters & the forum that includes Albright are neither slight slips nor without context. AI is coping heat because they have miss-stepped dramatically. There is NOTHING subtle about either the imagery nor the message! It is not a case of "oh sorry we didn't realize it it could be interpreted that way! They used pro Nato imagery & slogans ahead of & during a controversial summit that has thousands protesting in the streets. Tell me again how that is not taking sides? They asked a notorious apologist for mass murder of children to speak on the right of women and children...tell me again: how is that not taking sides. So it is absolutely reasonable for past supporters (and board members like myself) to be asking how it is that Amnesty USA so lost its bearings they could make a critical SERIES of errors like this?
SUBSCRIBE AND FOLLOW
Get top stories and blog posts emailed to me each day. Newsletters may offer personalized content or advertisements.
Learn more