Cheers to Princess Kate!
Here, here to the long awaited engagement of Prince William and his Princess-to-be, Kate Middleton. After eight years of dating, this stylish Sloane Ranger patiently and perfectly nabbed one of the world's most eligible bachelors and his late mother's stunning oval sapphire and diamond engagement ring -- which was a perfect fit. Diana would be so proud.
In fitting tribute, I decided to create a sparkling sapphire drink in honor of our future Princess Kate. Stylish, hence the Prosecco. A natural beauty thanks to organic blueberries and and delectably sweet with a touch of St. Germain. A perfect cocktail for Will's perfect girl.
So, join me in raising a glass of bubbly for our beautiful bride-to-be and her ring, fit for a Queen. While Princess Diana's extraordinary spirit could never be diminished, we have high hopes for Wills and Kate and the inspiring charitable works they can accomplish together as a royal first couple.
Here's to fairy tales that do come true.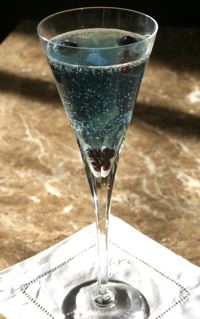 Kate's Sapphire Stunner

Serves 4
1 bottle Prosecco
2 oz. St Germain liqueur
1/3 cup organic frozen blueberries
In a cocktail shaker muddle the frozen blueberries with the St. Germain liqueur. Divide mixture evenly among four champagne glasses. Top each glass with Prosecco and serve.
Cheers!