If there are any more snow days, I'm going to have to go to rehab with Charlie Sheen. To be prepared for the imminent "winter storm" -- along with the extra gallon of milk -- I've stocked up on a few libation necessities. They are, at this point, more necessary than anything else I can think of. So when I have friends in on the next snowy day, I won't be pouring hot chocolate -- they can go to Starbucks for that. At my house, I'm serving up some much-needed Tropical Cocktails. There's nothing like a tangy tropical cocktail to warm you up and melt a few icicles. I'll be wearing my new Tory Burch Bradshaw sandals, and dancing around, while I pour -- mind you, a good hostess always knows her duties -- to Celso Fonseca's Brazilian rhythms.
I should of put a snow day cocktail in my book, The Stylish Girls Guide to Fabulous Cocktails... but alas, who knew?
It's time to hit the tropics, via the bar of course. For your next Happy Hour, invite some friends in, mix up a pitcher or two, and play some tropic tunes. Take a sip, take a sojourn and drift away to the tropical destination of your dreams leaving the winter blues far behind you.
Five easy steps for a Hot Tropical Happy Hour:
1. Mix-up these tantalizing tropical cocktails
2. Download and play your favorite collection of island tunes
3. Pick up flowers in vivid colors, light candles and hang festive lanterns
4. Serve easy island nibbles; salsas, empanadas, and spicy nuts
5. Turn the heat-up, put on a sexy dress, and go island style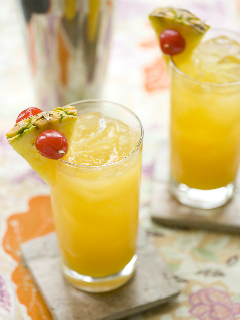 Rum Around
Serves 4
10 oz. pineapple juice
4 oz. light rum
4 oz. dark rum
2 oz. coconut nectar
2 oz. cherry juice
Mix ingredients in a pitcher and pour into ice-filled glasses. Serve with pineapple slices and cherries.
Tequila Sunrise
8 oz. tequila Blanco
12 oz. freshly squeezed orange juice
2 oz. limejuice
2 oz. grenadine
Orange slices and cherries for garnish
Fill glasses with ice, in a pitcher mix tequila, orange juice, and limejuice. Divide evenly among four glasses. Slowly pour the grenadine into each glass. Garnish with orange slice and cherry and serve.
Passion fruit Martini
Serves 4
8 oz. Absolut Mandarin vodka
8 oz. passion fruit nectar
8 oz. pineapple juice
Pineapple chunks for garnish
Pour all ingredients into a cocktail shaker filled with ice. Mix well and let stand until frosty. Strain into glasses, garnish each with a pineapple chunk or two serve.
Follow Colleen Mullaney on Twitter: www.twitter.com/lifemadestylish