You can almost taste the cheerfulness in the air walking along the frozen sidewalks in downtown Chicago. Christmas shoppers are engulfed in warm puffy coats with scarves wrapped around their necks. They walk along the Magnificent Mile while the sound of jingle bells from the horse pulled carriages linger and intertwine with blaring of taxi horns.
A twenty-something city girl enjoys the hustle of winter in the city and never leaves her home without looking like a Fashionista. She embraces the opportunity to try different, unique outfits that celebrate the urban lifestyle.
"I could go as classy as Jackie Kennedy or as daring as Effy from the Skins UK." Says Taylor Gligorovic of Chicago, IL, "I really am most creative when mixing high-end pieces with my thrift store treasures. On the days I really have no idea what to do with my closet I think, 'be like Kate Moss' or, you could easily see me on the CTA in boy jeans, men's Calvin Klein briefs sticking out and a crop sweater."
Embracing different kinds of styles has been around forever, but most people don't go out of their comfort zone to try and see if they even like different aesthetics.
"I like to be different, daring, sexy, chic and classy. It evolves from colors I like, parts of my body I want to show off, what my mom wore when she was my age and my mood; If I'm sleepy, or not having the best day, I'll want to look like Wednesday Addams. If I'm joyous and silly you'll see me in a tutu and converse." Explains Gligorovic.
But sometimes all it takes for a Fashionista is too look back in history at trends and people that inspire them to create new trends for coming seasons.
"I love Marie Antoinette. She was fabulous. I'd lose my head to have that hair and those gowns. I also adore the little black dress, but who doesn't, it's a trend that will always be in style." Says Gligorovic
Implementing a different style and changing the way you look is a freedom that some people wish they could have. The opportunities to dress the way you feel are endless. Try something new and then try again. Who knows, maybe you'll end up finding something about yourself you hadn't known before.
What is she wearing?
Taylor is wearing a Gracia A-line skirt, Ray-Ban wayfarers, her mom's suede wedges, her first and favorite leather coat her oldest friend bought her in high school, a Bloomingdales infinity scarf, Akira Chicago purse and gloves.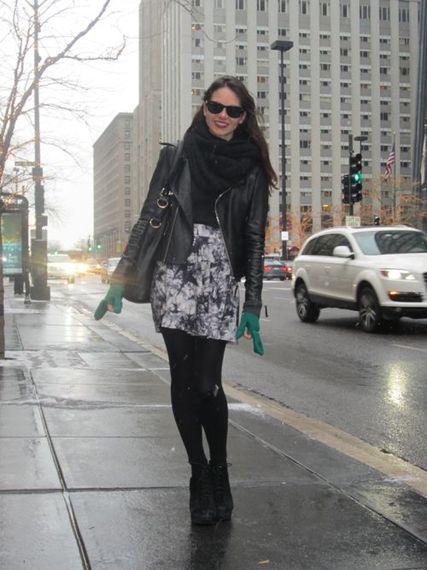 Ally Straussner is a junior journalism student at the University of Missouri Columbia and will be studying at the University of Paris IV - Sorbonne in the spring of 2014. She is majoring in Strategic Communications with emphasis in Business Fashion hoping one day to work as a Publicist for a fashion house in either New York or Paris. When not writing for College Fashionista, she spends her free time writing and photographing for her own blog: www.Tartally.blogspot.com