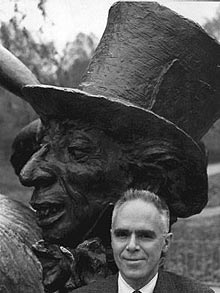 CAPTION: Martin Gardner and Brian O'Nolan, early 1960s
CAPTION: Julia Child's kitchen at the National Museum of American History, DC
"You casually announce that you have memorized the entire telephone directory. You will be told, no doubt politely, that you are a liar.

Very well, you say to some individual, get pencil and paper and write down absolutely any four numbers that come into your head... now multiply that four-figure number by 9... Now add the figures of the result... Now, get the telephone directory... tell him to go to the page in the directory that bears his last number. If, say, it's page 31, count down the telephone numbers till you reach number 31. You now tell him the telephone number and the name and address of the subscriber.

Explanation: no matter what four numbers he starts with... the answer will be 9, 18, 27, or 36. You have, of course, memorized the appropriate entries on those pages."

Many a man has spent a hundred years trying to get the dimensions of it and when he understands it at last and entertains the certain pattern of it in his head, be the hokey he takes to his bed and dies.
SUBSCRIBE AND FOLLOW
Get top stories and blog posts emailed to me each day. Newsletters may offer personalized content or advertisements.
Learn more