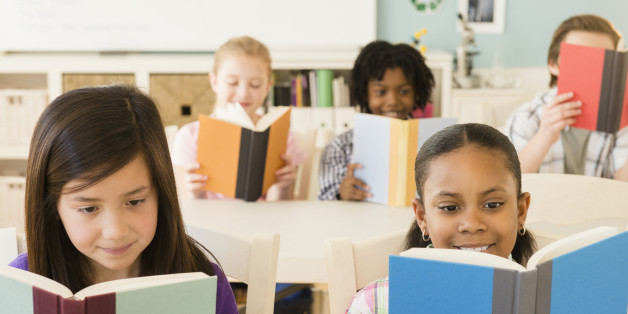 The numbers don't lie (one study found that in a study of 3,200 of the 5,000 children's books published in 2013, just 93 were about Black people). But as a children's book critic, I'm definitely seeing a trend in authors featuring diverse casts in the novels that come across my desk.​ What these books of all genres have in common is telling stories with diverse characters where race isn't the central issue in the storyline. Instead, the issues are solving mysteries, defeating bad guys, coping with loss, following your destiny and more. And readers see reflected a multicultural world where it's normal for young people of different cultures and national heritage to work together to get the job done. ​​
Here are just five examples: 
2. Spirit Animals (age 8+)
In this multi-platform fantasy series written by various authors, including Brandon Mull and Maggie Stiefvater, the four main characters are Black, Asian, white and a street urchin of unspecified race.
3. Heroes of Olympus (age 10+)
Rick Riordan's fantasy adventure series -- a Percy Jackson series spin-off -- features a Chinese-Canadian character, an African-American girl from New Orleans and a Mexican-American boy. (And Riordan's Kane Chronicles books center on siblings with a Black father and white mother.)
4. Counting by 7s (age 10+)
In Holly Goldberg Sloan's stunning coming-of-age novel, the 12-year-old protagonist is a self-described "person of color" who cobbles together a family with a Mexican taxi driver, a white school counselor, two Vietnamese-American teens and their Vietnamese mom.
5. Dust Girl (age 12+)
This trilogy has a strong female main character who's half-human and half-fairy, and her human side is half-white and half-African-American. An intricate blend of fantasy and historical fiction, it mixes in Celtic, African-American and Native American folklore and musical traditions. 
We know how challenging it can be for parents of children of color to find books in which characters of their ethnicity are represented -- and not limited to tired stereotypes or only relegated to minor characters. And we know how beneficial it can be for kids of all backgrounds to understand the motivations, points of view and cultural and historical issues of people unlike themselves through stories. 
About Common Sense Media
Common Sense Media is dedicated to improving the lives of kids and families by providing the trustworthy information, education, and independent voice they need to thrive in a world of media and technology. We exist because our kids are growing up in a culture that profoundly impacts their physical, social, and emotional well-being. We provide families with the advice and media reviews they need in order to make the best choices for their children. Through our education programs and policy efforts, Common Sense Media empowers parents, educators, and young people to become knowledgeable and responsible digital citizens. For more information, go to:www.commonsense.org.
SUBSCRIBE AND FOLLOW
Get top stories and blog posts emailed to me each day. Newsletters may offer personalized content or advertisements.
Learn more