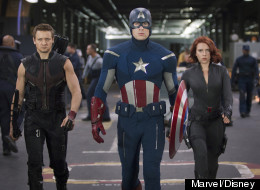 <
With sequels, explosive superhero adventures, and eye-popping animated flicks taking over theaters this summer, it might be hard to decide what will be worth your family's time (and money!). From the highly anticipated Marvel "dream team" blockbuster The Avengers to fresh fun with the Madagascar and Ice Age gangs, here's a month-by-month cheat sheet to help you decide which high-profile movies will be age appropriate for your kids.

The Avengers (May 4) Target Age: Older Tweens and Teens What's the Buzz: What's better than a superhero flick? A movie about a group of superheroes, from sweet Captain America (Chris Evans) and burly Thor (Chris Hemsworth) to rakish Iron Man (Robert Downey Jr.) and green-with-anger Hulk (Mark Ruffalo). This Marvel "dream team" unites to save the Earth from the nefarious Loki and his legions of destruction. Expect epic tween interest -- and plenty of comic book-style mayhem.

Dark Shadows (May 11) Target Age: Teens What's the Buzz: Johnny Depp and director Tim Burton team up to give the cult-fave '70s vampire soap opera a modern, comic twist. Along with the culture-clash humor, expect some sexy stuff, mature laughs, and possibly some blood and gore (the main character is a vampire, after all).

Battleship (May 18) Target Age: Older Tweens and Teens What's the Buzz: If G.I. Joe can score a big-screen adaptation, why not Hasbro's classic combat board game? Featuring a slate of appealing stars (Taylor Kitsch, Alexander Skarsgard, Brooklyn Decker) and the acting debut of hip-hop artist Rihanna, this epic-scale alien-invasion/action movie promises Transformers-meets-Independence Day violence.

Men in Black III (May 25) Target Age: Older Tweens and Teens What's the Buzz: Ten years after the hit sequel Men in Black II, Agents J (Will Smith) and K (Tommy Lee Jones) return in this long-awaited follow-up adventure. Agent J, now a 15-year veteran of the government's covert MiB, must travel back in time to ensure that a young Agent K (Josh Brolin) makes a fateful decision that could save his future self and life on the planet. Be ready for some gross-out alien moments, as well as lots of fast-paced, potentially explosive action.

Snow White and the Huntsman (June 1) Target Age: Teens What's the Buzz: Mirror Mirror is 2012's colorful, comedic take on Snow White, and this is the darker, feminist adaptation of the fairy tale. Starring Twilight's Kristen Stewart as the Fairest One of All, Thor's Chris Hemsworth as the conflicted woodsman, and a scary Charlize Theron as the beautiful but deadly Evil Queen, this violent adventure looks to be much more of a war film than a princess story.

Madagascar 3: Europe's Most Wanted (June 8) Target Age: Young Kids What's the Buzz: Everyone's favorite Central Park Zoo animals are back! This time around, Alex (voiced by Ben Stiller), Gloria (Jada Pinkett Smith), Marty (Chris Rock), and Melman (David Schwimmer) resurface in Monte Carlo to rescue the mischievous penguins. To escape from a vicious animal control agent (Frances McDormand), the crew joins a traveling circus. Fans of the first two will definitely want to move it, move it again.

Rock of Ages (June 15) Target Age: Teens What's the Buzz: The hit Broadway jukebox musical gets adapted for the big screen with Tom Cruise starring as a fictional '80s hair-band front man. Showcasing a number of classic rock hits, the film follows young lovebirds (Julianne Hough, Diego Boneta) who arrive in Los Angeles to make it big in the music industry. Part romance, part rags-to-riches story, the movie is likely to attract teens -- both guys and girls.

Brave (June 22) Target Age: Young Kids What's the Buzz: In Pixar's latest animated epic -- the first revolving around a female character -- medieval Scottish princess Merida (voiced by Kelly Macdonald) accidentally unleashes a beastly terror and must battle it on her own to protect her kingdom. Pixar has promised a "fairytale without romance," making Merida a strong-willed princess that girls and boys will want to see on screen.

G.I. Joe: Retaliation (June 29) Target Age: Older Tweens and Teens What's the Buzz: Even though critics panned the first G.I. Joe in 2009, it made more than $300 million worldwide, making this sequel inevitable. With supporting appearances from Dwayne "The Rock" Johnson and Bruce Willis, this is sure to again appeal to tween boys and anyone interested in military action adventures. But, like the first one, it promises to be a lot more violent than the younger kids who play with G.I. Joe toys are ready for.

The Amazing Spider-Man (July 3) Target Age: Older Tweens and Teens What's the Buzz: Only five years after Tobey Maguire played the legendary web-slinger in Spider-Man 3, the franchise reboots with a new, younger Spidey: Andrew Garfield. Co-starring Emma Stone as Peter Parker's love interest Gwen Stacy, the new take focuses on a highschool Spider-Man who's obsessed with figuring out how and why his parents died. Expect even elementary-age kids to ask to see it -- but be ready for plenty of fights, comic book action, and some creepy villains.

Ice Age: Continental Drift (July 13) Target Age: Young Kids What's the Buzz: The prehistoric animated pals return for their fourth escapade. Manny (voiced by Ray Romano), Diego (Denis Leary), and Sid (John Leguizamo) are separated from their family during the continental drift. Holding onto an iceberg, they encounter a pirate ship and attempt to find Manny's wife and daughter. With the ever-determined Scrat continuing to search for his beloved acorn, this looks like fun for the whole family -- though everyone's favorite unconventional herd is likely to face a fair bit of peril.

The Dark Knight Rises (July 20) Target Age: Teens What's the Buzz: Christopher Nolan and Christian Bale team up for their final Batman feature. Picking up eight years after The Dark Knight, this movie has Batman resurfacing to take a stand against scary new baddie Bane (Warrior star Tom Hardy). Everyone (even single-digit-aged kids) will want to check it out -- but, as with its predecessors, The Dark Knight Rises will be much darker and more violent than earlier Batman incarnations.

The Watch (July 27) Target Age: Teens What's the Buzz: Seth Rogen and writing partner Evan Goldberg have spun another testosterone-fueled comedy. This one follows a group of suburban dads who form a neighborhood watch as a reason to escape their families. But the joke's on them when they uncover an evil plot that threatens life on Earth. Starring Rogen and pals Jonah Hill, Ben Stiller, and Vince Vaughn, this could be one of summer's biggest -- and potentially edgiest -- comedies.

Step Up Revolution (July 27) Target Age: Tweens and Teens What's the Buzz: The fourth time's a charm for the dance-centered Step Up franchise. This installment returns to the "opposites attract" story of the original, centering on Emily (Kathryn McCormick), an aspiring professional dancer who falls for the Latino leader of a local dance crew (Ryan Guzman). Sadly, the guy's Miami neighborhood is being threatened by none other than Emily's father, a greedy real estate developer. Expect romance, some off-color language, and sizzling dance sequences.

Diary of a Wimpy Kid: Dog Days (Aug. 3) Target Age: Kids and Tweens What's the Buzz: Any kid who has read and loved Jeff Kinney's hilarious tales of a middle-school nothing will want to be first in line to see the latest in the movie series. The third film focuses on Greg's summer, which he plans to spend indoors playing video games and hanging out with friends. But his mom spoils everything when she schedules a summer full of outdoor adventures and family time. Like the other two, this movie is likely to have a fair bit of middle school (read: bodily function) humor alongside its relatable characters and situations.

The Bourne Legacy (Aug. 3) Target Age: Teens What's the Buzz: The Bourne franchise is back, but instead of chronicling the life of Matt Damon's Jason Bourne, it now follows another CIA operative, Aaron Cross (Oscar nominee Jeremy Renner), and a stellar cast including Rachel Weisz and Edward Norton. Although neither Damon nor director Paul Greengrass are involved, the movie is still likely to feature many violent action sequences and an intrigue-filled plot.

The Odd Life of Timothy Green (Aug. 15) Target Age: Older Tweens and Teens What's the Buzz: In Disney's new family fantasy, Jennifer Garner and Joel Edgerton (Warrior) play an infertile couple who bury a box in their backyard containing of all their wishes for a child. Then the universe grants them their wish in the form of a little boy who magically appears at their door during a rainstorm. Young Timothy Green, however, isn't your typical kid; he's special in ways the Greens never imagined. Although this movie is from Disney and is likely to get a kid-friendly rating, odds are this will probably appeal more to parents than anyone else.

ParaNorman (Aug. 17) Target Age: Kids and Tweens What's the Buzz: This animated adventure from the makers of Coraline looks aimed at slightly older kids rather than the preschool and kindergarten set. Norman is a misfit who doesn't fit in at school and worries his parents with his oddball behavior. The thing is, he can see and speak to the dead -- and the friendly ghosts have a mission for him to break a centuries-old curse that could destroy his small town. Like Coraline, expect this movie to be too scary for the youngest moviegoers.

Sparkle (Aug. 17) Target Age: Teens What's the Buzz: Since this is the late Whitney Houston's final film role, the anticipation for this Dreamgirls-like musical is now through the roof. A remake of a 1976 film starring Irene Cara, the new version stars American Idol champ Jordin Sparks as the titular young singer who forms a group with her two older sisters (Carmen Ejogo and Tika Sumpter) in Motown-era Detroit. Houston plays the girls' affluent and demanding mother. Be ready for plenty of showbiz and interpersonal drama, as well as the possibility of strong language and other mature content.
>