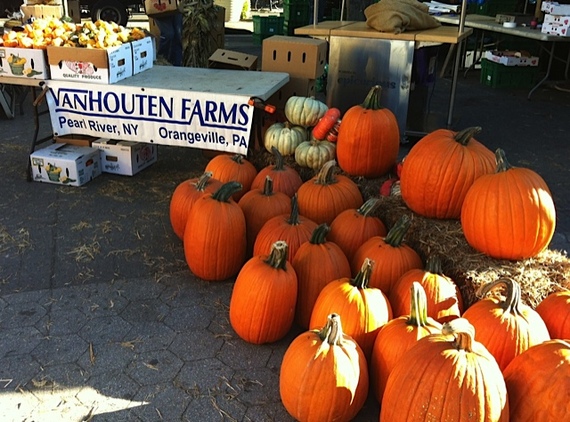 The bounty before the breach, the treasure trove of the dirt farmer, the end-of-season Union Square greenmarket- it somehow seems fitting to go out in a blaze of glory. An eager gatherer, I approach the market with two empty tote bags and a pocket full of cash.
At the burgeoning and ever-more-popular New York venue for buying fresh and local produce, the time is now for the pick of the harvest. Market greens have expanded into yellows and purples and fiery reds- the stalls are ablaze with color. Carpe diem! Squirrel away your root vegetables now and the January winds that whip across the plaza will not seem quite so punishing.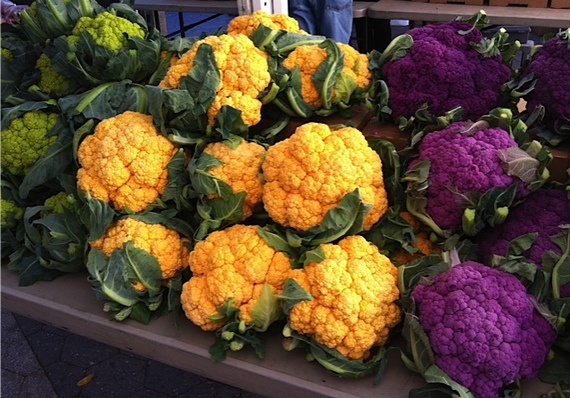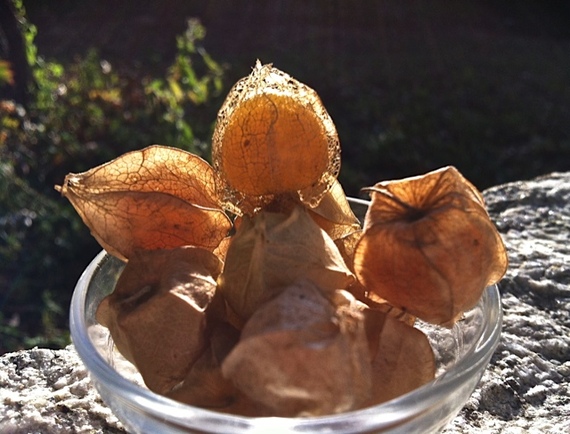 One of the great joys of the market is not just the high quality of the produce, but the amazing variety available. Looking for lavender? There's English, American and French, both fresh and dried. In the mood for serving up omelets to a couple of dozen guests? Buy an ostrich egg and you'll only need one.
The mushroom man carries a whole host of edibles sure to impart a culinary high if no other. His bins hold shiitake, crimini, hen-of-the-woods, and the loveliest oyster mushrooms, trumpeting forms that look like they've billowed up from undersea.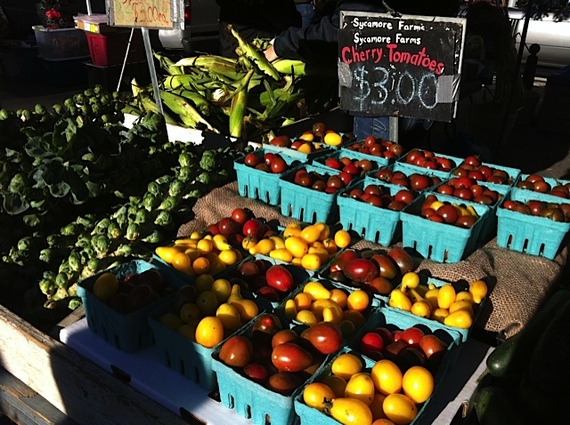 Bee colonies (some, at least) are alive and well if their products at the honey stall are any indication. Choose flavors to suit your petal preference: Orange blossom, Linden, Goldenrod and Fallflower. And if you want to cut to the essence, there's pure bee pollen. This fairy dust forms small granules when it's collected from a chute in the hive built narrower so its sides act like a squeegee, scraping the collected pollen off the bee's body. A clever trick- this beekeeper better wear fully protective armor!
Moving on, there are pumpkins and peppers and cauliflower in shades to rival the sunset. But don't be deceived- some of the market's finest offerings are its ugly ducklings. Take the husk cherry, a small fruit that hides its charms in a crinkly sheath- not so appetizing looking. But peel away the soft shell and you get a pit-less cherry that tastes like no other- sweet, tart and tawny.
Another sleeper whose charms are disguised by a homely exterior is the Jerusalem artichoke, a.k.a. sunchoke. Colorless, lumpy and covered with warts, it is a diner's delight. With a texture between potato and jicama and a nutty flavor that hints of artichoke but sweeter, they make sublime soups.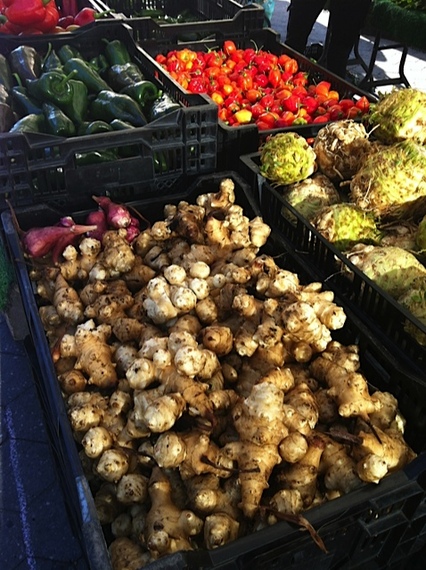 I'm intrigued by the nubby sunchoke but ignorant of how to cook it, so I ask the farmer behind the table who's laying out produce from the truck. A man standing next to me pipes up, friendly and full of suggestions. He tells me they can be baked in salt, puréed in a bisque, sautéed with sage butter- he makes it all sound easy and delicious. Then he takes leave graciously and the farmer says, "Do you know who was talking to you? That's the chef from the Union Square Café."
At this point my bags are full and I've spent all my cash. It's time to take my loot and go. I glance back at the bustling stalls, golden in the autumn light, and I thank my lucky stars for the greenmarket- for the farmers and all the glorious life that hums around them.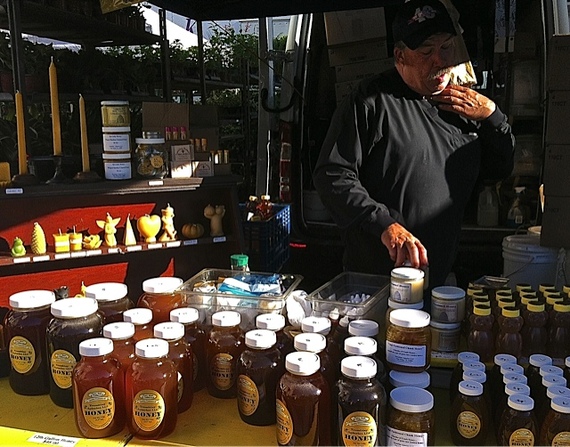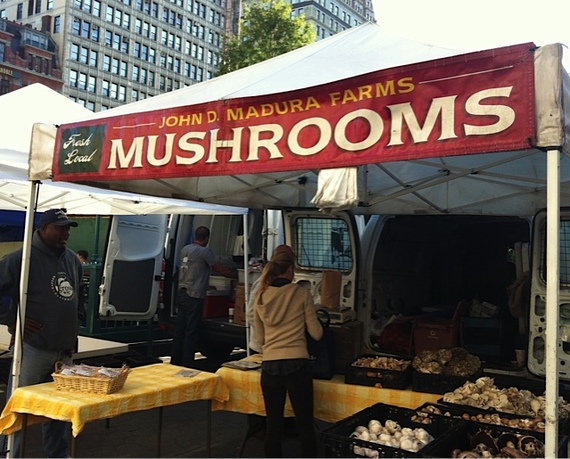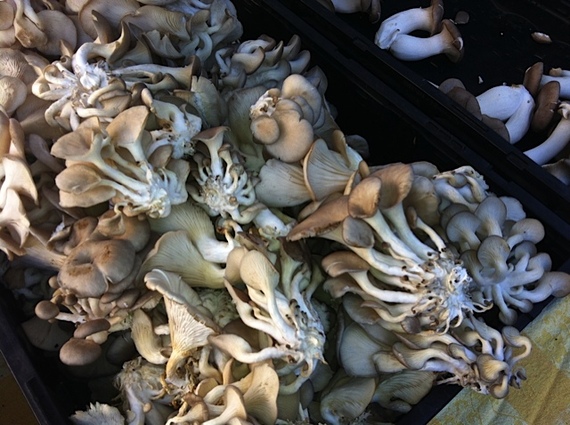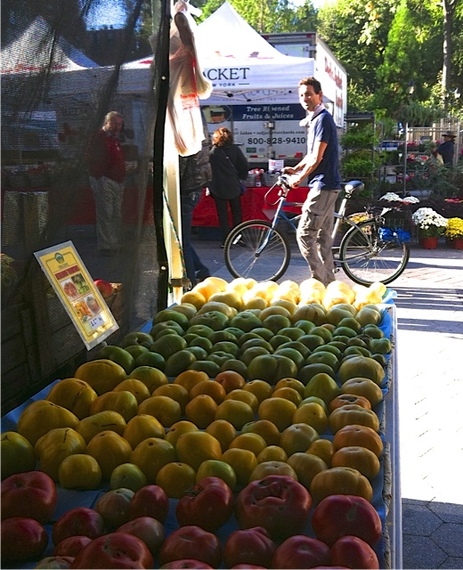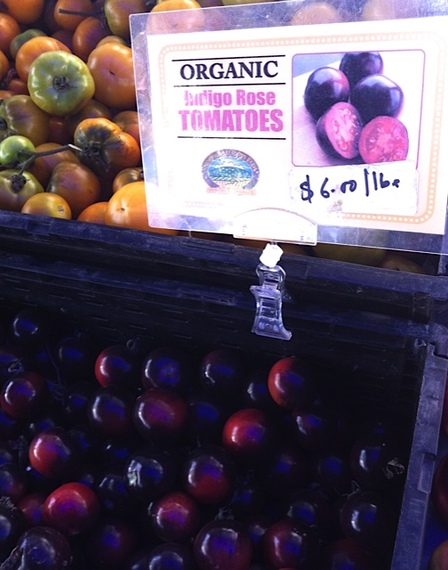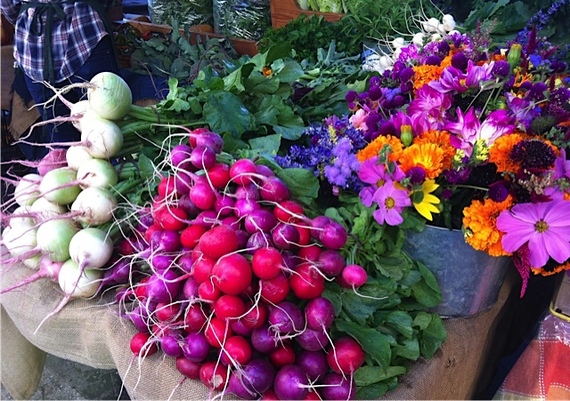 This Blogger's Books and Other Items from...
SUBSCRIBE TO & FOLLOW THE MORNING EMAIL
The Morning Email helps you start your workday with everything you need to know: breaking news, entertainment and a dash of fun. Learn more