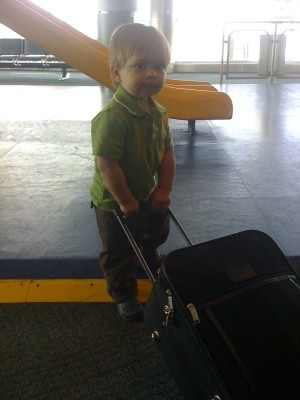 Let's just say it started out as a productive burp. And as I began the process of tidying us up, the floodgates opened, and the contents of the bottle that satiated my toddler son and put him to sleep at the start of our journey was now in my lap and didn't smell pretty. Then, not unlike a famous scene from a movie based on a Stephen King short story, my daughter next to me began to heave, and up came all the juice and treats she normally associates with travel days. I was traveling alone with my two children and suddenly living (and smelling like) my worst travel nightmare.
But I consider myself lucky. Combined, my children (aged five and almost two) have been on 25 trips of varying destinations and durations, and this was our first encounter with in-flight vomit.
Everyone seems to have on opinion on whether you should travel with young children or, if you do, where they should sit. This USA Today piece garnered over 700 comments about limiting families to specific seating on planes. Suffice it to say, most of those 700 people would prefer children not fly at all. Same goes for this more recent New York Times article on the same topic, which started a flurry of opinion pieces on the idea of child-free flights. This light-hearted one by author Emma Waverman is pro-family sections on planes. She explains:
The ironic thing is that even when I am traveling with my brood I sometimes find myself doling out a little evil eye to other parents whose kids are disturbing my kids' sleep. I get irritated by the relentless droning of a baby and I don't like getting my seat kicked either... Hence, my desire for a family-friendly section with a babysitter who has qualifications in sleep training, gourmet cooking and puppet shows. Wouldn't that be the way to go?
It's almost enough to put you off traveling with kids altogether, and I suppose that's the point. But our adventures as a family have bonded us, tested us, and opened up a whole new world to us. And also? Our adventures have taught me a lot about flying with kids. Here are the five biggest things:
1. People are kind
Even my seatmate during the aforementioned barf-o-rama kindly offered tissues as I attempted to mop up our mess. Passengers gave me understanding looks and words of encouragement as they deplaned, while I continued cleaning. This was hardly the eye-rolling and tsk-tsking I was expecting.
2. People love children
Whether it's a rousing game of peek-a-boo with my son or a genuine interest in my daughter's doll, flight attendants and fellow passengers have always stepped up and engaged my children. I keep expecting and waiting for the dirty looks and snide comments, but, as of yet, they have not materialized. Or maybe I just haven't noticed?
3. It's easier than you think
It might be that they are out of their element and therefore a little afraid, but my kids are often better behaved than usual when we're cruising through a travel day. Now that my daughter is older, she's an excellent traveler as she knows she's going somewhere fun.
4. It's tougher than you think
See the aforementioned barf-o-rama. There are also delays, waiting on the tarmac, small and scary airplane restrooms, spills, security, and germs. Be prepared, and try to stay positive.
5. You don't remember the bad parts
As with childbirth, I suppose, the end result kind of erases the journey. My memories of our family travels are not of long and uncomfortable flights or early mornings or near-missed connections. They're of babies waving at palm trees and sandcastles and ocean breezes.
Corinne McDermott is the founder of Have Baby Will Travel -- your online guide for travel with babies, toddlers & young children. From baby packing lists to tips on coping with jet lag in toddlers, Have Baby Will Travel wants to help you travel with your baby! For more, visit Corinne's blog, follow Have Baby Will Travel on Twitter and like us on Facebook, where Corinne welcomes your questions and comments.

SUBSCRIBE TO & FOLLOW LIFESTYLE
HuffPost Lifestyle is a daily newsletter that will make you happier and healthier — one email at a time. Learn more