Soluto Wins at TechCrunch Disrupt 2010
Soluto is looking to disrupt the software and hardware industry with its "anti-frustration" software that can "map the PC Genome." Soluto's Chief Product Officer, Roee Adler, hopes its terrific technology will "make the world a happier place." Unlike almost every other startup at TechCrunch Disrupt, Soluto presented a program that runs on a machine and isn't related to Twitter, Facebook or your iPhone. In fact, it was the only non-cloud based tool presented at the conference.
And maybe for those reasons, it won the TechCrunch Disrupt award, beating out the other members of the top 5- Betterment, MOVIECLIPS, Publish2, and UJAM of TechCrunch Disrupt's 20 featured startups. After winning, TechCrunch editor Michael Arrington made it rain with a bottle of bubbly, offering it to the crowd. "All we want is to make many, many users very happy," says Adler.
Soluto detects all software problems and all hardware as long as it is connected to the software on a PC. For example, it wouldn't detect problems in your CD-Rom but it would detect problems if your screen is flickering. In fact, Soluto is relevant for every platform where processors battle for resources. The days of calling India and waiting in line for 4 hours to fix your Dell are over with Soluto. Google VP Marissa Mayer said, "The technology is clever. I'm excited about how technologies like this can help find problems sooner."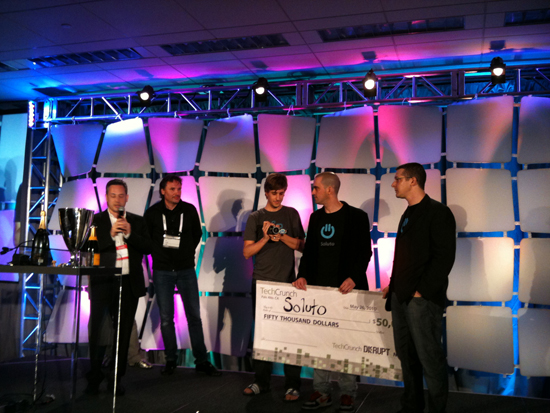 Howard Greenstein, President of the Harbrooke Group says his PC used to boot up in 3 minutes. After using Soluto's technology, it now loads in 1 1/2 minutes. "That's just incredible," he says, "That's 84 hours of my life (assuming he boots up 4-5 times a day) a year that I no longer have to spend waiting for my computer to boot."
Soluto, based in Tel Aviv, Israel was founded in 2007. In 2009 Soluto secured $6.2 million in financing from Bessemer Venture Partners and Giza Venture Capital on top of the $1.6 million it raised in 2008 from Proxima.
The name "soluto" means solution in Portuguese. Why Portuguese? "Because we love Brazil," says Adler, "Who doesn't love Brazil?" With 23 employees, CEO Tomer Dvir says he is going to spend the $50,000 prize money on his employees. "They deserve a vacation, somewhere exotic," he says smiling.
Follow Courtney Boyd Myers on Twitter: www.twitter.com/CourtneyBMyers