I've noticed something very interesting during my third pregnancy. If I'm out in public alone, I get a lot of this: "Oh how far along are you?" from smiling faces. They almost always follow up with "How exciting! Is this your first?" When I am out with my kids, it's very different. I have two girls who are 4 and almost 3. The usual comments are "You had to try for a boy, huh?" or "Whoa! Three kids?" My personal favorite is "What are you going to do if it's another girl?"
One woman in line at the grocery store told me she'd never have more than two children, because a third would only take away from the time and "things" she could be giving to the other two. That comment really got me thinking. Come October, would we be so strapped for those valuable resources that we'd be taking away from our children? The thought upset me.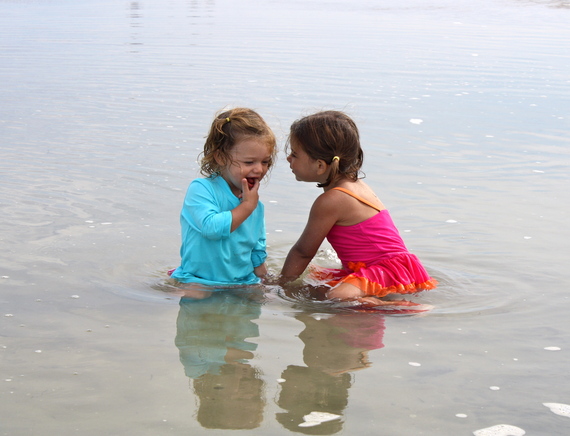 Since my first daughter was born, I've spent countless hours researching everything, from the top sippy cups to the best preschool. I try my best to buy organic, and even made some of their baby food. I've tried hard to only give my girls the best, but the very best thing I've ever given them is each other. 
They learn from each other, love each other and play, laugh and grow together every day. 
Both girls enjoy preschool, but there was one morning when Alex, my youngest daughter, was upset at drop off. I was trying to comfort her, when Maggie, my older daughter, got out of her class line and walked over. She took Alex by the hand, walked her right to her classroom's door, opened up her backpack and pulled out her favorite princess tiara. She put it on Alex's head and hugged her tight. Alex smiled, waved to me and walked into the classroom. 
They have each other, and always will. As a mother, you want to take care of your children at every moment and in every situation, but it's important to see that they have other people watching out for them and loving them all the time. For Maggie and Alex, I see this every day, as I watch them look out for each other. From the playground to brushing each other's hair, their bond is strong and important. 
I've given them the best gift I know, a sibling. Come October, I will bring home another sibling, another gift to grow along side them forever. 
My parents made sure there was not much my brothers and I ever wanted for, from toys to top schools. We were very fortunate in all we had, but the greatest thing they gave me was my siblings. Sure, we fought a lot -- all three of us are very different people. But the pride I have for my brothers' accomplishments can only be compared to the pride I have now for my own children. My siblings make me laugh, cry and worry and they offer constant support. 
I married into a family full of wonderful loving siblings, too. My husband grew up one of four; he has a support system in his three older sisters. For my husband and me, our five siblings are our roots. The joy our siblings bring us is the joy we hope for for our children; it drives our desire for a large family. Girl or boy, we are just overjoyed with the gift of being able to grow our brood.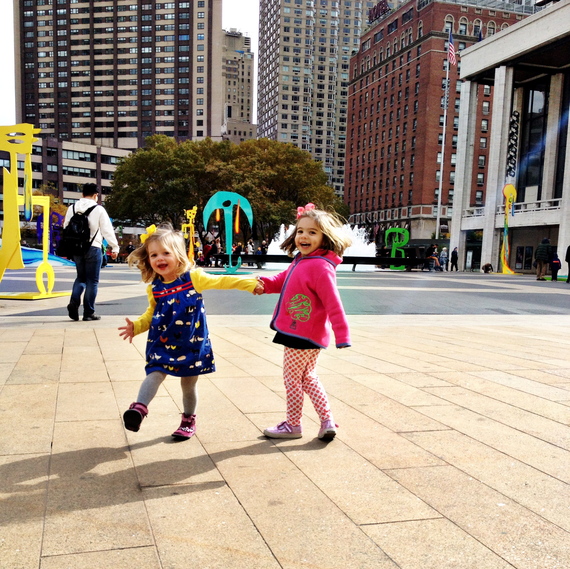 My husband and I don't have much room in our house, but in our hearts, we have room for a big family, full of siblings, like the homes we grew up in. I shouldn't expect strangers to understand that. I do hope my girls understand that and embrace the newest member of our family. I watch their love for each other grow more each day, and in my heart, I know they will be thankful for the addition of another sibling. Perhaps not the first few months, but throughout their lives, this gift. Brother or sister, we can't wait to meet the newest sibling in our growing family. 
Like Us On Facebook |

Follow Us On Twitter |

Contact HuffPost Parents