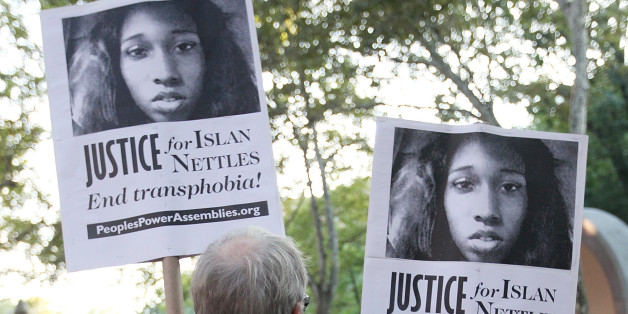 I did this for the first time last year. The 20-odd transgender deaths that passed my desk during 2012 were compiled into a post presenting the victims' names and how they died in order to convey the importance of observing the Transgender Day of Remembrance. I'm doing it again for 2013.
This is by no means a complete list. Most transgender deaths are unreported or lost due to misgendering. I should also point out that not everyone agrees on which types of deaths ought to be included in such lists. I've included domestic violence and suspicious deaths but excluded suicide. I'm starting with the most recent death and working my way back to November 2012:
Mercedes Demarco (aka Fernando Gomez): Died in police custody after being tased. The exact cause of death has not been disclosed by this writing.
Hilary Molina Mendiola: Pulled from a car and thrown from a bridge by two men in Mexico City.
S. Athiswaran: Found tied up and stabbed to death at her home in Bagan Ajam, Malaysia.
Eyricka Morgan: Died at a hospital after being stabbed at home in New Brunswick, N.J. A roommate has been arrested and charged with murder.
Melony Smith: Beaten to death in Baldwin Park, Calif. A suspect has been arrested.
Shaun Hartley: Found beaten to death in an abandoned house in Baton Rouge, La. Hartley was a witness to a murder for the East Baton Rouge Parish District Attorney and may have been silenced.
Konyale Madden: Found shot to death in her home in Savannah, Texas.
Islan Nettles: Died at a New York City hospital following removal of life support after being declared brain-dead following a brutal beating. Police have a suspect.
Domonique Newburn: Found dead in her home in Fontana, Calif. Police have a suspect.
Gaye: Found murdered in her home in Istanbul, Turkey.
J. Ratworabood: Shot to death after she was given a ride home in Khon Kaen, Thailand. The police arrested a suspect.
Mylene: Beaten to death with a hammer in Limoges, France. A suspect has been arrested.
D. Jones: Beaten, stabbed and hacked by a mob in Jamaica. No suspects have been arrested.
Hari (female name unknown): Found dead under a pile of rocks in Mangadu, India. A suspect has been arrested.
Diamond Williams: Hacked to death with an axe in Philadelphia. A suspect has been arrested.
Dora Oezer: Found stabbed to death in her home in the providence of Kusadasi in Turkey.
Unknown: Found dead in a Houston, Texas, gully.
Diana Martinez: Shot to death inside a hotel in Monterrey, Mexico.
Unknown: Brutally murdered in Hidalgo, Mexico.
Wanda: Legendary Miami entertainer was shot to death in Tampa, Fla. A suspect has been arrested.
Laura Aguilar: Stabbed to death in Rio Grande, Argentina, during an apparent domestic dispute with her ex-partner.
Cemia Acoff (aka Cemia Dove, Cici): Found in a retaining pond tethered to a block in Cleveland, Ohio. A suspect is now on trial for the murder.
Ashley Sinclair: Found shot to death in Orange County, Fla.
Kelly Young: Died at a hospital after being shot in her home in Baltimore, Md.
Milan Boudreaux: Found shot in the head at her New Orleans-area home. A suspect has been arrested.
Unknown: Beaten to death in Istanbul, Turkey.
Evon Young (aka Yung LT): Choked, shot and tossed in a dumpster. His body was never found. Five suspects were arrested.
Cecilia Marahouse: Shot just outside Fortaleza, Brazil.
Gunce Hatun (aka Dairy Babe): Shot on the streets of Istanbul, Turkey. A suspect was detained.
Transgender Day of Remembrance is Nov. 20. You can also read a report on each individual on this list, including links to sources. Feel free to share your comments or new facts on any of the trans people on this list.
Thanks for reading.