THE BLOG
'BBQ Pitmasters' Finale: A Fine Finish As We Pay Cheeky Respect To The Godfather

Let's begin by noting that for six weeks one of the producers of the Kingsford "BBQ Pitmasters" has been telling me the finals will be broadcast on the new Destination America network on July 8, a fact I have published in all five of my previous reviews exclusively on The Huffington Post. Then, last week they pulled a last minute switcheroo and announced that the broadcast of the final cookoff would be on Sunday, July 1. The announcement also contained this good news: There will be a new season of "BBQ Pitmasters". If you took Sunday night off, here's what happened:
It was winner-take-all as the five victors from the preliminaries competed for $50,000, the title "Kingsford BBQ Pitmasters Grand Champion," and a spot in the Kingsford Invitational (at which I will be a judge).
In this episode the contestants assembled in Lexington, NC, at the Barbecue Capital Cookoff in late April. The competitors were, in the order of their finish:
1) Johnny "Godfather" Trigg, Smokin' Triggers, Alvarado TX (my prediction: 1). The grand old man of barbecue at age 73, a specialist in ribs, he has appeared on all three seasons. Trigg claims to have won $600,000 in competition over the years, but the $50,000 check was by far his biggest.
2) Corey Brinson, Fatback's BBQ & Rib Shack, Fayetteville, NC (my prediction: 4). This good guy makes a living selling barbecue from a trailer hitched to his pickup. You get the feeling he could really use the money. I had to root for him.
3) Danielle "Diva" Dimovski, Diva Q BBQ, Barrie, Ontario (my prediction: 2). This demonstrative, nervous Canadian is among the few competitors on the circuit who can cook more than the four meats required in a competition. She's a well-rounded cook. She's won a few events, but rarely any of the most prestigious events, and she's still not in the same league as Trigg and Cookston, although she talks as if she is. She did get in the best one-liner during the judging. The contestants were watching the judges from another location when one complained that Diva's pork wasn't as silky as it should be. "It's freakin pork," she groaned "not [bleepin] lingerie."
4) (Tie) Melissa Cookston of Memphis Barbecue Co. in Nesbit, MS (my prediction: 3). The winningest woman in barbecue, one of the winningest cooks regardless of gender, a successful restaurateur and a modest person who says "We believe smack talk is bad karma, and karma is a bitch, she'll bite you in the ass." In other words, she is the anti-Diva.
4) (Tie) Solomon "Rib King" Williams, Carolina Rib Kings of Georgetown, SC (prediction: 5). Relatively inexperienced in big comps, he won his prelim by beating two lightweights, and was in over his head. He talked smack about Trigg being old and ready to step aside for him. Not yet, my friend.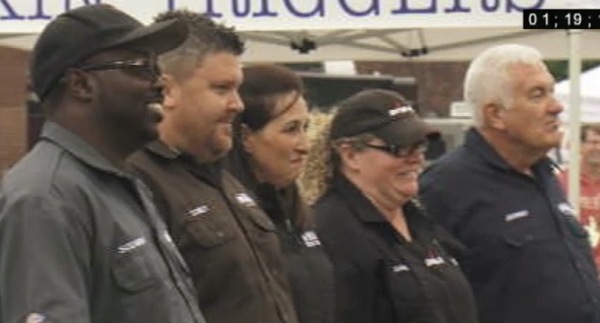 From left to right in the picture above, they are Solomon, Brinson, Cookston, Dimovski and Trigg.
How they cooked
For last year's finals, the producers threw the cooks a fastball at their chins: Whole Hog. This year they lobbed a softball right over the plate. Whole pork shoulder and spare ribs. These are meats they should be able to cook with their eyes closed although they are more used to cooking just the upper part of the shoulder, called the butt. So they all went about their business on autopilot, and then, with about two hours left, the judges had them step forward. Out came a cooler filled with a pig cheeks. Jowls, as they are also called, make excellent bacon or a variant, Italian Guanciale. But because they are tough well exercised muscles, I suppose they will do well if cooked low and slow to tenderize them. They were also told they had to display all three meats in the same presentation box.
All the teams pretty much treated the shoulder and ribs with the standard competition barbecue method: Trim the fat, inject flavor, season with a sweet and salty rub, roast low and slow in a smoky cooker, wrap in foil after a few hours to braise and tenderize, remove from foil and roast a little longer to firm the crusty bark and serve. That's the way these folks cook practically everything. Yes, each did little things differently, but by and large they all have just this one basic recipe they use with only minor variations on everything.
The cheeks caused a lot of consternation. Diva was the only one to say she had cooked them, so the others were improvising. After they trimmed them they ended up with a pear-shaped cut of meat about the size of a large pork chop. Trigg pan seared his with onions, and then put them in foil in his pit. Cookston braised hers in an aluminum pan in her smoker. Diva cut them into small bite sized chunks, a smart move that made them easier to chew. But the judges complained about it because they couldn't judge how tough they were. Solomon caught the worst slam of the day with his cheeks: One judge said they were "like a pencil eraser." Ouch.
Trigg says he's never injected meat and he never will. He rubbed his meats with a layer of oil before laying down his spices, an unusual method I have been recommending for years because many of the spices are oil soluble. He cooked all his meats in his large tubular Jambo offset wood burning pit at about 250F.
Brinson cut what is called "the money muscle" off the shoulder and injected the rest with brown sugar and apple juice, but it was not clear how he handled the money muscle. He cooked at about 275F on a Backwoods Smoker, a big box that looks like a black refrigerator.
Diva partially separated the money muscle and tied it to make sure it was tubular. She injected with phosphates, cooked at 225F on a pellet smoker which has a digital thermostat control, runs on electricity, and burns wood pellets made from sawdust. Most folks don't inject ribs, but more and more are doing it nowadays. Diva did. She cooked the ribs in her Onyx Oven, a charcoal smoker, at 225F for a few hours to get them smoky, and then she moved it to a pellet grill to finish.
Cookston removed most of the fat from her shoulder to promote more dark bark formation. A lot of cooks leave the fat on to baste the meat with rendering fat, but bark is popular with judges (and everyone else), so I agree with her. She cooked it at 225F on her Backwoods. Her ribs cooked at 275F. I'm not sure how she cooked the two meats at different temps unless she had two cookers.
Solomon injected his shoulder with pineapple juice, apple juice, salt, sugar and he said he would cook at 225 to 235F. But then he put the ribs in the same smoker and said he would cook at 250F, so clearly these guys were not sworn to honesty. He cooked on either a Southern Pride or Ole Hickory, a huge box that has a ferris wheel arrangement inside and enough capacity to handle a medium size restaurant.
Season wrapup
This was a good formula for this type of cooking contest, much improved over last season. The best change was the time devoted to showing us a lot more about how these guys cook. And that was a revelation. I'm not sure folks at home should be thinking about pumping phosphates into their meats, squeezing Parkay all over them, and wrapping them in foil for much of the cooking. This is both overly fussy for backyard barbecue and a far cry from the "traditional barbecue" the judges kept speaking about. What we saw was a whole new form of barbecue, as different from traditional Southern Barbecue as is Chinese Barbecue.
As a reader, Mike Bolda, commented on my Facebook page, "I am by no means a traditionalist, but I know I wouldn't let them chemicals roast on my pit. Might as well use lighter fluid to start your fire."
The judges clearly knew more about this style of cooking than last year's panel, which was anchored by Myron Mixon, and had former NFL star Warren Sapp and famous chef Art Smith. Replacing the chef and jock with Tuffy Stone, a top pitmaster himself, and Aaron Franklin, owner of the hottest barbecue joint in the nation put real experts on the panel. This is both good and bad. I would like to see judges who are not holding a Platonic vision of what ribs should taste like. I would like to see judges capable of enjoying creativity, like ribs with an Asian flavor, or pork loin cubed and skewered on rice with a mushroom sauce.
I also wish the judges weren't allowed to watch the cooks at work. This is far too much info for them to have to be truly blind tasters. I know they will protest that they never let knowledge of how each team cooked cloud their judgment, but it is well known in product evaluation community that a taster will use all the information available to him, consciously or unconsciously. I seriously doubt that the show was rigged, but the fact that Trigg is good friends with at least two of the judges, and they could see him at work, is enough to make me wish they had not been watching, and it should make the producers nervous too. As they say in politics, the appearance of wrong-doing is just as bad as doing wrong.
I wish they had made the contestants stretch a little more. No, not the froglegs and snakes they were forced to cook last year. Yes, this year they were given turkey, ham, pork belly, pork jowls and whole chickens, not the boneless breasts they cook in competitions. But it might have been fun to see if they have a clue about rack of lamb, shrimp, salmon, steaks, even burgers. Then again, I fear that they would probably cook them all the same way they cook ribs. Alas, these folks really don't have much range.
Another way they could improve is to get better Pitmasters. Although Judge Mixon said "You are all the five best Pitmasters in the country," it would be hard to make the case for this for more than 3 or 4 of the 15 cooks. None of them ranks in the top 10 standings this season or last. I know they are looking for cooks with personality, this is entertainment and there is toilet paper to be sold, but I know for a fact that many of the real top pitmasters have plenty of personality, although not all of them may be willing to brag as much as the contestants that were chosen. What they don't have is a clever audition tape. In this era of reality TV, if they remade the Wizard of Oz, Scarecrow wouldn't be asking for a brain, he'd beg for an audition tape.
On the other hand, there was a broader range of cooks with more racial and gender diversity. But nobody from Kansas City?
It strikes me as a shame that this year the competition is on the road in great barbecue towns (Tupelo, MS; Memphis, TN; Thomaston, GA; Dothan, AL; Salisbury, MD; and Lexington, NC), and they didn't have time to spend visiting local pitstops and showing us the wonderful regional lure and lore of barbecue. One can hope that next year, Destination America might live up to its name and commission an accompanying series that will take us into the local pitstops and firehouse cookouts.
A piddling thing, but these shows are selling advertising and they really bend over backwards to hide all product brand names unless they pay for placement. They even covered over the brand of pineapple juice one cook used. But it would be nice to hear what brand of cookers they are using. Really, folks, Jambo, Onyx, MAK, Backwoods, etc. are not your ad prospects. They are small Mom & Pop manufacturers. How about next year letting the judges tell us about their cookers? Yeah, I know I'm dreaming.
Another minor bitch: sometimes things just felt a little too rehearsed, a little to scripted. This device that all reality shows love to use, where individuals sit quietly alone and talk into the camera in whole sentences explaining what is happening as if they were an invisible interlocutor floating above the scene as it is going on. We all know that by the time these cutaways are filmed, the speaker knows he has been voted off the island, but they speak as if they're still in it. I just don't buy it. It is fakey. And don't get me started on the way these shows come back after commercial by running snippets of everything that happened since the beginning. I'll bet they waste 20% of the air time on this sort of stuff.
Oh yeah, one more thing? Anybody notice the sparse audience each week has the same fans? Come on. Nobody stands around and watches smoke rise for 11 hours. And who is that guy with the fu manchu and cowboy hat that appeared in the audience on every show?
But really, I'm just picking nits from a very tiny head (mine?), and I clearly have no expertise in broadcasting, so no authority upon which to whine about the reality contest formula. But I do know a bit about barbecue, and I have noticed that the viewer comments here, on barbecue sites and Facebook have been generally positive. I also know that I have voiced some of these criticisms in previous critiques this season, and many of you have agreed.
Regardless, the show has been fun and it has stimulated discussion. It was nice to see a grand old master beat the young bucks. I look forward to next season with a hunger to answer the burning question: Who will be the next "Kingsford Barbecue Pitmaster Grand Champion"?
Previous episodes
Here are links to my reviews of previous episodes:
Week 1: Finally, 'BBQ Pitmasters' Gets It Right
Week 2: Melissa Cookston Wins 'BBQ Pitmasters' Best Show Ever
Week 3: Pulling The Trigger; All According To Script; And Is This Really Blind?
Week 4: Is This Traditional Barbecue?
Week 5: Finalists Set, But Where Are The Big Guns?
Last Season's Finals and Season Wrapup: Whole Hog Cooked Old School On Concrete Pits, a Fitting Finish with $100,000 to a Real Chef From Iowa
Judges
The judges were, left to right:
Tuffy Stone, past winner of BBQ Team of the Year and owner of three restaurants named Q.
Myron Mixon, winner of 180 grand championships as head of the Jack's Old South team, and author of a best selling barbecue book "Smokin' with Myron Mixon".
Aaron Franklin, owner of Franklin Barbecue in Austin, called the best in the nation by Bon Appetit magazine.
Judges scored each sample on a 10 point scale, on appearance, tenderness and taste. Scores were weighted with 20% for appearance, 30% for tenderness and 50% for taste.
Related links
Behind the scenes at a barbecue competition
Barbecue associations that sponsor or sanction contests
Have you ever seen a barbecue competition up close? What did you think?
All text is Copyright (c) 2012 By Meathead, and all rights are reserved. For more of Meathead's writing, photos, recipes and barbecue info please visit his website AmazingRibs.com and subscribe to his email newsletter, Smoke Signals.
Friend Meathead on Facebook: http://www.facebook.com/AmazingRibs