Read more product reviews, recipes, techniques, tips, and reports from Meathead's kitchen and grill deck at AmazingRibs.com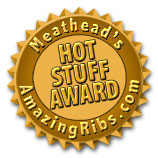 Here are some of the coolest tools I've tested over the past year, all winners of my coveted Meathead's Hot Stuff Awards. If there's an outdoor cook in your family, put any of these under the tree and you will eat better as a result! Most are available on Amazon, and they are still offering shipping in time for Christmas. If you don't think there's time for a delivery to arrive, order it and put a picture under the tree. Click here for more of my favorite grills, smokers, kitchen tools, and barbecue accessories.
1) ThermoWorks ThermaPen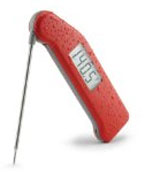 Cooking without a good digital thermometer is like driving without a speedometer. Sooner or later you're gonna get burned. A good food thermometer is the single most important tool for the cook, indoors or out. It insures that you don't get anybody sick by undercooking meats, and it saves embarrassment from overcooked foods. My wife even uses one for breads and cakes.
Thermocouples are the best food thermometers because they're fast and very accurate. Dial thermometers use bimetal strips and they are not very accurate.
This is the latest upgrade to the thermometer you see all the cooks on TV using. I highly recommend it for anyone serious about cooking meat properly. It reads in three seconds, is extremely accurate, has large easy-to-see numbers, and a long thin probe for getting into the center of a steak, a chicken breast, or even a large hunk of meat like a ham. The probe is thin so it will not open a gusher when you pull it out. It is on a pivot so it can reach into awkward places. The heat sensor is extremely small, so you know you are reading just where you put it and not a lot of the meat around it. For this last reason, it is the only probe I use for ribs. It is water resistent, reads from 58F to 572F, and switches between F and C. It sells for about $96. Click here for current pricing and direct ordering from Amazon.com.
2) ThermoWorks Super-Fast Pocket Thermometer RT600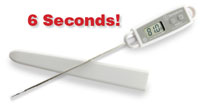 The ThermoWorks RT600 has a thin tip with a tiny thermocouple and it gives an accurate reading in just six seconds. It is small, lightweight, clips in your shirt pocket, waterproof, dishwasher safe, has a range of -40 to 302F. The waterproof part really got my attention. Best of all, it is only about $25!
Click here for current pricing and direct ordering from Amazon.com
.
3) Extra Long Suede Leather Gloves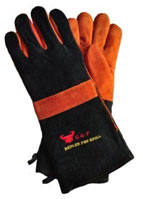 These are real heavy duty suede gloves with cotton lining that go half way to my elbows. I use mine to lift hot grill grates, push coals around, reach into the fire box to place logs, lift food from deep down inside the Weber Smokey Mountain. I have even used it to pick up hot coals. They beat oven mits because they have fingers making it much easier to manipulate tongs and handle grates. I have two pairs, one for lifting food, and one for all else. When they get dirty I just put them on and wash my hands with a bar of soap. Ranked #1 by Cook's Illustrated. It sells for about $21.
Click here for current pricing and direct ordering from Amazon.com
.
4) ZaGrill Pizza Cooker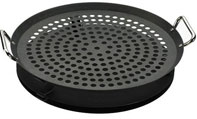 This is great for pizza because the perforated pan sits on legs on two plates that dissipate the direct heat and deliver even heat and color to the crust. Or you can just use the perforated top part as a grill topper for grilling cubes of meat, veggies, and small shrimp. I only wish it was larger than 12". It sells for about $25.
Click here for current pricing and direct ordering from Amazon.com
.
5) LamsonSharp Fish Tongs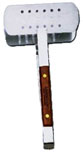 A jumbo hybrid of tongs and spatulas, this is two paddle gizmo is the proper tool for flipping fish, burgers, and other crumbly foods. Rosewood handle protects you against the heat, and there is a leather loop for hanging. They come with a lifetime warranty. I find mine to be indispensable. It sells for about $30.
Click here for current pricing and direct ordering from Amazon.com
.
6) Grill Friends Silicone Brush

Silicone brushes are the best thing to happen to barbecue since the charcoal briquet. I long ago relegated my natural and nylon bristle brushes to cleaning computer keyboards. Silicone brushes load up with lots of sauce, deliver it evenly, and are so easy to clean and decontaminate. They are dishwasher safe. We have three: One for barbecue, one my wife uses for egg washes and other baking, and one for whatever. It sells for about $9.
Click here for current pricing and direct ordering from Amazon.com
.
7) Allen Brothers Prime Meats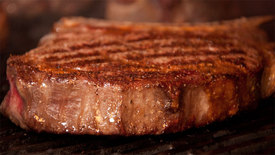 Based in Chicago, Allen Brothers supplies many top restaurants with the highest grades of beef, USDA Prime and American Wagyu. Prime grade and Wagyu rarely available in grocery stores. They have a delicate filagree of intramuscular fat that melts when cooked and makes the absolute most tender, juicy, flavorful meats. A 1 1/2 to 2" ribeye is not cheap, so you probably can't order this for daily consumption, but for special occasions, they are still cheaper than a trip to a prime steakhouse. For my
tips on cooking great steakhouse steaks
click here.
Click here for a link to the Allen Brothers website
.
8) Hasty-Bake Gourmet Grill/Smoker/Oven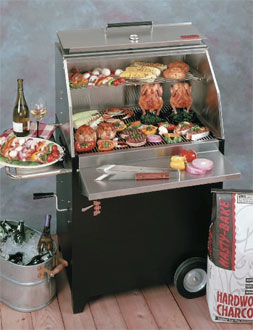 Please do not confuse this superb cooker with the Easy-Bake Oven toy for kids! This is a real grownup serious charcoal cooker. It can sear over blazing heat, slow roast over indirect heat, or even smoke. A friend calls it the Swiss Army knife of grills. Bottom line: I have never worked with a finer charcoal grill.
Founded in Tulsa, OK, by Grant "Hasty" Hastings in 1948, 15 years before the unfortunately named kids' toy and three years before the Weber Kettle were invented, the Hasty-Bake was probably the first home grill with a hood, and it incorporated innovations that are just being rediscovered by other grill makers today. My favorite feature is the adjustable height charcoal grate. It moves up and down with a crank allowing me to lower the coal grate, push the coals to the right side, fire them up, start a big hunk of beef like a rib roast on the left side of the food grate, then, when I get the meat's interior temp to say 115F, I can slide it over the coals, crank the coals up to right below the meat, and brown the exterior as the interior rises to 125F for medium rare. Remember the inverse square law says that heat diminishes rapidly the further the food is from the coals. This system gives you very good temp control. It sells for about $1300. For my complete review of the Hasty-Bake Gourmet click here. Click here for current pricing and direct ordering from BigPoppaSmokers.com.
9) Landmann 3405GLA "Smoky Moutain" Gas Smoker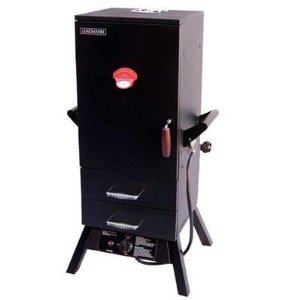 The best cheapo smokers on the market are propane fired, and there are several for less than $200 that make very good food. They look like gym lockers, only shorter. The best have an upper door for loading the food, and a separate opening at the bottom for adding water, which helps keep humidity up, and wood for smoke. The water pans also catch drips and protects the burners.
On the negative side, they are cheap thin metal and ill-fitting parts. But they work. I have a Brinkmann, and it runs at a steady 270F on the low setting on an 80F day. That's a bit hotter than ideal temp, 225F, but it works. They don't come with a cover or a propane tank so factor them into your price. They are narrow, so you will want to buy at least two rib holders in order to pack in enough to feed all the people who will come sniffin around. The built-in thermometers are worthless and can be off as much as 30F (this is the case on most grills and smokers), so also plan on getting a good digital thermometer (see above). I have worked with the Brinkmann (Home Depot), and there are comparable models from Master Forge (from Lowe's) and Landmann. Click here for more detailed reviews of this and other propane smokers. The Landmann sells for about $180. Click here for current pricing and direct ordering from Amazon.com.
10) The MAK Grill 2 Star General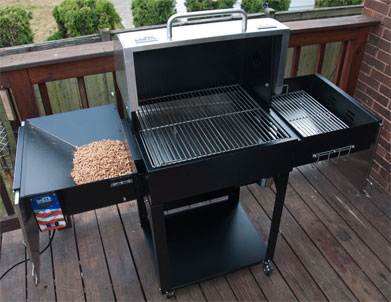 This is the back-yard best smoker I have ever used. It is set-it-and-forget-it simple with a digital control panel, a combo smoker and grill that burns pure wood pellets the size of pencil erasers made from compressed sawdust, no glues or binders. And you can get pellets in all kinds of flavors: Apple wood, hickory, peach, you name it. Bottom line: These baby turn out killer smoked foods.
Our indoor ovens have had thermostat control for decades, but the concept is still foreign to most outdoor cookers. Not the MAK. The MAK's digital controller can even be programmed. You can put your Christmas turkey on at 325F, when the probe hits 155F, it can drop the oven temp back to 165F, let the meat rise to that temp, and hold the bird there until you're ready. Set the temp in 5F increments, set a timer, set an alarm for a time or an internal temp of the meat, set a program so that the unit changes temp at a predetermined time or meat temp, spend some time with the family for a change.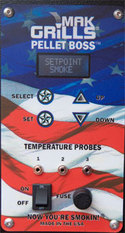 The right shelf holds a warming box that can keep one dish warm until the others are done and it can also be used for smoking things at low temp like cheese. Truly a marvel.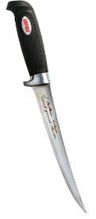 11) Rapala Soft-Grip 7.5" Filet Knife
Don't tell my professional chef friends, but the knife I reach for most often lately is my cheap filet knife, the one I bought for my fishing tackle box. This cheapo knife has a thin flexible blade, with a dangerously sharp blade, a wicked sharp tip, and it's only about $16. It's great for slicing tomatoes, removing silverskin on meat, boning, cutting ribs on hot peppers, and, of course, filleting. It is not strong enough for cutting through bone, but there is nothing better for cutting things off bones. When it is dirty, it goes in the dishwasher. I hone it with the cheapo V sharpener that came with it every month or so, and every six months or so I caress it across my whetstones. Every year or so I trash it and get a new one because it sells for about $12.
Click here to current prices on Amazon.com
.
12) Meathead-designed humorous aprons, clothing, mugs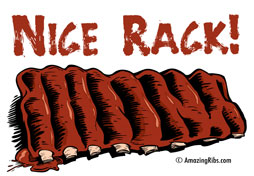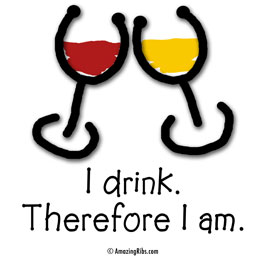 Yours Truly hoisted a few brews one day and created a bevy of goofy apron, apparel, and gizmo designs for the barbecue (and wine) lovers. Many items have the design printed front and back. They make perfect gifts for the food and drink lovers in your life. I have a range of designs that say "BBQ God", "In '68 I smoked pot. Now I smoke pork!", "Got Ribs?", "Chef is Prime & Well Aged", "Eat Me", "Wine makes my clothes fall off", "Momma needs a good pinot" and many more.
Click here for the available designs and some of the many humorous captions
.
Full disclosure. Some products were supplied by manufacturers for review, and some I bought. One look at the (Buyers' Guides on my website, AmazingRibs.com), will prove that I call 'em the way I see 'em, regardless of how I got 'em. For some products, if they are available on Amazon, I have provided a link, for others, I have linked to the manufacturer or other sources. Amazon pays a small finder's fee if you click a link in this article to their site and buy from them.
All text and some photos are Copyright (c) 2010 By Meathead, and all rights are reserved
SUBSCRIBE AND FOLLOW
Get top stories and blog posts emailed to me each day. Newsletters may offer personalized content or advertisements.
Learn more