Another Great Gift For Dad
Nothing can improve the outcome of an outdoor cooking session like a good digital thermometer. The dial thermometers on grills are notoriously inaccurate, often off by 50°F or more. It is almost impossible to cook well if you don't know the temp of your oven, so a good digital grill thermometer can really up Dad's game. Likewise, the best way to guarantee properly cooked food, to make sure it is never overcooked, or worse, undercooked and unsafe, is a good digital food thermometer.
Full Disclosure

Amazon.com pays me a small referral fee when you purchase a book from them after clicking on a link on this page.
Big Bob Gibson's BBQ Book: Recipes and Secrets from a Legendary Barbecue Joint by Chris Lilly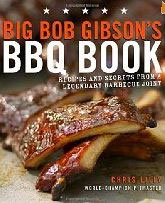 Chris Lilly is the Executive Chef of one of the nation's classic old joints, Big Bob Gibson Bar-B-Q, in Decatur, AL. He is also the head of the restaurant's much decorated competition team, winner of more championships than he can count. Surprisingly thin with a pointy chin and piercing eyes, his angularity is significantly softened by his drawl.
SUBSCRIBE AND FOLLOW
Get top stories and blog posts emailed to me each day. Newsletters may offer personalized content or advertisements.
Learn more