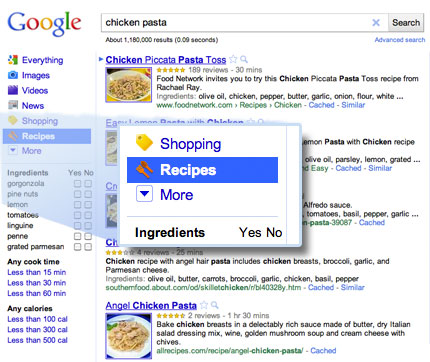 Handy for consumers, but a pain for food bloggers like me. I'm getting smashed because I did not get around to installing the new recipe codes when Google announced them in April 2010 because the instructions were too confusing. Now the top slots are all occupied by the big-time corporate food sites, Foodnetwork.com, Epicurious.com, About.com, AllRecipes.com, etc. They moved faster than I did, and I will certainly lose ad revenue.
Creating Microformat hRecipe Rich Snippets with Wordpress
Get More Meathead
Read recipes, techniques, tips, product reviews, and reports from Meathead's kitchen and grill deck at
AmazingRibs.com
Allison Day, a programmer and
sushi blogger
, has created a
free plug-in for Wordpress 3.1+
. I don't use Wordpress, so I haven't been able to test it. But it appears to be laid out pretty well. You just type or paste recipe info into fields and it inserts the code. I don't think it inserts tags for photo, author, recipeType, and a few others, but you can adds those manually if you wish. She promises further enhancements including the ability to edit existing recipes, custom recipe styling options, and microdata for HTML5 websites. Did I mention it is free?
SUBSCRIBE AND FOLLOW
Get top stories and blog posts emailed to me each day. Newsletters may offer personalized content or advertisements.
Learn more