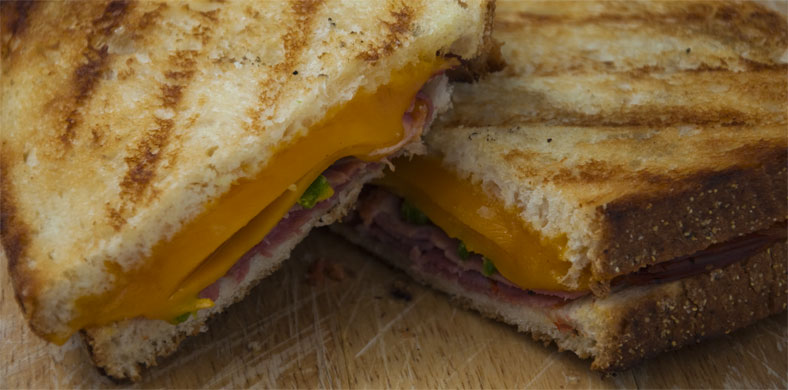 Dunno why they call it "grilled" cheese 'cause most of the time it is made in a frying pan or a broiler or a toaster oven or a panini press or a George Foreman gizmo or a griddle. Ever have one made on a grill? Well you're in for a treat.
First I'm going to give you the concepts and a basic recipe, but there's plenty of room for you to riff on the theme. After all, the French classic croque-monsieur made with ham and brie is a variant, as is the Reuben, the tuna melt, and even the patty melt.
Then I want you to tell me your tricks and your favorite combos.
Think you're the big cheese?
Develop your own signature grilled cheese and you can compete in the annual
Grilled Cheese Invitational
in LA where there are four categories:
The Missionary Position. Standard white bread (no sourdough), orange cheese (Cheddar or American), and standard butter (or margarine).
Spoons. Any kind of bread, any kind of cheese (or cheeses), and any kind of butter. Try raisin walnut pumpernickel with fresh chevre cheese.
The Kama Sutra. Any kind of bread, any kind of butter, and any kind of cheese plus additional ingredients (the interior ingredients must be at least 60% cheese). Campanile Restaurant in LA is famous for their creative grilled cheese sandwiches in this category. Try their gorgonzola, spiced walnuts, and honey.
The Honey Pot. Any kind of bread, any kind of butter, and any kind of cheese (the interior ingredients must be at least 60% cheese), and with an overall flavor that is sweet and would best be served as dessert. Try brie and apricot jam.
For fun and profit

Here's an idea. In 2004 the 10-year-old mold free grilled cheese sandwich show above sold at auction on eBay for $28,000 because it had light and dark areas said to resemble the Virgin Mary. So the next time you make a grilled cheese sandwich, make a foil cutout of a religious figure and place it on the grill grates, spray it with oil, and place the bread on top. Sell the sandwich on eBay and use the proceeds to go to Switzerland and perfect your grilled Swiss cheese sandwich technique.

Here are my secrets to success.

1) Use quality cheese that melts easily. You can use one cheese or a blend of several. The boring old standard is American cheese. Amp it up with aged cheddar, aged gruyere, Swiss, jarlsberg, ementhaler, brie, camembert, gouda, muenster, jack, and cougar gold all work fine. For an accent, try a small amount of tangy hard cheese that you will have to grate such as provolone, Parmigiano-Reggiano, Romano, or gjetost. Use 3 ounces of cheese for a regular size sandwich. Slicing it thin or use the large holes on a box grater to shred it. I like a blend of 2 ounces of soft and stringy muenster and 1 ounce sharp asiago.

2) Accent the cheese with one or two add-ins, but don't go crazy and add too many. Ham, tomato and herbs are especially good additions. Try prosciutto, capicola, cooked bacon, pulled pork, tomato with fresh basil leaves, pesto, pickles, pickle relish, raw onion, caramelized onion, caviar, sunny side up egg, rosemary or thyme, roasted red pepper, chipotle in adobo sauce, jalapeno or other chiles, Dijon mustard, horseradish, celery salt, black pepper, or sliced apple and pear. I've heard of folks using Meathead's Memphis Dust on it (click the link for the recipe). I'm especially fond of capicola and minced jalapeno.

3) Use a thick, flavorful bread like Texas toast, sourdough, Italian, rye, pumpernickel, or even marble bread. I like to hand slice fresh Italian bread because it has a nice crust but it does not get too hard.

4) Melt the butter. Butter the bread lightly on the outside only, and make sure the butter goes all the way to the edges. Don't use too much or it becomes greasy. Melting the butter in a microwave (45-60 seconds on high) is an easy method. Mayo and olive oil work well, too, but I prefer melted butter.

5) Grill with the cover on. It needs to toast on the bottom, but heat is needed all around to properly melt the cheese. You can cook on the grill in a pan or griddle if you wish. If you use a pan or griddle indoors, put a cover over the sandwich while it cooks. Stand by the grill and peek at the underside every minute. It can burn easily, especially if you have hgot spots. I usually use my gasser since it's quick and easy and temp control is good.

6) Serve with potato chips, tortilla chips, fries, or tots and soup. Tomato soup is classic, but split pea, tortilla soup and cream soups like cream of broccoli work well. It's tater tots and tomato soup for me.
Great Gooey Grilled Cheese Sandwich on the Grill Recipe
Makes. 1 sandwich
Preparation time. 20 minutes
Cooking time. 10 minutes
Ingredients
2 slices of fresh bread
1 tablespoon melted butter
3 ounces of good quality sharp cheddar sliced thin or shredded
2 pinches of fresh ground black pepper
Optional: 1/8 pound cooked ham, sliced thin
Do this
1) Setup the grill for direct cooking, but keep the temp medium on a gas grill or spread the coals out in one layer so they are not touching on a charcoal grill. You can use a griddle if you wish. In this case, crank it to high. Clean the hot grill grates on your grill well. Get all the carbon off the surface. Use a good stiff brush, pomace stone, or a scraper. If you haven't got any of these, wad up some aluminum foil and scrub the grates.
2) Distribute the cheese evenly on one slice and if you use ham, lay it on top of the cheese. Don't let things hang over the crust or the cheese will drip off and the ham will burn. Lay the other slice of bread on top and paint a thin layer of melted butter on it with a basting brush all the way to the edges. Make sure the edges are buttered so they don't burn.
4) Put the sandwich on the grill, buttered side down. Press it down lightly and butter the top side. If you want, put a piece of foil on top of the sandwich and weight it down with a brick to simulate a panini press. Close the lid, but don't go far. In about two minutes peak at the bottom. Get the bread golden brown or as dark as you like it, but don't burn it. Flip and repeat. If the edges char a bit, scrape off the char with a light touch on a serrated steak knife. Slice in half so the gooey insides show, and serve.
5) After you've perfected your recipe, develop your own signature grilled cheese and you can compete in the annual Grilled Cheese Invitational in LA.
All text and photos are Copyright (c) 2010 By Meathead, and all rights are reserved
SUBSCRIBE TO & FOLLOW THE MORNING EMAIL
The Morning Email helps you start your workday with everything you need to know: breaking news, entertainment and a dash of fun. Learn more