"A Hamburger is warm and fragrant and juicy. A hamburger is soft and non-threatening. It personifies the Great Mother herself, who has nourished us from the beginning. A hamburger is an icon of layered circles, the circle being at once the most spiritual and the most sensual of shapes. A hamburger is companionable and faintly erotic: the nipple of the Goddess, the bountiful belly-ball of Eve." -- Tom Robbins from "The Genius Waitress" in Esquire, 1983
Once upon a time, hamburgers were the All-American inexpensive meal that Dad was allowed to immolate in the back yard until they looked, and tasted like, black hockey pucks. Then came McDonald's and burgers became tan and tasted like a tanned hide.
To the observant burger anthropologist, there are at least a dozen distinctive species and subspecies of burger. Like sports teams, everyone has a favorite. Most hamburgers are distinguished mainly by the condiments. But condiments don't make the burger. The meat does. And how you cook it.
But first, let's play culinary anthropologist and study the menu of the major species of burger.
For the sake of argument, I will define a hamburger as a sandwich with a patty made mostly from ground beef, cooked, and served between halves of a bun or two pieces of bread that can be garnished with an infinite number of condiments.
If I've missed a legit style, let us know:
Steakhouse Burgers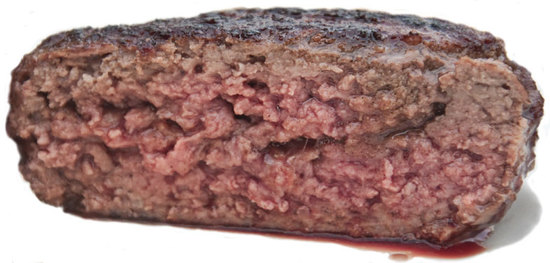 This is the burger that wakes me up in the middle of the night. It is floating above my bed, just out of reach, dripping on my forehead and whispering provocatively, "eeeeat me, eeeeat me."
E-coli 0157:H7 in burgers: The risk is serious, the solution is not as simple as they say
In 1993 four children died from hamburgers contaminated by the virulent pathogen Escherichia coli O157:H7 from undercooked ground beef purchased at Jack in the Box restaurants. Undercooked ground meat and sausage can kill. It is no joke. If someone shows symptoms of illness, do not hesitate, get to the emergency room in a hurry.
E-coli O157:H7 is primarily a problem in ground meats, not steaks. USDA recommends all ground meats be cooked to 160F to be safe. In fact, there may be ways to serve safe meat cooked to lower temps. In future articles, when I publish some recipes, I will discuss the issue in detail. Until then, if you wish to read more on the subject, please read my article on Food Safety, Knife Safety, and Grill Safety.
A note to vegans and omnivores
I respect your food decisions and I hope you will respect those of others. Vegans: You will probably not like this article and may be grossed out by the pictures. You should probably click away now.
This article is NOT about the merits about eating meat.
If you would like to debate that,
here is another article where you can debate meat eating
. Please refrain from posting warnings on that topic in this article as you have in the past. Omnivores: Please refrain from slandering and baiting vegans. If either side starts a squabble, I will flag you as abusive and delete the comments as violations of the terms of Huffington Post comment policy, specifically:
• They are off-topic. • They are clearly posted with the explicit intention of provoking other commenters or the staff at Huffington Post.
Made from ground steak, not scraps of lips and tail, it's adipose at 8 ounces and 3/4" thick and goes bumper to bumper on a 4" bun, with a chocolate brown crunchy crust whose savor is accented with a soupcon of charred beef fat amplified by more than a kiss of salinity, and, when broached, it bursts like a grape in my mouth coating it with earthy beefy flavor that says "I am not a lowly peasant meal, I am not an assembly line product, I am a rare treat that is American cuisine at its epitome because to make me properly you've gotta have your stuff together."
In the steakhouse, its dominion, this steakburger is usually broiled under scorching hot gas flames until the proteins metamorphose and the lipids in the fats char. It sits on a pillowy soft bun capable of absorbing its ample juices, buttered and toasted enough to add richness and crackly texture, simply adorned with lettuce, tomato, perhaps salty/smoky/crunchy bacon, perhaps a viscous layer of melted cheddar, and your choice of ketchup, mustard, mayo, or a blend of all three. In such a state, it transmogrifies from simple sandwich to feast. Forget everything you think you know about cooking burgers. Click here for my recipe for the perfect Steakhouse Burger.
Diner Burgers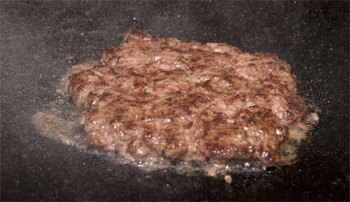 The Diner Burger and its variations on the theme have a vocal following with good reason. It is a 3 to 4 ounce thin disk of ground beef slapped on a blistering hot griddle, cooked quickly until it is mahogany and crisp on one side, then flipped and seared until the second side matches the first. If the griddle is blazing hot this can happen before the center dries out. The griddle makes contact with maximum surface and that is what the Diner Burger is really all about. Beefy flavor and two surfaces turned brown by that miracle of chemistry, the
Maillard reaction
that makes proteins soar beyond their natural state when heated well above 300F.
Click here for my recipe for the perfect Diner Burger.
Cheeseburgers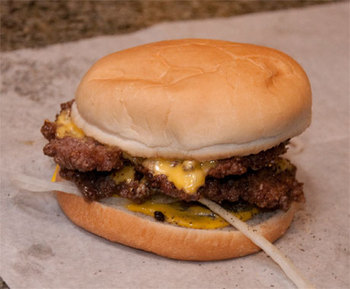 It's really a stretch to call the cheeseburger a distinctive style of burger because, to make a cheeseburger, all you need to do is add cheese to any of the other burger species. Technically, the cheese is a condiment or a topping, even though sometimes the cheese is placed between two thin patties to make the ever popular sub species called the Double Cheeseburger or The Big Baby on Chicago's Southside. Click here for my article on The Zen of Cheeseburgers.
Store Burgers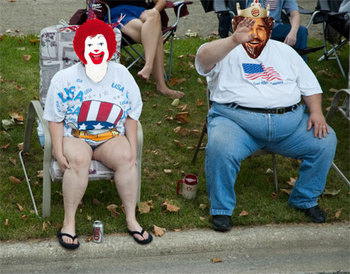 In my private lexicon, Store Burgers are dispensed by the national fast food chain "stores" as their owners prefer to call them, rather than restaurants. The skimpy patties are made in a warehouse far far away from trimmings of inferior cuts of meat and slabs of fat, pressed in a mold so they are perfectly flat and round, frozen and shipped across state lines in giant reefer (refrigerator) semi-trailer trucks. Sadly, burgers are not covered by the Mann Act. Some places griddle them, some flame broil them, but, if you peel off the smushed bun, wilted lettuce, pink tomato, corrugated pickle slices, and not-so-special sauce, you find uniformly gray flaps of mystery meat ground so fine that no bone could survive. They are all cooked well past well done until they are dry and closer to a chamois than a happy meal, wrapped in toilet paper, held under heat lamps until the buns are limp and soggy, and served in a cardboard casket. RIP.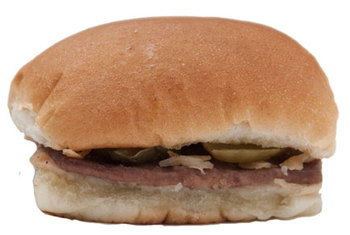 There are three subspecies of Steamed Burgers.
Deep Fried Burgers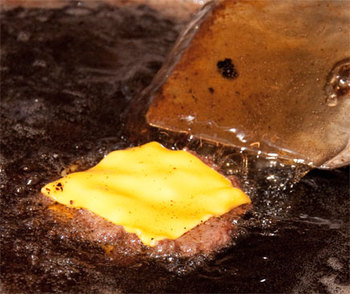 Load up a frying pan with oil, preferably tallow made by rendering beef fat, make a thin patty, and when the oil is burbling, in goes the meat. It will sink, and when the crispy disk floats to the top, it is done. Shake off the surface oil, and onto the bun it goes. Since 1912, Dyer's Burgers on Beale St. in Memphis has been the mecca for deep fried burger lovers. Dyer's even makes a cheeseburger by putting the slice of cheese on the burger in the grease. Playboy ranks it as one of the nation's top 10, and Esquire puts it on their list of "60 Things Worth Shortening Your Life For." The owner says his secret is "Pride, tradition, and grease."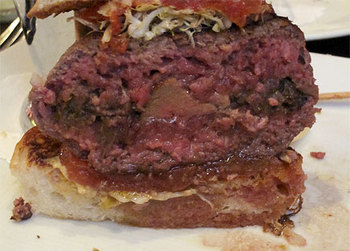 Gourmet Burgers. A subspecies of the silly burger is the Gourmet Burger. The concept goes back to the original Hamburg steak and its descendant, the Salisbury Steak (see below), an attempt to make ground beef a competitor with real steaks. The concept of upscale hamburger died as buns swallowed ground meat like Pacmen and then it resurfaced in 1975 when Manhattan's fabled 21 Club served a $21 burger. Now Gourmet Burgers are everywhere. Scores of restaurants serve burgers made from expensive Kobe or Wagyu beef with exotic mix-ins and toppings. The New York Times credits (blames?) Daniel Boulud with starting the trend in 2001 at his Times Square DB Bistro Moderne when he stuffed ground sirloin with braised short ribs, foie gras, and truffles when they are in season. It's more than $30. It's a fine sandwich, done perfectly, with a lump of foie gras about the size of a marble embedded in the center. That's it at right.
The Little Havana Frita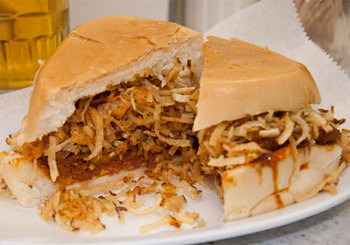 An import from Cuba, the frita is popular in Miami's Little Havana along Calle Ocho (8th Street). The beef patty is thin, about 4 ounces, occasionally mixed with chorizo (a spicy red coarsely ground pork sausage), slathered with a picante sauce while it cooks, and topped with a mound of potato shards made by shredding potato on a box grater, then deep frying and salting.

Follow HuffPost Food on Twitter and Facebook!