Bourbon is the quintessential American whiskey and the drink of choice of many Southerners. Made primarily in Kentucky, mostly from corn, when properly made, filtered, and aged, Bourbon can rival the finest Cognacs in richness, depth, and complexity.
Mint is a weed. Plant some now and you'll be engulfed by it in two years. There are many types, so go to the plant store and pinch a few leaves. Pick the one you like the best. Pick two.
By the time the Kentucky Derby rolls around on the first weekend in May, mint is ready to pick, even in harsher climes, and it flourishes all summer long sporting lovely lavender flowers by midsummer.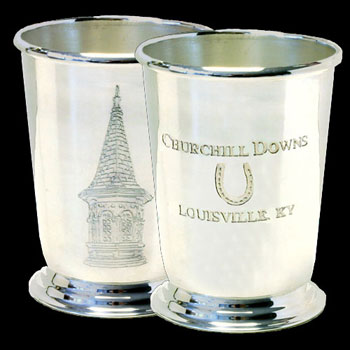 The refreshing mint julep became the official drink of the Derby in 1938 and was served in water glasses. According to the Derby Museum at Churchill Downs in Louisville, the glasses disappeared from the track dining room. So management started charging 25 cents per glass and the most popular race souvenir was born. They are collector's items and older glasses command hundreds of dollars on eBay. By 2010 the production run was up to 700,000 and they can be bought in stores.
Sterling Silver Julep Cups were introduced in 1951 and they play an important role in Derby lore. Traditionally, the governor of Kentucky salutes the victorious Derby owner with a toast at the fashionable Winner's Party following the race. The official silver cups sell for $750 on their website. You can order unofficial Mint Julep Cups on Amazon for much less.
If the recipe looks familiar, you would not be far wrong noticing its similarity to the Mojito.
My wife and I always watch the Derby with a julep in hand. Tell us about your Derby traditions below.
Yield: 1 (12 ounce) cocktail
Preparation time: 10 minutes. Start mixing at least by 4:30 for 5:00 post time.
Ingredients
8 to 10 mint leaves
1 sprig of mint for garnish
1 tablespoon of sugar, more or less to taste
1 1/2 ounce clean fresh Kentucky spring water
3 ounces premium Bourbon
Crushed ice
About the Bourbon. Knob Creek is my favorite sippin' whiskey, but I cringe at the thought of mixing it with sugar and mint. So I use Jim Beam Black Label, first rate 8 year old that sells for about $25 where I live.
Optional: Replace the sugar with 1 ounce peach syrup.
Optional: Replace the water with seltzer to make it more lively.
Do this
1) Rinse the mint to make sure any dirt splashed on the underside of the leaves is gone. Don't dry them. The moisture from the rinse is helpful in making the drink.
2) Put the leaves in a 12 ounce cocktail glass and pour the sugar on top. Muddle them together with a muddler or the handle of a wooden spoon. When the leaves and wet sugar begin to turn to a mushy paste, add the water and the bourbon, and stir with a fork until the sugar dissolves. Top with crushed ice, garnish with the sprig of mint, get your bets down, and serve.
----------------------------
Copyright (c) 2010 By Meathead, and all rights are reserved. For more of his writing, photos, and recipes, please visit him at his website AmazingRibs.com, friend him on Facebook, or follow him on Twitter.

Follow HuffPost Food on Twitter and Facebook!
SUBSCRIBE AND FOLLOW
Get top stories and blog posts emailed to me each day. Newsletters may offer personalized content or advertisements.
Learn more