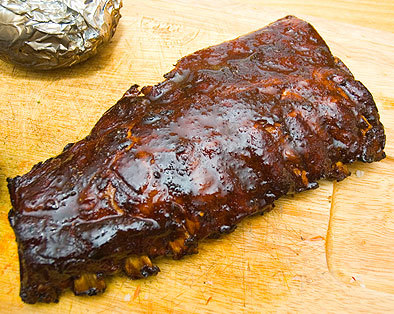 Now imagine your tribe, your family and friends, moaning in ecstasy and praising your name in your own backyard. You can make it happen if you follow my step-by-step guide below. I share this with you after years of studying at the feet of the masters, judging at barbecue competitions including the Jack Daniel's World Championship International Barbecue, and sucking on a lot of bones.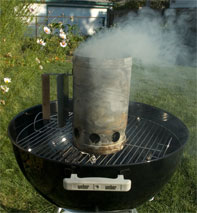 1 (18 pound) bag of charcoal for charcoal grills or smokers. You won't use all that charcoal, but because you will need more on cold, windy, or wet days than on sunny and warm days, have a full bag on hand. Hardwood lump is best, but regular briquets will do fine. Absolutely do not use the instant igniting stuff that has solvent in it. Chimney starters are by far the best way to start charcoal, especially for long slow cooking where the smell of the solvent in charcoal starter fluid can ruin the taste of the meat.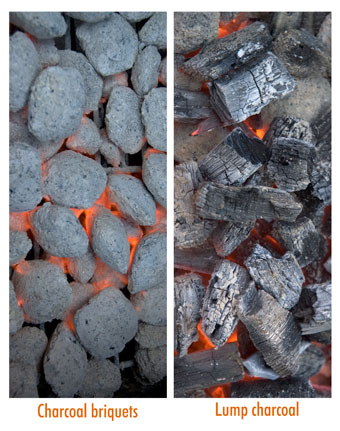 8 ounces by weight of hardwood chunks, chips, or pellets. It doesn't matter how many slabs you are cooking, 8 ounces should be enough. I prefer chunks of apple, oak, or hickory for pork. Never use any kind of pine unless you want meat that tastes like turpentine. Never use construction lumber because it is often treated with poisonous chemicals to discourage rot and termites. You do not need to soak the wood. Wood does not absorb much water. That's why they make boats with it.
Software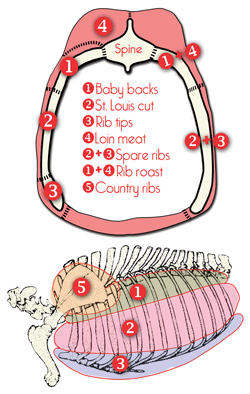 1 slab of fresh St. Louis Cut (SLC) ribs
. That's 1/2 slab per adult. If you use baby back ribs, get a whole slab per person. You may have leftovers, but what's wrong with that? SLCs are the meatiest and most flavorful ribs. They are spare ribs with the tips removed so they form a nice rectangular rack. You can use baby back ribs if you prefer. They are smaller and cook faster. Country ribs come from the shoulder and are not really ribs, so don't use them for this recipe. Get fresh, not frozen meat if possible. Fresh meat has the best pork flavor and the most moisture. Ever notice the pink liquid when you defrost meat? You can't get that back into the meat, so buy fresh meat whenever possible. Ask the butcher to remove the membrane on the back side.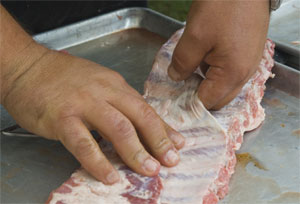 2) Skin 'n' trim. If the butcher has not removed the membrane from the back side, do it yourself. Insert a butter knife under the membrane, then your fingers (shown at right), work a section loose, grip it with a paper towel, and peel it off. Finally, trim the excess fat from both sides. Click here to see more photos of how to skin 'n' trim.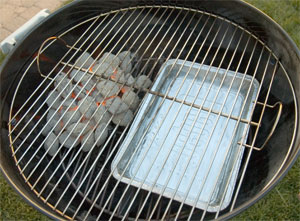 4) Setup for indirect 2-zone cooking. That means that one side is hot and the other is not. If you have a gas grill, use only one burner as described in my article setup for a gas grill. Put a disposable aluminum pan with water on top of the hot burner. Moisture and combustion gasses in a propane grill combine to create a seductive, baconlike flavor in the meat. If it has only one burner, put the water pan between the meat and the burner. If you have a charcoal grill, push the coals to one side as in the photo at right and as described in best setup for a charcoal grill. You can use a water pan, but it is not necessary. If you have an offset firebox smoker, follow my instructions for an setting up an offset smoker. If you have a bullet smoker like the Weber Smokey Mountain, read my article bullet smoker setup.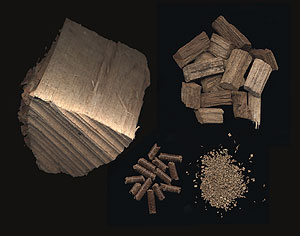 6) Smoke. For charcoal or gas cookers, add 4 ounces of wood at this time. Put the wood right on top of the flame of a gas grill or on the hot coals.
Resist the temptation to add more wood. Nothing will ruin a meal faster and waste money better than oversmoked meat. You can always add more the next time you cook, but you cannot take it away if you oversmoke.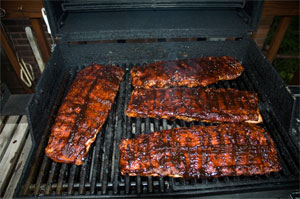 10) Sauce. Now take the meat out of the foil, being careful not to curl your eyebrows with the steam when you open the packet, and place the ribs back on at 225F for another hour to firm up the surface. Then paint both sides with your favorite home made barbecue sauce or storebought sauce and move them directly over the hottest part of the grill in order to caramelize and crisp the sauce. On a charcoal grill, just move the slab over the coals. On a gas grill, crank up all the burners. On a water smoker, remove the water pan and move the meat close to the coals. On an offset smoker, put a grate over the coals in the firebox and put the meat there. With the lid open so you don't roast the meat from above, sizzle the sauce on one side and then the other. One coat of a thick sauce should be enough, but if you need two, go ahead, but no more! Don't hide all the fabulous flavors under too much sauce. If you think you'll want more sauce, put some in a bowl on the table.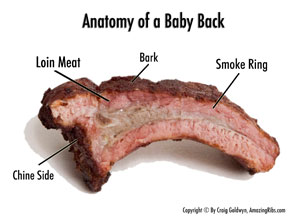 If you've done all this right, you will notice that there is a thin pink layer beneath the surface of the meat. This does not mean it is undercooked! It is the highly prized smoke ring caused by the combustion gases and the smoke. It is a sign of Amazing Ribs. Now be ready to take a bow when the applause swells from the audience.
Serve with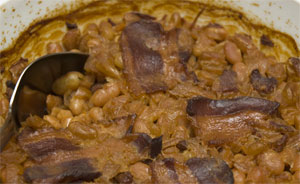 Bourbon Baked Beans