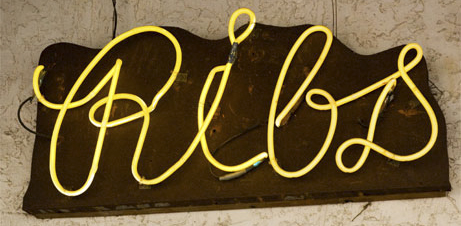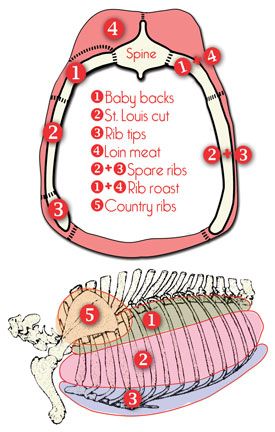 Read more reports from Meathead's grill deck at AmazingRibs.com

In barbecue season the butcher's case is bulging with baby back ribs, spareribs, country ribs, rib tips, St. Louis cut ribs, riblets, rib chops, rib roasts, baby spareribs, button ribs, Danish ribs, loin ribs, and, across the street, there are McRibs. The prices range from $2 to $8 a pound. Here's what you need about the most popular cuts before you fire up the grill this Labor Day.
No, they do not come from baby pigs. They are called babies because they are shorter than spareribs. Connected to the backbone, nestled beneath the loin muscle, baby backs are the most lean and tender ribs. A typical slab has 11 to 13 bones, tapered at one end, with the shortest bones only about 3" and the longest about 6". The bones are usually curved like a hockey stick at the end where they meet the spine. Depending on how the butcher removes the loin meat that is on the humped side of the bones, some can have up to 1/2" of delicate, lean loin meat on the top. Usually about 1.5 to 2 pounds per slab, about half of which is bone, many hungry adults can eat a whole slab of baby backs. Typically $4 to $8 per pound, baby backs are more tender and less fatty than spareribs. They are also commonly called back ribs, loin back ribs, loin ribs, and Canadian back ribs. They are leaner than spareribs and incredibly good when smoke roasted low and slow at about 225F for about four hours and slathered with barbecue sauce just before they are removed from the grill. Low temp cooking makes the copious connective tissues and muscles soft and juicy. High temps make them tough.

Spareribs are not like spare tires. They are not extras, leftovers, or an inferior cut. In fact, many chefs prefer them to baby backs because they tend to be richer and more flavorful. Spares are cut from the ends of baby backs, further down the side of the hog, they run all the way to the breast bone, and that's why they are sometimes called side ribs. Look at a slab of spareribs and you will notice that along one edge the ends of bones are showing and you can see marrow. This is where they were cut from the baby backs. The other end, with no bones sticking out is from the chest. It is flap of meat, small bones, cartilage, and gristle called rib tips. USDA says a slab must have at least 11 bones and there is usually more bone than meat in a slab of spares with more meat between the bones and less on top of them. The bones are straighter and flatter than baby backs, and the meat has more fat between muscle fibers, called marbling. The bones, connective tissue, and the fat make the meat very flavorful. A slab of spareribs is typically $2 to 6 per pound, they generally run 2.5 to 3.5 pounds, half of which is bone and cartilage, and can usually feed two people. Like baby backs, they reach their peak flavor when especially when smoke roasted low and slow at about 225F for about 6 hours. Spares are a little less expensive than baby back ribs because they have more bone and because demand for baby backs has grown significantly since a certain restaurant chain began promoting them with a catchy jingle (sing along with me now: "I want my baby back baby back baby back ribs"). In the picture at right, you see a slab of spare ribs dissembled. The rectangular hunk above is the St. Louis Cut, below are the rib tips, and the triangular flap at left will be used for ground pork.

Take a slab of spareribs, lop off the gristly rib tips, and what remains is a flat rectangular slab called the St. Louis cut. Because the 10 to 13 rib bones are straight and flat, they are the best cut for recipes that require the ribs to be browned in a frying pan on the stovetop. Some butchers call them spareribs, but because the tips are removed, technically they are no longer spares. They are also sometimes called barbecue cut, or Kansas City cut. If your butcher doesn't know what St. Louis cut means, get a new butcher or simply ask for spareribs with the tips removed. Then again, you may want to remove them yourself and cook them too. Typically $3 to $7 per pound, a standard 2 to 3 pound slab can serve two people or one really hungry big man. When smoke roasted at about 225F, they take five to six hours to reach perfection. In the picture above, the curved slab at right are the baby backs and to the left is the St. Louis Cut. You can see the point at which they were cut apart.

Rib tips are strips that have been cut from the lower ends of the spareribs when making St. Louis cut ribs. They typically run 8 to 12" long and 1 to 3" wide. Eating rib tips takes a bit more gnawing than other cuts because they have small tubes of cartilage in them going every which way. In some regions, tips are a delicacy and preferred over other cuts, and in some regions nobody wants them. Many butchers just remove them and chop them for stir-fry or grind them for sausage. Go figure. When served, they are usually chopped with a cleaver into chunks about 2" square. Two full strips of tips trimmed from a slab of spares, will fill a normal person. They are also sometimes called brisket, coastal cartilages, or breaks. Cook them just like baby backs or spares, but they can be ready in as little as two hours.

Country-style ribs are not really ribs. They are cut from the front end of the baby backs near the shoulder and a package of country-style ribs in the grocery store will contain contain few, if any, ribs. In fact, if there are bones, they are often part of the shoulder blade. Country-style ribs are more like pork loin chops, more meaty and less fatty than real ribs, and should be cooked like chops, not ribs. Because they vary in size and thickness, they are hard to cook to an even doneness. Typically $3 to 4 per pound. Depending on how they are cut, a serving will be one or two chops. For big hungry men, perhaps three.
For more info
Click here to read more about the
other cuts of ribs and how they are butchered
(and learn what McRibs are), how barbecue champions cook "
Last Meal" ribs
, and how the most popular ribjoint in the world, Rendezvous in Memphis, cook its ribs.
All text and photos are Copyright (c) 2010 By Meathead, and all rights are reserved

For more of Meathead's writing, photos, and recipes, please visit his website AmazingRibs.com

Friend Meathead on Facebook
Follow Meathead on Twitter: www.twitter.com/ribguy