End of the year, end of the decade. Let's not look back, let's look forward. What does the future hold for foodies?
No shirt, no shoes, no problem. As dress codes are stripped away, all restaurants will begin welcoming flip-flops, tank tops, and short shorts. And that's just on the wait staff.
Tollavores. Locavores are devoted to food grown nearby, thus reducing their carbon footprint. In 2010, a restaurant will open where they charge by the number of miles the ingredients traveled to your plate.
Molecular gas. The fusion of chemistry, physics, and marketing that they call molecular gastronomy has produced a whole new category of hi-tech restaurants and foods made by lasers and liquid nitrogen. In 2010 Apple Computer will open restaurants in their stores with edible china and silverware and touchscreen holographic waitrons.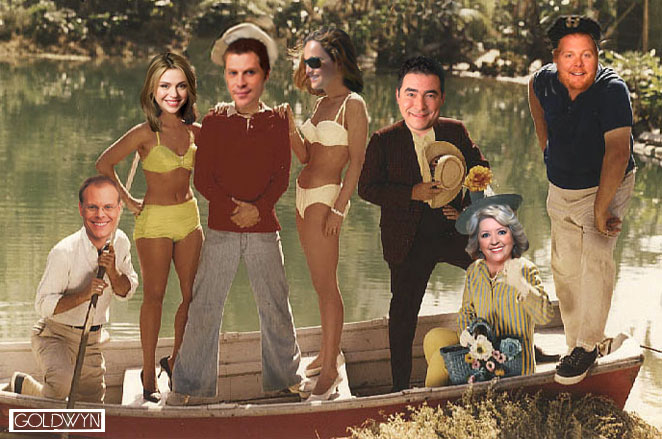 TV Chef Island. A movie will depict the laugh-a-minute back-of-the-house life and hijinks of the eccentric stars of FoodTV starring Bobby as Gilligan, Mario as The Captain, Emeril as Thurston Howell III, Paula as his wife Lovie, Alton as The Professor, Giada as Ginger, and Rachael as Mary Ann. The fun really begins when Gilligan finds nude pictures of Mary Ann on the internet. And you won't believe how they cook the mistletoe. Watch out, they have knives!
Schmancyburgers. Burgers prices everywhere will skyrocket when fast food joints hear what Daniel Boulud (Restaurant Daniel in NYC), Thomas Keller (The French Laundry in Napa Valley), and other high priests of organolepty are getting for their wacky upscale burgers. Boulud sells a nine ounce sirloin burger stuffed with braised short ribs, foie gras, and black truffle served on a bun for $32. The fries are free.
Sauce on everything. Not content to ruin good cedar planked salmon with barbecue sauce, a restaurant chain will start putting the sticky stuff on tables along with the salt and pepper so you can use it on vegetables if you want. 2010 may be the year barbecue sauce finally passes salsa as the #1 condiment.
Roachmosines. Those roach coaches that call on construction sites and park on city streets don't want to get left out so they will start climbing upscale by switching to stretch limousines with tables and fully stocked bars inside.
Carne & Noble. Book stores were taking a beating from Amazon.com, so they started serving coffee, tea, and biscotti. It has been so successful that Weber Grill will buy out a struggling book chain and take them full service in 2010.
Grey Gatorade. Clear ethanol called "vodka" in fancy frosted bottles like Grey Goose has become hot because it is cheap to make and because it is so much more elegant than taking alcohol intravenously. This year the trend will amp up as bartenders mix energy drinks with vodka to make faster, stronger drunks. Vodka sales will surpass wine sales.
Beefication. First it was Kobe beef from Japan, cut from cows weaned on sake and massaged daily to make the meat more tender (no kidding). Then it was Wagyu beef from Texas, and then grass-fed cattle from Kansas. Hey (hay?), wasn't that the stuff our parents ate? This will be the year that genetically modified irradiated lawn clipping fed beef will debut in the US. From Southern California it will be massaged daily by Kobe Bryant's physical therapist.
Bits & shards. You know those great crunchy bits of breading from the onion rings or drumsticks in the bottom of the bag? And isn't it cool when there is occasionally a French fry shard in the bottom of the bag? Well there are more of them in the fryolater, and this year they will break out on their own as a side dish.
Dried guppie chips. As more and more fisheries are decimated and sustainable seafood becomes a necessity, a Japanese restaurant chain will open serving salted, dehydrated farm-raised guppies. Great with beer.
Blogicide. A famous chef will be arrested for killing a food blogger. She will argue in court that "He was an assassin. It was self defense."
Fried chicken bans. A Chicago politician will propose banning fried chicken when he learns that raising chickens the way they do is far crueler than the way they raise foie gras. "And besides, fried food is bad for you" he said.
Gordon Ramsey's goose cooked. The chef/star of TV's Hell's Kitchen will be arrested for unfair labor practices, obscenity, and just plain being a bad example to all chefs, managers, parents, and kids. The arresting officer will be quoted saying "This guy is what you get when you cross Jerry Springer and a prison guard. We're asking for life."
Your turn. Tell us what you think the future holds, below.
All text and photos are Copyright (c) 2009 By Craig "Meathead" Goldwyn, and all rights are reserved. For more of my writing and recipes, please visit AmazingRibs.com.
SUBSCRIBE TO & FOLLOW LIFESTYLE
HuffPost Lifestyle is a daily newsletter that will make you happier and healthier — one email at a time. Learn more