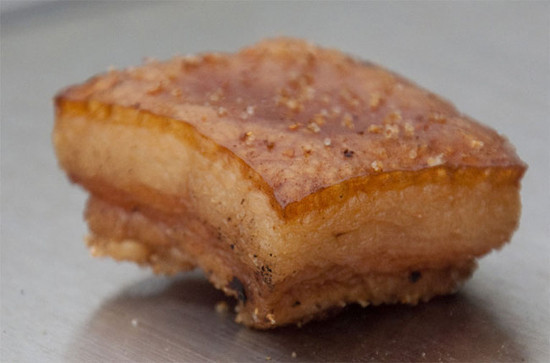 It is often said that nothing on the hog is wasted except the squeal. The bristly hairs are used for paintbrushes; the ears are used for dog treats (and people treats in some restaurants); the fat, called lard, is coveted by bakers for flaky pie crusts; pickled pigs feet are found in jars in bars and smoked trotters are used for flavoring soups; cheeks are chic in hip restaurants; intestines, called chitterlings (a.k.a. chitlins), are an acquired taste in the South, but soul food for descendants of slaves; the fatty layer streaked with muscle beneath the skin of the belly is everybody's fave, bacon; and the skins are used to make cracklins and rinds.
Cracklins are not the same as pork rinds or pork skins which are made from just the skin of the hog (see sidebar at right). Cracklins are the skin with the layer of fat beneath.
Cracklins are deeply woven in Southern culture, especially among African American and Mexican immigrants. In Puerto Rico, Mexico, and the Philippines, they're chicharrons con gasa. In New Orleans, they're called grattons. I call my radically different crispy, salty, and crunchy chunks "Gold Nuggets". No matter what you call these cousins of bacon, only chocolate is more decadent and only crack is more addictive than homemade cracklins, and there is a big difference between storebought and this recipe.
Get More Meathead
Read more recipes, techniques, tips, product reviews, and reports from Meathead's kitchen and grill deck at
AmazingRibs.com
My recipe is a vast improvement over storebought or any home made cracklins recipe you'll find. It is not traditional. Just better. And here's why. They are not deep fried and they won't break your teeth. They take longer, but they are worth the wait.
My Gold Nuggets are addictive when served warm and fresh as a snack with beer, perfect for watching the game. They can also be added to beans, greens, soups, stews, eggs, or as a salad topping, mixed into cornbread batter adding a tasty crunch. Use them wherever you might add bacon. I once floated them in a cream and pumpkin soup. They. Were. Incredible.
Commercial cracklins
Mark Singleton is VP of Sales & Marketing for
Rudolph Foods Co.
, the largest producer of cracklins and rinds in the world. His company bought 120 million pounds of skin last year. They begin with hairless skin with the subcutaneous fat attached from the shoulders and hams (rump), slice them into strips, smoke them and cook them to break down the collagens and connective tissues and begin rendering the fat. They then simmer them in lard to render most of the remaining fat. They are then drained, and dried to form "pellets" ready for frying. Their ingredient labels couldn't be simpler: Pork skins and salt. No preservatives.
The results are hard and crunch loudly. Frankly, for snackin I prefer commercially made rinds to cracklins. But commercial cracklins are great for cooking. My wife smashed some and baked them into a bread. They ranged from pea sized to powder. The moisture of the dough softened the big chunks slightly and the powder made a smashing flavor throughout the loaf. I pounded them to bread crumb size and coated some fish filets with them and pan fried them. OMG.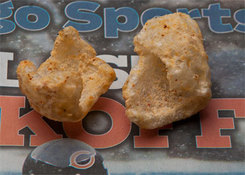 Pork skins and rinds
Pork skins and pork rinds are two names for the same thing, made from skin of the hog. Called baconettes in Cajun Country, chicharrons in Spanish, and scratchings in England, rinds are made by frying just the dried skin of the back or belly of the hog, no fat attached, until they get light, puffy, and crunchy, like giant rice crispies. Above is a picture of the best I have ever tasted, at the restaurant
Publican in Chicago
, where they are made from scratch and served warm with a light dusting of dehydrated cheese and vinegar. Not the least bit greasy.
The pigskin connection

Why are pigskins and barbecue so popular at football watching parties? As any fan will tell you, the greensward the game is played on, marked with parallel white stripes, is called a gridiron. What he or she may not know is that a gridiron is an early name for the iron grate with parallel bars upon which meat is cooked over coals, hence the origin of the name.

And what is the central object of the game? A pigskin, of course. On the fun website, Porkopolis, Jeff White wrote: "There's one thing you can be sure of though, a Southerner didn't create the football. Ya see, a football was originally made from a pig's bladder. If you're a Southerner, a pig's bladder ain't nothing but one step away from a chitlin'. Now technically a chitlin' is made from the stomach and intestines of a pig. I think we could've found something to do with a pig's bladder other than toss it around at family reunions."

Riding on the pigskin pun, Rudolph Foods Co. is campaigning to make Super Bowl Sunday National Pork Rind Appreciation Day. Consumers can cast their vote in support at VotePorkRinds.com. Rudolph's will donate 10¢ per vote to Wounded Warriors Family Support, a nonprofit, nonpartisan organization that provides support to the families of those who have been wounded, injured or killed during combat operations.

Rudolph, founded in 1955 and based in Lima, OH is the largest producer of edible pig skins in the world with numerous brands including Rudolph, Grandpa John's, Pepe's, Lee's, Rudy's, Smithfield Farms, and Southern Recipe among others. In 1989 Ohio Governor Richard F. Celeste declared Lima the "Pork Rind Capital of The World."

Clearly rinds are not health food, but Men's Health magazine recommends them as a smart snack. Rudolph's tries to tout the health benefits of rinds by claiming that there are 0 carbs and 0 tranfats and 80 calories, 9 grams of protein, 10 mg cholesterol, 220 mg of sodium, and 5 mg of fat in a serving of their product.

They also claim that 1 ounce of peanuts contains 14 grams of fat while pork rinds contain only 8, and 57% of the fat in pork rinds is monounsaturated oleic acid, the kind of "good fat" associated with olive oil. Another 13% of the fat content is stearic acid, a type of saturated fat that's considered harmless, because it doesn't raise cholesterol levels.

An ounce of rinds contain 17 grams of protein, while almonds contain 6, chicken contains 7, and a scrambled egg has about 7 grams. That's 9 times the protein and less fat than you'll find in a serving of carb-packed potato chips.

By the way, nowadays, footballs are made from cowhide or synthetics.

Singleton speaks wistfully about his version of Mofongo: Cracklins and boiled plantains mashed together, formed into balls and fried.