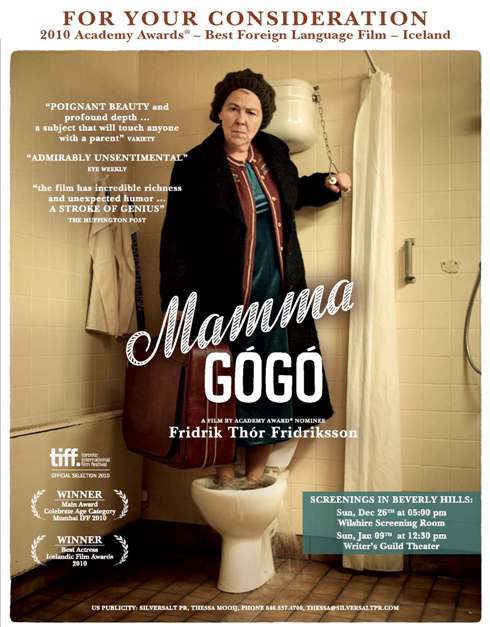 Mama Gogo. Iceland's 2011 Oscar entry.
Having lunch with Fridrik Thor Fridriksson for an hour is like sitting across the table from Steven Spielberg who has magically fused with the Dalai Lama, and then taken up residency in a tall Nordic man's body.
It is an incredibly exciting time. Fridriksson's film Mama Gogo is now a serious Oscar contender. But Fridriksson's enormous blue eyes are as peaceful and tranquil as the Icelandic waters he visits, looking for the perfect catch. He seems so grounded. It must be the result of his hobby; fly-fishing.
We order beers (Stella for him, Hoegaarden for me), eat omelettes with lox ("I rarely eat salmon unless I catch it myself!"), and talk film.
This is an unbelievable life-imitating-art moment: Fridrik's very autobiographical film Mama Gogo, about a film-maker waiting on an Oscar nomination that could make all of his cinematic dreams possible, is now Iceland's official selection for the Best Foreign Film Academy Award in March.
This is not Fridriksson's first brush with the Golden Statue. Fridriksson's 1992 film Children of Nature was one of five final films up for Best Foreign Film that year.
Mama Gogo re-creates the premiere of Children of Nature, and the uncertain time in Fridriksson's career and life when he had put every last dime (and many he didn't have) into his film and struggled with his mother's descent into Alzheimer's. In the film, the director needs the Oscar nomination to get his film seen internationally so he can pay back his loans.
"Twenty years ago, the Oscar nomination completely changed the Icelandic film industry." Fridriksson is not kidding. In fact Children of Nature was the only film produced in Iceland that year.
Fridriksson's entire career, and life it seems, has been devoted to his tremendous love of great cinema. He started as a film critic, "But only for films I liked!" he laughs. He then created a film society with 2,000 members. Given that when the first census was done Iceland only had 50,000 occupants, this was a sizable portion of the population!
Fridriksson brought in films from all over the world for his viewers. "I always compare film-making to restaurants. If you're only eating at the hotdog stand, you're never going to know the world. With each new foreign film, and foreign cuisine, you get to see the culture."
Asked why he began making his own films he says, "When I brought in a film that the 2,000 members liked, it filled me with an incomparable sense of joy. It didn't matter if I created the film, or someone else did, but I wanted to contribute to that process."
Fridrik started with a group of 2,000, but now millions have seen his films. And soon perhaps a gold statue will bear his name.
Recently in Tuscany researching a new project, Fridriksson learned about wine-making from the best vintners in the world. They treat their vines with the most dedicated care, and choose to make 50,000 bottles of the best product out there instead of making 300,000 bottles of "okay" wine. "I will say nothing harsher than 'Okay'" he jokes, "there is no such thing as bad wine!"
But if we replace "wine-maker" with "director", then by the same principles Fridriksson is one of our best. He chooses smaller projects, finds the best talent (Kate Winslet, amongst others) and infuses his films with as much of his heart as they can stand.
The result: Great wine. Great films.
"And that is why you do it." He says. "It's fantastic to see the collected contributions. The composer, the DP, and the editors. It's "your film", but really it's a culmination of so many people with so much talent."
Fridriksson takes a huge interest in other cultures and different countries. His last documentary was about Autism in the States and Europe and his new project about legendary director Michelangelo Antonioni may take him to China, Iceland and Italy.
Iceland has been as hard struck by the recession as the rest of the world, leaving Fridriksson without much of a budget to promote his beautiful and heart-felt film. But it has also brought undeniable gifts. "My daughter and son live with me again." He says. "I have my family back, which makes me very happy. Something wonderful has come out of this recession."
The next level of nominations will be announced on Tuesday and Fridriksson says, 'I am so grateful to the Academy, because the first nomination enabled me to make so many films."
I wonder out loud how it must feel to be considered for the Oscar with a film that is so personal, that is, in essence, his life.
Fridriksson's enormous grin says it all. "So much of anything is luck, and I have been lucky. And I am thankful."
Find out more about Mama Gogo.
FOLLOW HUFFPOST