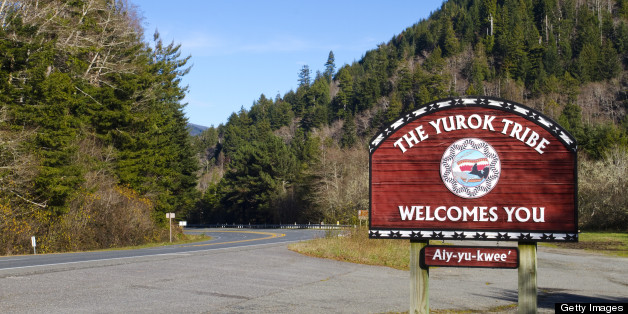 Getty Images
Though it is no shock that the nation's 6.2 million American Indians have the highest national poverty rates, where the highest of those poverty rates exist says something about the hiring practices and economic priorities of those states currently experiencing budget surpluses and low unemployment as the current "drill, baby, drill" energy boom continues hurtling forward.
According to the latest five-year data of poverty rates by race released February 2013 from the Census Department's American Community Survey, 42.7 million people or 14.3 percent of the U.S. population had income below the poverty level. Current federal guidelines consider an individual earning under $11,170 a year or a family of four earning under $23,050 to be living in poverty. American Indians average the highest poverty rate at 27 percent, followed by African Americans (25.8 percent) and Hispanics (23.2 percent) -- compared to whites (11.6 percent) and Asian Americans (11.7 percent).
But what is more telling is where the most vexing problem of poverty in Indian Country exists.
While the national average poverty rate for Indians is 27 percent, South Dakota had the highest poverty rate at 48.3 percent, followed by North Dakota at 41.6 percent. Other states with exceedingly high Indian poverty rates include Minnesota (38.4 percent), Nebraska (38.1 percent), Montana (36.3 percent), Arizona (35.1 percent), and Utah (31.7 percent).
What's interesting is that some of those states with the highest Indian poverty rates also had an equally wide schism in terms of the lowest recent unemployment numbers. While the current national unemployment rate is 7.6 percent, the lowest unemployment rates by state include mostly energy boom states. North Dakota ranked lowest at 3.3 percent, followed by No. 2 Nebraska at 3.8 percent, No. 4 South Dakota (4.3 percent); and No. 5 Utah and Wyoming (4.9 percent). In fact, within the Bakken boom counties, unemployment drops to 1.7 percent.
Meanwhile, Gallup's Job Creation Index for 2012 found North Dakota -- with an Indian poverty rate of 41.6 percent -- led the nation in job creation in 2012 for the fourth year in a row. North Dakota's job market was boosted by oil production from the huge Bakken oil shale formation in the northwest corner of the state which is believed to hold some 18 billion barrels of oil.
This energy boom has already accounted for $30.4 billion in economic activity in North Dakota, up from just $4.4 billion in 2005, according to a March 2013 North Dakota State University report. In fact, North Dakota is now second only to Texas in oil production, jumping from ninth place in just six years and supported nearly 60,000 jobs statewide in 2011, according to the North Dakota Petroleum Council-funded NDSU study. Within days of that economic report, it was announced that two new oil refineries are being built to supply diesel for fueling the hundreds of oil rigs and thousands of trucks and railroad locomotives operating in the region.
Gallup notes the North Dakota jobs boom is also creating a hiring ripple effect in neighboring state enclaves of low unemployment, such as South Dakota -- with an Indian poverty rate of 48.3 percent, Minnesota -- with an Indian poverty rate of 38.4, and Nebraska -- with an Indian poverty rate of 38.1 percent.
And with the sullied Keystone pipeline route destined to pass through the region, even more job creation can be expected.
So who's getting these "drill, baby, drill" jobs?
It may sound a bit quixotic, but has the oil industry -- with profits on a clear upswing -- made a collaborative effort to reach out to the energy boom region's unemployed tribal members?
The American Indian population stands at about 43,000 or 6.4 percent of North Dakota, with another roughly 71,000 Indians living in South Dakota where the American Indian Movement (AIM) recently commemorated the 40th anniversary of the Wounded Knee confrontation. Sure, there are tens of millions of dollars estimated to be available to some tribes from drilling leases and royalties on Indian land, yet these two states still have the highest Indian poverty rates in the nation.

Ironically, Forbes magazine ranked Sioux Falls, S.D., as No. 1 on its 2012 list of "Best Small Places for Business and Careers." Fargo and Bismarck, North Dakota, earned the No. 2 and No. 3 spots. Forbes' criteria considered "job growth (past and projected), costs (business and living), income growth over the past five years, educational attainment and projected economic growth through 2014."

Really? Sell that on the reservations: The Bureau of Indian Affairs Labor Force Report estimates the real unemployment rate on North Dakota's reservations can be as high as 55 percent, while reaching 83 percent on South Dakota's reservations.
FOLLOW HUFFPOST