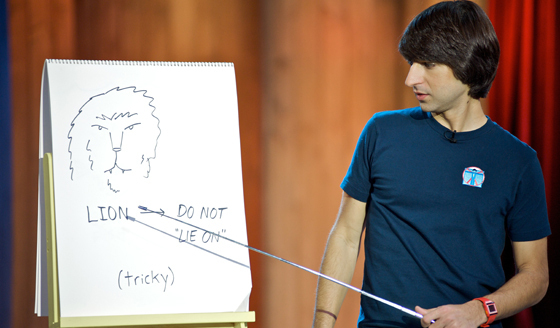 It wasn't too long ago that Demetri Martin was dropping out of NYU School of Law to pursue a career in a comedy. Now he's preparing for the second season of his Comedy Central show, "Important Things With Demetri Martin." He may be a self-proclaimed "dork," but if that's true, he is their king. After a stint on the "Daily Show," and starring in an Ang Lee film, this laid-back comic has hit the big time.
Not surprisingly, Martin's only opportunity to chat with me was en route to work, which only seemed fitting. In Los Angeles, an astounding number of phone conversations take place while driving. Most traffic jams are essentially a collection of mobile phone booths. Lucky for me, I was able to catch him on this commute and chat with him about the upcoming premiere of his show, projects he's working on, and most interestingly, his feelings on the world without Conan.
Martin recently relocated from New York to LA, which is a move that's usually accompanied by quips about the lack of quality pizza, Dunkin Donuts, and jaywalking. But it turns out Martin has barely noticed a difference in his life. "My last year in NY was really just a year in an office. Then I switched offices. It just happens to be on the other side of the country."
But for the show itself, the move is already paying off. Martin told me Season 2 of "Important Things" will feature guest stars like "Fred Willard and Alan Dale from 'Lost.' (He's one of the bad guys.)"
I admit to him I've never seen an episode of "Lost," which is something I'm simultaneously proud and ashamed of. And picking up on this, Martin puts me at ease: "I haven't seen 'Lost' either. I'm not against it or anything. All I know is that people have been stranded for a long time...they're all really good looking and in good shape, but they have problems with each other."
Rather than getting sucked into "Lost," Martin has found a more practical use of his scant free time: "For some reason I've been watching a lot of HGTV. They just have those shows that are like, 'Linda and Steve are getting their first house. These are the three houses they're looking at.' There's something very simple about the programming that doesn't seem too tied to the real world. So I get to watch people and images but I don't have to know too much about news or politics. It's kind of irresponsible, but it's really relaxing." That actually sounds great. It actually sounds like the opposite of watching "Lost."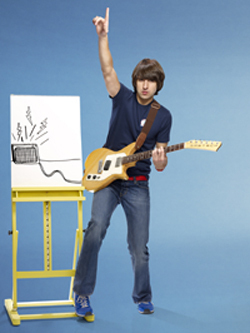 Aside from his show, the topic I was most looking forward to discussing was the Leno/Conan mess. Yes, it's been covered to death, but I was curious to hear what Martin's thoughts were, considering his time spent as a writer for Coco.
"I think he's a real class act and I, like a lot of my friends, was surprised and sad when the whole thing came out that they wanted to move him. This is a bummer for my generation."
He then paused and repeated that word - "Bummer" - which summed up the situation in a way I hadn't yet thought of. We get so caught up in the media circus; it's easy to forget the whole thing just flat out sucks. A major blow to the dorks who look up to Conan...the dorks who also look up to Martin.
But despite his bummed out-ness, Martin spoke fondly of his experience on "Late Night":
"I loved working for Conan. He has a great staff and he's a genuine person who I think is good to people. He works really hard. And I think he contributed something great and original to late night television.
"People treated each other well. You didn't have pressure to get things on," he continued, describing the office culture. "You didn't have to have something produced every day or your job was in trouble. You didn't have to feel like 'I'm gonna get fired because I'm not prolific enough this week' and in a weird way, that frees you up to come up with more stuff. I think it makes you more productive because you're not afraid."

He added that the combination of hard work and comfortable environment "[filtered] down from the top. Conan's a good guy and what you see is what you get."
It seems this balance is something Martin takes to heart. In a time when Hollywoodites drunkenly hold up banks (oh Rip Torn) and chase their wives with kitchenware (oh Charlie Sheen), it's refreshing to hear from someone in the business who is, to use a phrase that goes back to the pioneers of Hollywood, a real mensch. It's like he believes in comedy karma, which is probably why he sounded so confident that Conan will be fine in the long run: "He's gotta resurface. I read some stuff about how the television landscape has changed and the money isn't there...all that business stuff. I'm sure it's all true, but it doesn't change that he's really funny. A lot of people want to see him doing the show."
And a lot of people want to see Martin doing more than just his show. Well, fellow dorks, luckily his script "Will" is in the works and is set to star Paul Rudd and Zach Galifianakis. Yeah, that's right. Rudd and Galifianakis, i.e. your two favorite actors. (Weird that I totally read your mind, right?) On top of that, it's being helmed by "Little Miss Sunshine" directors Jonathan Dayton and Valerie Faris. Obviously this movie's guaranteed to win an Oscar for best original awesomeness (and possibly costume design, but let's not get ahead of ourselves).
What would really be the icing on the cake? If Martin joined the cast, too. "We're trying to work that out now," he explained. "I had the idea for that movie about a decade ago. I always thought I'd be in it [but] so far I'm not famous enough to be enough in my movie." And while he's excited to see this labor of love come to life, Martin remains "cautiously optimistic," a refreshingly pragmatic approach to success.
"Everything from watching Conan lose 'The Tonight Show' to working one day on 'Moneyball' and then having it canceled - you learn to really temper your optimism and be a realist as much as you can. At the same time, be hopeful and work hard, but expect very little. You never know."
At the moment, Martin is working so hard, he doesn't have the time to return to stand-up, something he expressed interest in getting back to at some point. "I would have to find a way to work maybe 50 hours a week [on the show], rather than 70 or 80."
With all his projects, which also includes a book of essays and drawings, he might not have time to commit to "Lost," but his prolificacy has certainly expanded his fan base. But despite his growing fans, Martin doesn't anticipate his comedy changing its tone.

"I think for me I can't imagine that big of a crowd being excited for what I do. That's not a self-deprecating thing; I'm not an arena guy. I'm not really shouting at the audience or jumping around. It's a little bit quieter. It's nicer to have a little more intimacy with an audience, and really put on a show that feels connected.
"When I started, most of my stand-up career was playing to much smaller numbers. Sometimes there were four people in the audience. Having a TV show now, it's nice to go different parts of the country. Like in Portland or Baltimore or North Carolina or Chapel Hill or something. It's like, 'Wow this is cool. I found similar kinds of people in different spots.'"
And I'm sure the slightly hip/slightly uncool comedy-fans in Chapel Hill would agree it's important in this now Conan-less age that hard-working, sincere, funny people all over the country have Martin's show as an outlet. You might need to sift through some of the Hollywood bullies to get there, but as Martin assures us, "Dorks like me are alive and well."

-Watch the trailer for the upcoming season of "Important Things With Demetri Martin"
SUBSCRIBE TO & FOLLOW ENTERTAINMENT
HuffPost Entertainment is your one-stop shop for celebrity news, hilarious late-night bits, industry and awards coverage and more — sent right to your inbox six days a week. Learn more