As GOP presidential frontrunner Herman Cain struggles with a sexual harassment scandal, one thing is clear: Regardless of whether he's getting good press or bad, his name is now inextricably linked in the zeitgeist to his former company, Godfather's Pizza, which statistics indicate might be benefiting from Cain's newfound notoriety.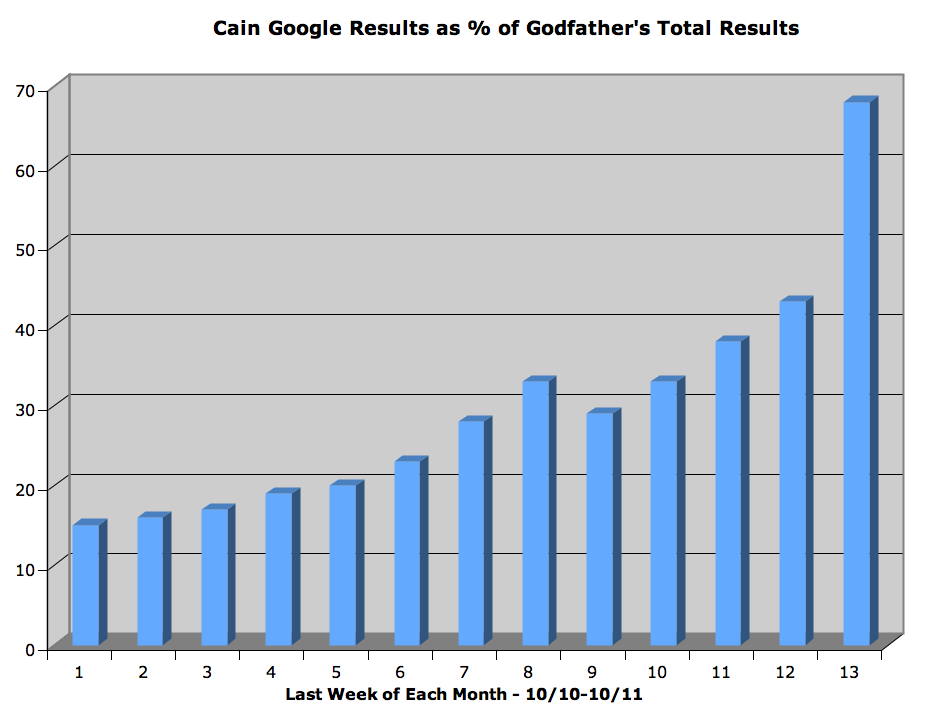 Judging from a statistical analysis of Google search results in the last year, Godfather's hits have nearly quadrupled, with mentions of Cain accounting for close to 70 percent of all "Godfather's" search results (compared to just 15 percent a year ago) -- and total hits doubling since the sexual harassment scandal erupted. Godfather's is a privately held company for which Cain was CEO from 1986-1996, and does not publicly release earnings statements.
During the week that ended October 31, 2010, search results for "Godfather's" plus "Herman Cain" on Google were 25,100, out of a total of 162,000 hits for "Godfather's" alone (15 percent). Compare that to the week ending October 23, 2011, where Godfather's search results that included Herman Cain's name amounted to 212,000 out of 314,000 total hits -- a remarkable 68 percent. Interestingly, since the sexual harassment scandal hit, the total number of Google entries for Herman Cain that also mention Godfather's has nearly doubled (from 169,000 the week ending Oct. 30 to 305,000 for the week ending Nov. 6), but the percentage of those hits to the total for Godfather's search results has dipped slightly to 63 percent from a high of 68 percent just two weeks prior. I would suggest that this latest dip might be attributable to Cain being increasingly identified as "GOP frontrunner" or "former head of the National Restaurant Association" rather than simply "former Godfather's CEO." In this regard, what's been a bad week of press for the National Restaurant Association might be good for Godfather's.
Godfather's company line since Cain entered the campaign has been consistent: ""Godfather's Pizza takes no position on political candidates, but we do make great pizza." Though Cain reportedly has no financial interest in the company itself, it's worth noting that according to FEC records, current Godfather's CEO Ronald Gartlan donated $2000 to Cain's Senate campaign in 2003. Whether the increased mentions of Godfather's on the internet has translated into actual sales is also far from certain. A Fast Company article on October 24, reported that only one franchisee owner, of those that they called, saw a noticeable increase in sales since Cain started running for president, but most couldn't tell.
This much is true, though: No matter how Herman Cain's political campaign shakes out, it'll be hard to separate the man from the pizza.
This Blogger's Books and Other Items from...
SUBSCRIBE TO & FOLLOW THE MORNING EMAIL
The Morning Email helps you start your workday with everything you need to know: breaking news, entertainment and a dash of fun. Learn more