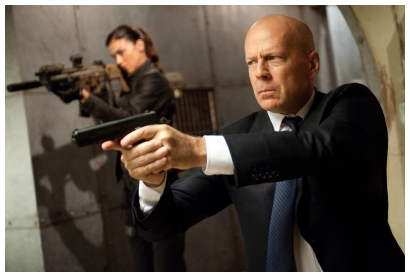 With its nuanced evaluation of modern warfare and the place of the soldier in today's society, G.I. Joe: Retaliation represents an innovative vision of armed conflict waged on a global scale. Oh, who are we kidding? G.I. Joe: Retaliation is the second entry in the toy-based franchise, featuring Dwayne Johnson, Bruce Willis, and Ray Stevenson facing off the baddies of Cobra in order to make the world safe for... Not sure. Other toys, possibly?
Cinefantastique Online's Steve Biodrowski and I discuss whether the film will leave audiences shouting "Yo, Joe!" or "Oh, no!" Then, reflecting the rather dizzying variety of new genre films released this past weekend, we discuss Room 237, a documentary that examines people's surprisingly baroque relationships with Stanley Kubrick's The Shining; Wrong, Quentin Dupieux's latest dip into skewed reality; and I discuss the existential survival film, Detour.
Plus: What's coming to theaters.
Click on the player button to hear the show, or right-click the title to download.
This Blogger's Books and Other Items from...
SUBSCRIBE AND FOLLOW
Get top stories and blog posts emailed to me each day. Newsletters may offer personalized content or advertisements.
Learn more