THE BLOG
Mighty Movie Podcast: Committee of Whiteness: Anthony Fabian on Skin
You could probably forge a good, absurdist, dark comedy out of a government where racial identity can be declared and reversed by official decree, and white parents whose child's skin is, because of a genetic quirk, darker than theirs struggle to get their kid designated Caucasian. I can imagine Terry Gilliam going to town on something like that, or maybe even Kevin Smith in a more thoughtful mode. But this isn't absurdist comedy, this was South Africa in the throes of apartheid, and the story told in Anthony Fabian's debut feature, Skin, turns out to have been all too real.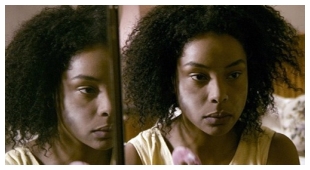 The actual person, Sandra Laing, suffered through a kind of industrial-strength crisis of identity, with her parents determined to ensure that her privileges be protected via that all-important white designation, and her own growing awareness that, whatever the government stamped on a piece of paper, she would have no shortage of difficulty in finding a place in so divided a society. Director Fabian shot the film in South Africa, and brought together a strong cast, including Sophie Okonedo as Sandra and Sam Neill and Alice Krige as her parents. The result is quite moving -- a human and unusual perspective on the insanity of institutionalized racism.
Anthony Fabian and I got a chance to talk about his motivation for taking on this project, and how the dictates of apartheid could twist the motives of even the best-intentioned of parents. Click on the player below to hear the interview.
COMING SOON: UNIVERSAL'S THE FOURTH KIND
More MMP on HuffPost:
Lars von Trier's Antichrist: A Conversation
Mira Nair on Amelia
Sebastian Silva on The Maid

Check out the Mighty Movie Podcast homepage.
MORE:
Love
,
Justice
,
Emotional Intelligence
,
Racism
,
South Africa
,
Activism
,
Johannesburg
,
Acting Legend
,
Justice System
,
Social Drama
,
Court System
,
Debut Feature
,
Sam Neill
,
Sophie Okonedo
,
Alice Krige
,
Anthony Fabian
,
Repression
,
Apartheid
,
Gritty
,
Drama
,
Controversy
,
Violence
This Blogger's Books and Other Items from...