All dads are heroes to their children. They're old, strong, full of wisdom and are almost always up for doing something fun. And as I've grown up, I've realized that my dad wasn't always actually an old man. My earliest memories of him are when he was somewhere around my age now. So, it makes sense that he wanted to go on bike rides, build stuff and listen to music. I do all of those things today too!
I realized that people are never actually OLD, they just get older. My dad still has that adventurous 30-something hero inside who is dying to breathe some fresh air again. I bet your dad does too! You have to give like a H.E.R.O. when it comes to dad if you want to make him feel like the hero he was when you were just a pip-squeak! If he is a new dad, then make sure he stays in touch with his awesomeness this Father's Day.

Here is a collection of fun gifts for dad that will rock his world more than another tie or personalized gift. It's not that he won't appreciate one of those classic gifts, but the folks at Gifts.com headquarters are all in agreement that a fun gift is better than a boring gift any day. Father's Day is June 17th so get to your gift shopping stat!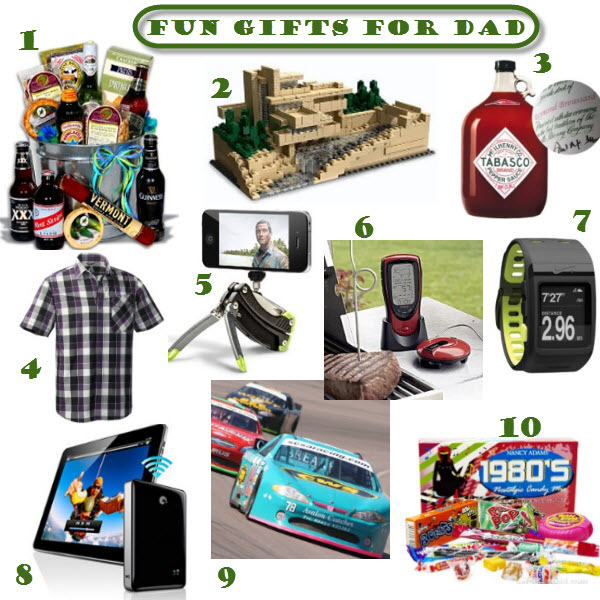 1. Around the World Beer Bucket: $89.99 Treat the beer-loving dad to a bucket of brew from breweries far and wide.
2. LEGO Sculptures -- Falling Water: $124.99 For the design-, and toy-, loving dad. My architect husband loves these because they're a fun break from real building!
3. Personalized Gallon Jug of Tabasco: $44.95 This is the ultimate gift for the spicy dad. One full gallon of Tabasco goes a long way, and you can personalize it with his name and a message!
4. Short Sleeve High Route Shirt: $39.99 He'll reminisce about the days when plaid shirts were cool the first time! Lucky for him, it's cool again.
5. Gerber Steady Multi-Tool: $64.95 Get Dad back in touch with his inner MacGyver! This super tool acts as a tri-pod for his phone or camera and has all the other bells and whistles from bottle opener to screw drivers and wire cutters.
6. Wireless Talking Grill/Oven Thermometer: $39.99 Grill masters agree that this handy little gadget makes barbequing even more fun because they can step away from the grill while still keeping an eye on it.
7. Nike+ Sport Watch Powered by TomTom: $169.00 Once a runner, always a runner. This sport watch will have him back on the track, or sidewalk or treadmill tracking his progress & feeling better than ever.
8. Seagate GoFlex Satellite Mobile Wireless Hard Drive: $174.95 Guys love to keep their media collections organized and accessible. This hard drive lets him show off his collection from anywhere, whenever he wants.
9. Ultimate Stock Car Ride Along: $119.00 What guy doesn't love fast cars? Now he can sit behind the wheel of some of the fastest with this once in a lifetime experience. Check this experience map to find out if this is available near you.