Gift Closet 101: The Birthday Gift Stash
Maybe it's just because I'm editor-in-chief at Gifts.com, but I doubt it. Autumn seems to be loaded with birthdays and birthday gift giving opportunities. I'm a September baby, so I can't complain about my people, but to avoid spending every spare moment gift shopping, I like to stock up on fun gifts and match them with their rightful owners when the time comes. I call this my "gift closet". I have a few shelves stocked with unique gift ideas that I've picked up while out and about and I keep them there for just these occasions.
I like to give gifts that are playful, make a statement, aren't too pricey and have at least a 6-month shelf life. Whether your birthday-overload season is fall, winter, spring or summer; here are some dos and don'ts for your gift closet.
Do:
Go for something colorful or novel, because there is usually a fun story to tell.
Look for staying power, unique is one thing, trendy can be tragic when you haven't given it away in 6 months.
Focus on gifts that can be good for men and women. Lean toward home, desk, kitchen & bar gifts.
Don't:
Stock up on generic gifts like wine, you don't want it to be obvious that you didn't go pick something out specifically for them.
Buy more than one, unless you plan on giving them away at the same time. Giving someone the same gift twice, by accident, is embarrassing.

Buy anything sized, like clothing, shoes or rings.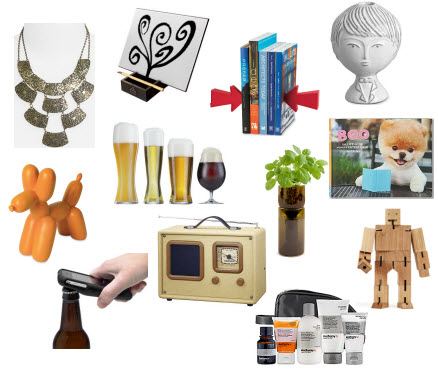 What I'm stocking my birthday gift closet shelf with these days:
Buddha Board, Cubebot Puzzle, GrowBottle, Jonathan Adler Reversible Vase, iBottle Opener, Signal Bookends, Balloon Bookend, Boo: The Life of the World's Cutest Dog, Crosley CR21 Radio, Craft Beer Tasting Set, Anthony Logistics Shave Kit, Stephan & Co. Collar Necklace.
Follow Dana Holmes on Twitter: www.twitter.com/danaholmesmedia