Teaching Kids About Money: Protection and Possibility
Taking a road safety approach to financial education, including both protection and possibility, will help young people avoid financial accidents whilst being empowered to make life choices that will leave them happier and fulfilled.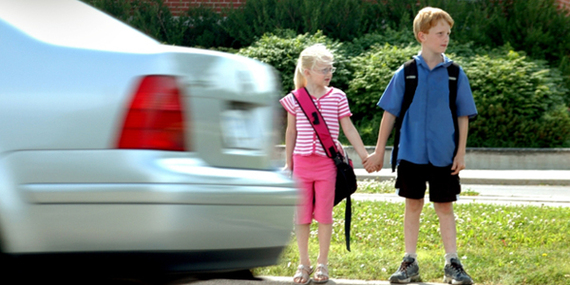 Most people would agree that teaching children to safely cross the street is an essential life skill. We want to keep them safe from harm and avoid accidents. As children grow up and progress from scooters, to boards, bikes and so on, the safety principles they practiced from a young age will hopefully stay with them. There is also a secondary benefit to road safety, which is the gradual building of a child's confidence and independence. How far could they get in life if for example, they lacked the courage or permission to cross roads? A child would only ever experience living in their immediate neighborhood and never progress to the opportunities in the wider world beyond.
Protection
Both of these principles can be applied to teaching children and young people about money. Consider the safety element as future protection which will enable kids to make sensible, well-informed financial decisions and avoid painful, expensive mistakes. Examples include running up large consumer debt, or succumbing to the 'want it now' appeal of payday lenders. These are money accidents waiting to happen. In an ever complicated financial world, the easy availability of credit for young people and the lure of glossy, mass media advertising can be a big temptation to the unaware.
Possibility
The second major benefit, increasing independence, is also equally valid when applied to financial education. When has anyone, ever, spoken to your child about wealth creation for example? Increasing your child's Money IQ will help plant seeds of opportunity and encourage them to think about what they want their lives to look like. This may in turn impact on career choices, attitudes to education and other key life decisions. Give young people access to ideas, influences and strategies to make money, combined with the know how to create a plan towards financial independence and the result can be very liberating in terms of how they decide to spend their working lives.
Actions
If you are a parent, think back to helping your child to cross the street; you will at some point have modelled good behavior. Stopping at the curb, only crossing at the lights, holding their hand for reassurance and so on. We know that young children also pick up their financial habits and beliefs from early influences, which in the main means you. Speaking in hushed tones around money will lead to a belief that it is not something to be discussed. Arguing over bills and missed payment may lead to stressful associations and even a desire avoid money responsibilities later in life.
One quick tip is to become more aware of your language, actions and attitudes towards money. Are these things that you wish your child to inherit from you? A more open and positive relationship with money will be developed by a child who gets a balanced picture that financial awareness can lead to both protection and possibility.
Top 8 Benefits of Financial Education
Budgeting and tracking your expenses will give you a firm grasp on how much money is coming in and where it's going out. This can help you cut wasteful spending and free up more of your income.

Over 75 percent of Americans don't have enough in savings to cover their bills for six months, and 25 percent have no savings at all. Becoming a smart saver will help you create a strong savings plan to be ready for an emergency or rainy day. Source: Federal Reserve, US Census Bureau, Internal Revenue Service

Most of us have 401(k) retirement or similar defined contribution plans, but don't quite understand how to properly take advantage of all they can offer. By becoming financially savvy, you will be able to take control of your 401(k)/defined contribution plan and maximize your benefits.

Today there are more ways to get into debt than ever before. Many of us start straight out of school with student loans, credit card debt and more. Financial education programs can teach you how to spot debt pitfalls and ways to get out from under any amount of debt.

Over 40 percent of Americans are not saving for retirement, but it's not too late. You can figure out the best way to save for retirement and create a plan to reach your goal. A good rule of thumb is to set aside 10 percent of your wages for retirement. Source: Federal Reserve, US Census Bureau, Internal Revenue Service

How would you feel if you didn't have to worry about money issues or retirement? Financial security alleviates one of the most stressful issues in our lives and helps build confidence for the future.

The recipe for success is investing in solid companies and holding on to them for the long haul. Top investor Warren Buffet tells investors how taking a long-term view can benefit your portfolio with Coca-Cola: "If you had invested $40 in Coca-Cola stock in 1919 it would be worth over $10 million today." So don't try to play the market and run the risk of buying high and selling low. Make thoughtful choices and stay calm through short-term market upturns and downturns.

One of the most important things you can teach your children is how to handle their finances wisely. Start them off on the right foot and make them smart savers!
Follow Daniel Britton on Twitter: www.twitter.com/financial_tales
More From Financial Education