Economists at Deutsche Bank are calling for a big surge in employment numbers as retail sales recover in the United States. The chart below, from www.usdollar.us.com shows the relationship between retail sales and non-farm payrolls. In America's consumer driven economy, retail sales lead the way out of business recession and consequent double-digit unemployment. "Retail sales have turned up as recession fatigue has worn off sharply," said Joseph LaVorgna, chief economist at Deutsche Bank in New York. "There should soon be a pretty big pickup in job growth. If history repeats, we'll be blindsided by job gains."
LaVorgna anticipates payroll gains will average about 300,000 for the next three to four months. Consumer spending, constrained by the loss of 8.4 million jobs since the recession began in December 2007, has lagged behind the government stimulus targeted recovery in manufacturing and business investment. Retail sales unexpectedly climbed 0.3 % in February, the fourth gain in the past five months according to the Commerce Department.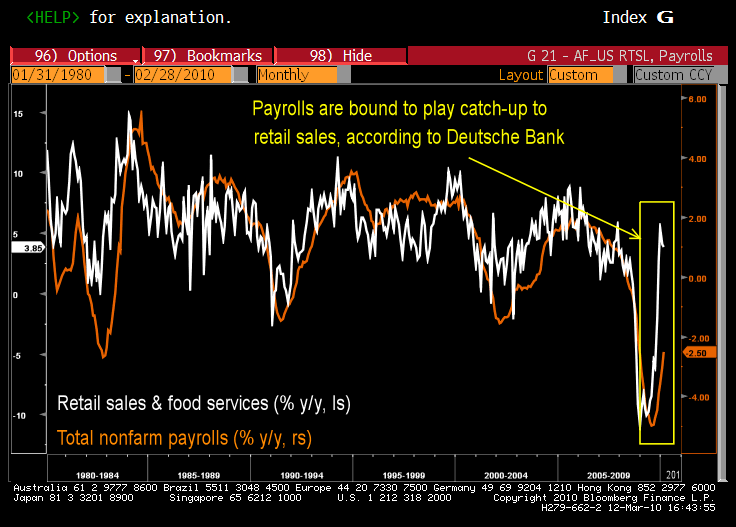 Since Obama took office, monthly job losses have fallen from 779,000 to 36,000. Corporate profits are back; among 491 companies in the S&P 500 that reported fourth-quarter earnings, profits rose 180 % from a year ago. Durable goods orders in January were up 9.3 percent from a year earlier. Inflation is tame, and long-term interest rates remain low. Still, for Obama the economy is a political burden inherited from the Bush years. The media and public opinion give him no credit for the impending recovery while +10% unemployment rates, not seen in a generation, capture all the headlines.
But smart money knows better; its judgment is overwhelmingly positive and as they say, money talks. One year after U.S stocks hit their post-financial-crisis low on March 9, 2009, the benchmark Standard & Poor's 500 Index is up an astounding 68 % and it's up 40% since Obama took office. Credit spreads have narrowed to pre-crisis levels. Commodity prices are back up as normalcy has returned to the Baltic Dry Index and the world trade it represents. Housing prices have stopped falling. "We've had a phenomenal run in asset classes across the board," said Dan Greenhaus, chief economic strategist for Miller Tabak & Co. in New York. "If Obama were a Republican, we would hear a never-ending drumbeat of news stories about markets voting in favor of the president."
G.D.P. grew at a 5.9 % annual pace in the fourth quarter of 2009 compared to a median forecast of 2.0 % by leading economists a week before Obama's Jan. 20, 2009 inauguration. The median forecast for GDP growth this year is 3.0 percent versus 2.1 percent for 2010 in the survey taken a year ago. "You have to give him -- along with the Federal Reserve -- a lot of credit," said Joseph Carson, director of economic research at Alliance Bernstein LP in New York. "A year ago, there was panic, as well as concern. And a lot of the expectations were not only that we were going to have declines in activity but they would stretch all the way to 2010, if not 2011."
Gallop polls report public opinion of Obama's handling of the economy has gone from 59 % approval in February 2009 to 61 % disapproval a year later.

Mark Zandi, chief economist at Moody's Economy.com, said the public's opinion of the economy is likely to improve as the gains companies have made begin to translate into more jobs and higher wages. "Businesses are doing very well but households have yet to benefit," Zandi said. "Households will eventually benefit, but they'll have to see it before they believe it."
300,000 New Jobs in One Month
According to David Greenlaw, chief fixed-income economist at Morgan Stanley, the U.S. may add as many as 300,000 jobs in March, the most in four years.
Zandi said the economic rebound is largely a result of White House and Federal Reserve policies. He cited the bank bailout, the Fed's low-interest-rate policy and support for credit markets, and the Obama administration's stimulus plan, bank stress tests and backing of Fannie Mae and Freddie Mac. "When you take it all together, the response was massive and unprecedented and ultimately successful," Zandi said.
Georgetown University professor Phil Swagel, who was Assistant Treasury Secretary in George W. Bush's administration and considers himself an Obama critic, said, "They could have done a better job, but their economic policies, including the stimulus, have helped move the economy in the right direction."
In addition to gains in the private sector, the decennial census has added some 250,000 temporary public sector jobs.
While small businesses still have difficulty getting loans, credit markets have thawed. Spreads on investment-grade corporate bonds have narrowed from 5.13 percentage points on the day Obama took office to 1.63 percentage points on March 8, according to Barclays Capital. Rates on 30-year fixed mortgages have dropped from an average 5.20 percent on Inauguration Day to 5.03 percent on March 8, according to Bankrate.com. Housing prices, which dropped since 2007 and proved a drag on the economy, have firmed. The median sales price for existing homes in January was the same as a year earlier. "There's definitely legs in this recovery," said John Silvia, chief economist for Wells Fargo Securities. "There's progress being made at the national level. But in their own situations, a lot of people are still struggling."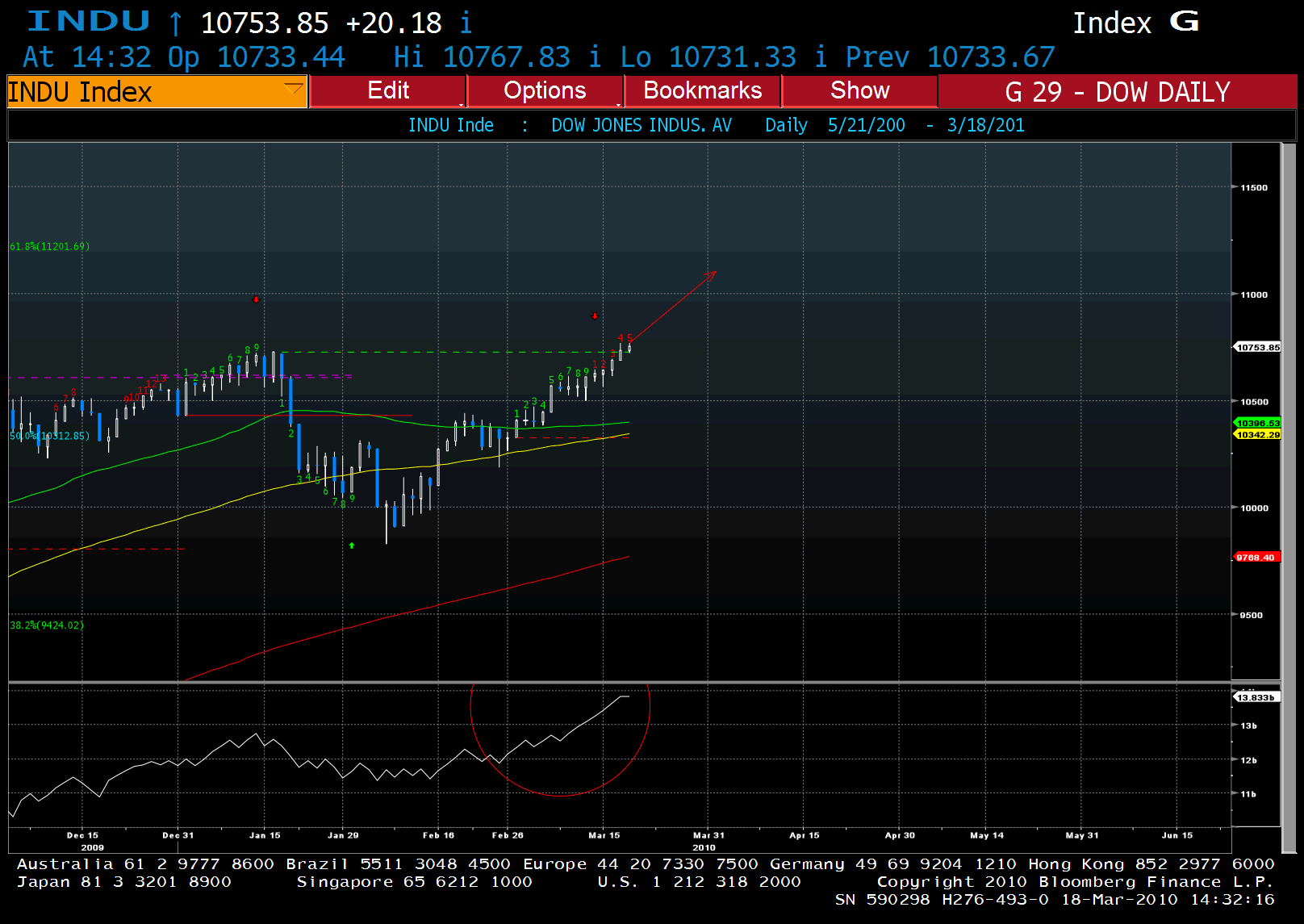 Dow Surging to New 2010 Highs as Corporate Profits Recover. For more financial analysis, see www.usdollar.us.com.
SUBSCRIBE TO & FOLLOW THE MORNING EMAIL
The Morning Email helps you start your workday with everything you need to know: breaking news, entertainment and a dash of fun. Learn more