On July 31, the Chautauqua Theater Company (CTC) closed out its 2011 New Play Workshop Festival with a first-ever marathon day of all three featured plays -- Michael Mitnick's Elijah, Michael Golamco's Build, and Molly Smith Metzler's Carve.
I would not normally recommend seeing three plays in the span of eleven hours. But in the case of CTC's "workshop" offerings, I would contend that this epic approach is the ideal way to experience the stories, characters and the striking commonalities in theme that bind the three works together. Throughout the day, it was considerably easy to forget that these were completely newborn works on display, far from their definitive completed versions. Artistic Directors Vivienne Benesch and Ethan McSweeny have expertly presided over a festival that, for all its disparate elements, is centered intensely on issues of betrayal, artistic fraud and the notion of creative license.
Elijah, directed by Ethan McSweeny, details the experiences of a young Jewish composer who sojourns to Paris to meet his beloved role model, a hermetic composer named Geourges Deruet. Playwright Michael Mitnick's script possesses a superb balance of abstract poetry and narrative-propelling dialogues and flashbacks. Yet the play suffers from an inability to convincingly portray Elijah's relationships with his father and would-be-wife, Rivka, as substantive enough to cause internal conflict for the young American abroad, portrayed admirably by Peter Mark Kendall.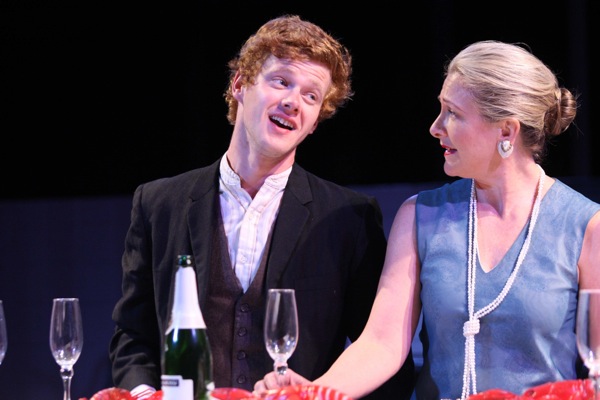 Peter Mark Kendall as Elijah and Carol Halstead as Frieda Hoch. Photo by Mark L. Anderson.
Fortunately, as it turns out, the play is not really about Elijah at all. Rather, it's about the other characters' attraction to him. Women and men alike are drawn to him, not because of who he is but because of what he represents -- the liberating, yet oblivious, joys of youth. "I feel nothing, I feel alone. For the first time I feel happy," he says at one point. When a middle-aged woman solicits a kiss from Elijah in order to induce former feelings of youth, she expresses surprised disappointment at "feeling nothing." Elijah is a person on whom others' memories are projected, but he hasn't yet made any memories of his own that could be reflected back to them with any sort of genuine resonance.
Build, directed by Vivienne Benesch, is arguably the best written of the three works. Playwright Michael Golamco has crafted a swiftly paced and energetic drama about two childhood friends-turned-programmers who are collaborating on a much anticipated computer game, which seems akin to World of Warcraft with its vast, user-driven interface. Kip (played by Matt Saldívar), the game's idiosyncratic yet well-meaning creator is a multi-millionaire who lives a reclusive life in a shabby single-level home, shielding himself from the machinations of his boss Malcolm and self-medicating in a futile attempt to cope with the death of his wife. Will (Joel de la Fuente), a decidedly less talented programmer but loyal friend, has served as diplomat between the stubborn artist and his corporate overlord.
From this straightforward dichotomy emerges the most bizarre and innovative variation of the love triangle I have ever witnessed. Brilliantly, Golamco makes it feel like the most logical and natural occurrence possible. The playwright clearly empathizes with his characters, imbuing their interactions with endearing warmth that could easily have been lost in the dense technological subject matter.

L to R: Charlotte Graham (AI), Joel de la Fuente (Will), and Matt Saldívar (Kip). Photo by Mark L. Anderson.
To avoid a spoiler, I will refrain from further explanation of the plot. That being said, as with Elijah, the protagonist is not exactly who you expect it to be. The play's female love interest, interpreted exquisitely by Charlotte Graham, is the linchpin of the drama. The story succeeds or fails based on her character's believability and on the chemistry between her and the male leads. Thankfully, the rapport between Graham, del la Fuente and Saldívar is nothing short of mesmerizing.
Molly Smith Metzler is the sole returning playwright from last year's New Play Workshop at Chautauqua, following up 2010's Close Up Space with Carve -- directed by CTC's Associate Artistic Director Andrew Borba -- an intense and intimate look at Josh Darbin, a hipster artist in Brooklyn struggling to surpass the success of his commercial hit painting "Carve," for which he reserves scoff-ridden disdain. As it turns out, it is Darbin's assistant and love interest Jessa Campbell whose initial drawing provided the core subject matter and impetus for the work that bear's her employer's name. And when the subject of "Carve," the unwitting and inadvertent model Maureen Speert, comes to call seeking retribution, tensions flare and stark truths are laid bare.
But at its heart, Carve is not a play about artistic hacking or image misappropriation. Nor does the play truly hinge on the eccentric and moody artist Darbin, played with sparkling, acerbic wit and irrepressible stage presence by the dynamic James Badge Dale. No, the real drama revolves around the play's remaining characters --Jessa Campbell (Andrea Syglowski), Andrew Levitt (Charlie Thurston) and Maureen Speert (Carol Halstead) -- all roles performed with great alacrity.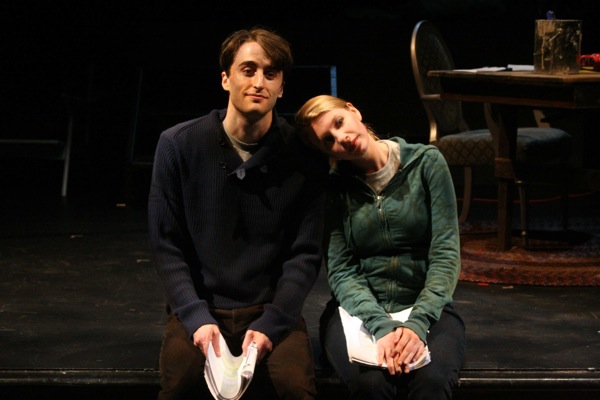 Charlie Thurston as Andrew Levitt and Andrea Syglowski as Jessa Campbell. Photo by Mark L. Anderson.
Like Build, Carve features an utterly convoluted but delightfully subversive love triangle, and it is here that the dramatic genius of the play is fully revealed. Molly Smith Metzler functions like a playwright-as-sleight of hand artist, introducing one play and inexplicably ending with an entirely different one. The magic is that neither "play" feels tacked on, but rather, both are unified through a kind of inexorable catharsis. What results is an exceedingly charming, unexpected and genuine romance. In a strong class of new plays, Carve differentiates itself as the most polished, performance-ready work.
The Chautauqua Theater Company's current production, William Shakespeare's Love's Labour's Lost (directed by Ethan McSweeny), runs through August 19. For ticket information, visit theater.ciweb.org/.
SUBSCRIBE TO & FOLLOW THE MORNING EMAIL
The Morning Email helps you start your workday with everything you need to know: breaking news, entertainment and a dash of fun. Learn more