This Friday night, PBS's Jim Lehrer will moderate the first Presidential debate. The topics are foreign policy and national security, two issues, I'm sure everyone now agrees, that deeply involve energy and the environment. As Al Gore says, "We're borrowing money from China to buy oil from the Persian Gulf to burn it in ways that destroy the planet." If that arrangement is not a national security issue, I'm not sure what is.
It's up to Jim Lehrer to focus at least some of the debate on these vital issues. If he does, he'll succeed where others before him have failed. According to Media Matters, the progressive media watchdog group, only four percent of the questions asked during the primary debates were on energy and the environment. Only three questions touched on renewable resources and conservation, including one asking if candidates used compact fluorescent bulbs. Seriously.
Here's a breakdown from Media Matters: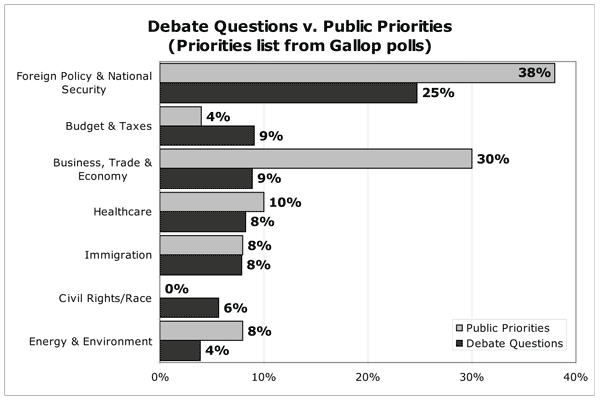 Given the predicted consequences from global climate change--from millions of climate refugees to stronger storms to terrible drought--it's hard to understand the absence of substantive questions about energy and the environment thus far. One can speculate why. Maybe it's our country's fascination with celebrity culture that distracted the moderators. Or perhaps it's the focus on "gotcha" politics that forced the moderators stay clear of what Thomas Friedman calls the next "revolution" in the world--the energy technology revolution. Whatever the cause, the country deserves to hear more from the candidates about how solutions to our energy and environmental problems will guide their foreign policy decisions. On Friday, for the sake of the country and the world, I hope we'll hear some answers.
Follow Daniel Kessler on Twitter: www.twitter.com/danieljkessler