I was in my kitchen, tying up loose cherry ends -- pitting the sour cherries left over from the sour cherry preserves, along with the sweet cherries I had hauled home from the farmers market to snack on. Both were going on a baking sheet lined with parchment paper and then into the freezer for an hour. From there, they'd end up in labeled and dated zip-top bags.
But then I stopped halfway through my pitting and reached for two pint jars from the cabinet.
One, I filled with sour cherries. The other I filled with sweet cherries. Both I filled with vodka.
The jars are stashed in the cabinet. In a week or so I'll check on them. If the vodka is tasty, I'll strain out the fruit and put the jars of vodka in the freezer.
The muskmelon vodka was disappointing. It had a striking melon flavor, but the unpleasant muskiness came too quickly forward. I'm not even sure we finished the bottle.
I don't expect that problem with the cherry vodkas.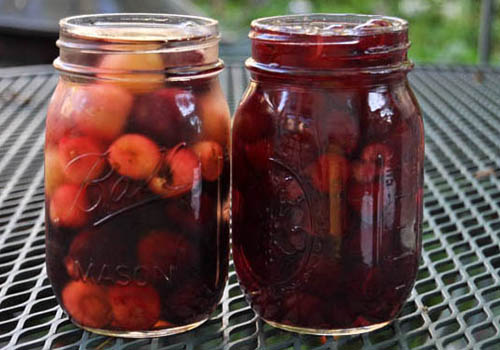 FOLLOW HUFFPOST