This is certainly a belated apology, but not without reason. We thought about publishing this apology on Blank Label's co-creation blog, but didn't think it was the best way to distribute this important message, especially because those we wronged would not likely stumble upon our website again, nevertheless our blog, which isn't one of our conversion goals.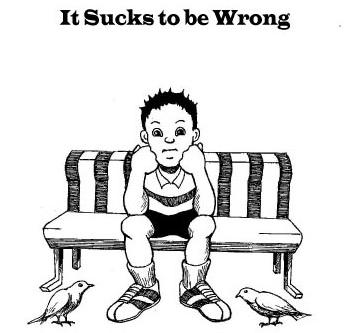 Image Source: Nutzandboltz
This is an effort to right our wrongs, especially with those individuals who we live and die by, our customers.
Things got a little crazy after we were featured in the NY Times. We really had no clue that a media mention like that would bring in tens of thousands of visitors in one day because until then, we were excited when we got a mention that raked in just a few hundred hits.
In fact, we were a small operation that was used to selling just 10 co-created dress shirts a day, but to keep up with the thousands of orders that were flowing in, we had to figure out how to AT LEAST scale up to managing 100 orders of co-created dress shirts a day.
But the fact was we couldn't do that. Our supplier didn't have the capacity to fulfill 100 orders a day, nor were they able to scale quickly enough, so we were in a tight pickle. They sort of gave us the age-old response that they could handle it, and that perhaps only some of the orders would be delayed, but newer orders would DEFINITELY be delayed, so we communicated that with our customers and new visitors.
We shot out a few hundred emails to customers telling them that their co-creations might arrive a week late, and that they had the option of canceling their order and then having their money refunded. Out of several hundred, maybe five canceled, so that was a positive sign that we had a community that loved us and we loved them back for bearing with us as we were experiencing the growing pains of a growing startup.
We even put up a few HUGE notices on our website that newer orders would be delayed two weeks because of our enormous backlog. It was on the homepage, in the dress shirt design app, and even in the checkout.
But we quickly realized that our suppliers had lied to us. They couldn't scale to 100 shirts a day. They weren't even fulfilling half that, and they were getting a few orders wrong, so we swiftly ended ties with them and immediately found a new supplier who could scale with us. We were fortunate enough that the new supplier was smart enough to customize their manufacturing processes to accommodate our individually made dress shirts with all the volume we were receiving.
We did what we could to communicate the things our business was going through to our community and our followers via email, Twitter, and through our business blog with posts such as: Where is My Shirt and Our Customer Service Sucks.
We're sorry that we weren't quite on top of things as an amazing business would have been, but with our small team of four, we quickly realized we couldn't be and do everything, so we brought on additional support to help manage email traffic, phone calls, order processing, web development and more.
We're doubly sorry that we couldn't process all your co-creations on time, and extra, extra sorry that some shirts didn't quite come out right or fit properly either.
We've got new support who can ensure a better quality product (far less mistakes, well, hopefully none, but again, we're human) and a much higher likelihood that you will have a product that fits.
From the Blank Label team, we are all hoping you can forgive us for not being able to meet your expectations, or, heck, even our own. We've disappointed you and hope you will accept our sincerest apologies. To the ones that won't, perhaps you'll turn around in the future when we fully get our act together.
The dust has finally settled on all the craziness and we are back on track with orders, customer service, and everything else. Now we can spend some time on building a better business, one that our customers can be proud of, and perhaps one that can win over the hearts of the customers who we've truly disappointed.
Can anyone forgive us?
Danny Wong is the co-founder and Lead Evangelist of Blank Label, an ecommerce startup specializing in custom dress shirts and men's dress shirts for the new male.