There is no doubt that while brick and mortar businesses feel outdated, brick and mortar sales continue to massively trump online sales. But e-commerce sales are growing at a very strong rate. In 2009, U.S. online sales amounted to $155.2 billion, only 6% of total retail sales (via Forrester Research).
A new report from comScore released "its Q2 2010 U.S. retail e-commerce sales estimates, which showed that online retail spending reached $32.9 billion for the quarter, up 9 percent versus year ago." According to the numbers in the study, U.S. e-commerce sales have a 7% Compound Annual Growth Rate (CAGR) since 2007.
E-commerce, without a doubt, is booming!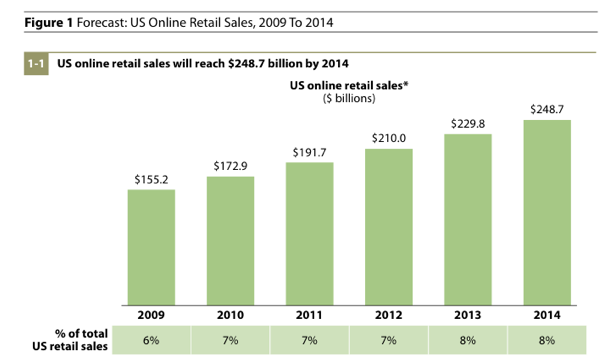 Photo via TechCrunch and Forrester
Forrester predicts that online sales will reach $250 billion in 2014, capturing 8% of the total U.S. retail sales. But what sectors of online retail will explode? Which ones will become irrelevant?

E-commerce superstores like Amazon and Zappos will continue to expand by providing a wider product selection to suit everyone's needs so they become a hub for everything and anything, sort of like WalMart. Their impressive growth rates which quickly made them billion dollar companies aren't likely to come to a halt any time soon. E-stores like Amazon and Zappos are certainly hitting the long tail of retail, and are successful in doing so because consumers are having trouble finding miscellaneous products they want in their local retail stores. Amazon and Zappos make it easy to find and purchase the things you really want. Where else can I find organic soy milk in portable single-serve sizes? Perhaps Whole Foods, but I really hate waiting in those long lines, and it would be a disappointing and wasted trip if they didn't carry what I was looking for or was out of stock.

Flash sale sites like Gilt, HauteLook and RueLaLa will reach more consumers who are looking for the latest and greatest deals on designer brands. Gilt Groupe even expanded to create Gilt City for flash deals in your local city. With consumers looking to minimize costs but maximize value, flash sale businesses came at the right time. Right now, there are scores of web-savvy consumers who would die for 70% off a pair of Nudie jeans, and would check in online several times a day to catch the most recent and available deals, which can disappear in minutes. These businesses win because they capitalized on maximized value to customers at minimized costs, at a time when consumer behaviors and technology enabled these businesses to boom.

The growth of group buying sites seems to show that the group buying industry will be a multi-billion dollar industry in no time. GroupOn was valuated at $1.35 billion earlier this year in it's latest round of funding, but competitor sites like Tippr are coming around with far more competitive advantages (due to some really great IP) which will help in the group buying industry's expansion. One huge and interesting differentiation point is Tippr's white-labeling of it's group buying software and group buying tactics, which it will license out (to big publishers most likely) to minimize merchant acquisition and consumer acquisition costs because of the leverage of publishers. I think it's just genius that instead of building a business as massive in manpower as GroupOn is, with it's several hundred person sales team, Tippr is building a software-as-a-service business and will white-label their group buying systems so that publishers can offer more value to their readers and because publishers already have strong, loyal readerships, consumer acquisition costs are low, and merchant signups are easy when the publishers already have connections to scores of advertisers that might be willing to try something different for their marketing efforts.

Co-creation is a booming sub-industry within e-commerce where consumers are collaborating with retailers to create product that they want. The power of design is put into the hands of consumers where consumers are no longer subject to what retailers want to provide. Instead, consumers have active input into what retailers are creating so consumers get a product completely tailored to them to fit their individual needs. The co-creation trend has been featured on NYT, HuffPo, Entrepreneur, Mashable, MSNBC and many other big media outlets. Many co-creation companies are building some serious traction. Chocri, for example is only a few years old but is already a multi-million dollar company specializing on co-created chocolate bars. Millions have been invested into co-creation companies like Gemvara ($11 million), FashionPlaytes ($1.7 million), and LaudiVidni (a few hundred thousand). Of course, there are also neat startups that have made a big splash in the co-creation space and media including GemKitty, Shoes of Prey, and GelaSkins. While e-commerce seems to be the long-tail of retail, co-creation has become the long-tail of e-commerce, and as e-commerce booms, so will co-creation in the coming years.

SUBSCRIBE TO & FOLLOW THE MORNING EMAIL
The Morning Email helps you start your workday with everything you need to know: breaking news, entertainment and a dash of fun. Learn more