This article originally appeared on PSFK.com.
New York City's first Tesla Motors showroom opens today in a former art gallery in Chelsea. If the news of a new auto dealership opening in the midst of hundreds of others around the country shutting their doors seems like odd timing, for Tesla it's the perfect opportunity. We reported last year on the first ever Tesla showroom opening in California and since then the company has steadily been following through with expansion plans. The New York City area already has a solid base of Tesla roadster owners and the need for a facility in the area was clear.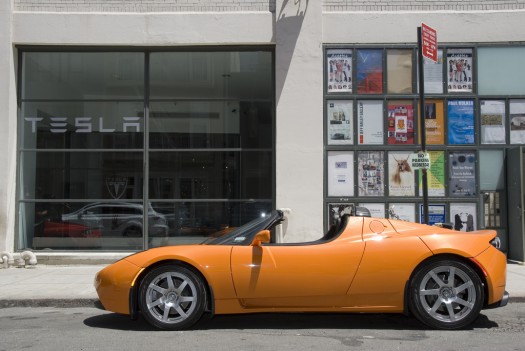 Rachel Konrad of Tesla told us that the search for a site within or around Manhattan took quite a while. There was a lot of debate whether the showroom should be located in the city or in the suburbs. Manhattan has an 'auto row' on the west side and Park ave, but Tesla eventually decided the site of a former art gallery in Chelsea was perfect and would set them apart. Rachel said that it was fairly easy to find a space in art gallery dominated Chelsea. The economic downturn has opened up many large spaces that used to show art. It is also adjacent to the west side highway which the company plans to use as part of the test drive loop for potential buyers to experience the car at speeds above the usual Manhattan traffic crawl.
For a company that hasn't spent a dime on traditional advertising, clearly they have decided to go about business differently. The Manhattan showroom is reflective of this and is not in any way like a traditional car dealership.
To read more articles by Dave, please visit PSFK.com.