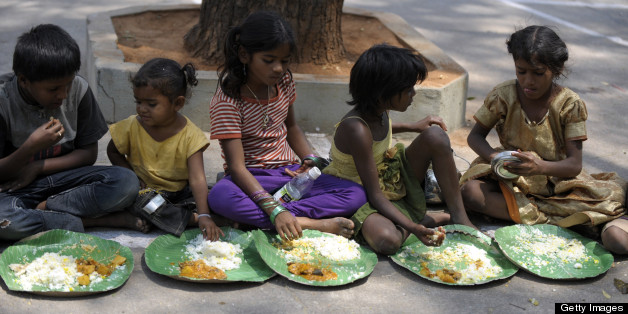 Earlier this month, President Barack Obama proposed a budget for fiscal year 2014 that would reduce federal deficits while largely protecting programs that support hungry and poor people in the United States and around the world. The proposal is particularly encouraging because it includes important reforms to our international food aid system -- allowing greater flexibility and increasing efficiency so that food aid reaches millions more people. This is a major step forward.
What's wrong with our current food aid system? Given that it was created in 1954 and has never been substantially changed, our contemporary food aid system is outdated, inefficient and wasteful. That reality does not take away from the vast worldwide needs our system has met over the last 60 years. U.S. aid has helped feed more than one billion people in over 150 countries since it began, and it has helped the government manage its surplus commodities. However, times and conditions have changed. The system needs to be revamped so that it has the flexibility to efficiently and effectively meet the emergency and development needs of today's world.
I recently joined several colleagues from partner organizations in applauding efforts to reform food aid. First, food aid under the president's proposal would reach up to four million more people than do current programs. Second, it gains efficiencies at a time when every penny counts, and lawmakers are deadlocked on the budget. With the dangerous sequestration cuts in place, it seems only logical that we would advocate for a program that reaches more people in need while better managing taxpayer dollars. Finally, the proposal would end the inefficient practice of monetization -- funding non-emergency development projects from resold U.S. commodities -- and would better align with U.S. efforts to empower smallholder farmers.
Improved efforts to quell worldwide hunger and poverty worldwide also meets a moral imperative. It is a little-known fact that malnutrition is the world's leading health threat, killing more people every year than AIDS, malaria, and tuberculosis combined. For this reason, most -- if not all -- of these administration actions have been part of Bread for the World's legislative and policy advocacy for years. We want to see that food aid is employed to more effectively reach vulnerable groups like women and children, with a particular emphasis on improving its nutritional quality.
We've learned in the past several years just how important nutrition is to the development and sustainability of individuals and nations alike. Malnutrition during the thousand days from pregnancy to a child's second birthday causes irreversible physical stunting and mental impairment in one-third of children worldwide. An estimated 3.5 million children die from related causes every year. Yet, research shows that $1 invested in nutrition can yield up to $138 in better health and increased productivity later in life. This is an investment the United States should continue to make -- both by improving food aid quality and by focusing on maternal and child nutrition through Feed the Future and the Global Health Initiative.
In June 2011, more than 350 high-level government officials, leaders of civil society organizations, and activists from around the world met in Washington, D.C., to build political momentum for specific nutrition efforts in the thousand-day window -- helping to save the lives of at least one million children annually. Two years later, on June 10, 2013, Bread for the World, Concern Worldwide, and other key organizations will reconvene under the theme, "The Next 1,000 Days." Participants at the 2013 international meeting will discuss progress, develop a blueprint to keep up the momentum, and garner political support.
Our international meeting follows the "Nutrition for Growth" pledging event in London on June 8, 2013, which will focus on donor country commitments to maternal and child nutrition. Both events take place just before this year's G8 meetings, at which President Obama and other world leaders will gather. We hope and pray that they will recognize the foundational role of nutrition in international development.
As the world's largest provider of food aid, the United States must lead the way in improving its quality and the efficiency with which it is delivered--to better target undernourished women and children. The president's budget proposal is an encouraging sign of progress.
SUBSCRIBE AND FOLLOW
Get top stories and blog posts emailed to me each day. Newsletters may offer personalized content or advertisements.
Learn more