Jerry West - the NBA's Logo and an architect of a few NBA title teams in LA -- argued last week that the current Lakers have a problem on defense.
...(West) said the Lakers are "getting long in the tooth" and drew a correlation between the team's age -- 10 players on the roster are 30 or older -- and a lack of defensive consistency. "If there's a loose ball now, how often do they get to it? The reason you can't play defense is because you can't," West said.
West went on to elaborate on his observation about the team's age.
West... predicted the Lakers' age will catch up to them. "I don't think the Lakers will be good for much longer. You can keep a car running for a long time by changing the tires, etc. But you can't change a player's tires," he said.
When we look at the data, it appears West is a little bit wrong and a little bit right.
Let's start with defense. People tend to focus on points scored per game in examining a team's offense or defense. But because teams play at different speeds, scoring per game is deceptive. A better approach is to examine a team's efficiency, or points scored per possession.
When we take this approach, here are the top teams last season in terms of points allowed per 100 possessions (or defensive efficiency).
Charlotte Bobcats: 99.54
Milwaukee Bucks: 99.90
LA Lakers: 100.66
Orlando Magic: 101.09
Boston Celtics: 101.16
Cleveland Cavaliers: 101.43
San Antonio Spurs: 101.45
Miami Heat: 101.68
Oklahoma City Thunder: 101.72
Utah Jazz: 101.83
And here are the top teams this season in terms of points allowed per 100 possessions.
Chicago Bulls: 96.62
Boston Celtics: 98.14
New Orleans Hornets: 99.08
Milwaukee Bucks: 99.29
Orlando Magic: 99.80
Miami Heat: 100.00
San Antonio Spurs: 100.93
Memphis Grizzlies: 101.17
Indiana Pacers: 101.28
LA Lakers: 101.48
So the Lakers have declined a bit with respect to defense. Per 100 possessions, the Lakers -- relative to last year -- are giving up a bit less than one additional point. But the Lakers are still an above average defensive team.
And of course, defense is only half the game. When we consider efficiency differential -- or offensive efficiency (points scored per 100 possessions) minus defensive efficiency -- we see that the Lakers are overall a bit better this year than they were in 2009-10.
Again, for perspective, here are the top teams in efficiency differential last year.
Orlando Magic: 7.95
Cleveland Cavaliers: 6.92
Utah Jazz: 5.50
San Antonio Spurs: 5.36
Phoenix Suns: 4.99
Atlanta Hawks: 4.97
LA Lakers: 4.90
Denver Nuggets: 4.15
Boston Celtics: 3.87
Portland Trail Blazers: 3.63
And here are the top teams so far this season:
Miami Heat: 8.35
Boston Celtics: 8.03
San Antonio Spurs: 7.60
LA Lakers: 7.42
Orlando Magic: 6.32
Chicago Bulls: 5.87
New Orleans Hornets: 3.65
Denver Nuggets: 3.11
Dallas Mavericks: 2.38
Atlanta Hawks: 2.26
So the aging Lakers are actually a better team this year. Unfortunately, although the Lakers differential this season would have ranked second in the NBA last year, their mark in 2010-11 is surpassed by the Heat, Celtics, and Spurs. So the road to another title will not be easy. Nevertheless, relative to last year's regular season, the aging Lakers have actually improved.
West, though, argued that age will eventually play a factor. And on that point, West must be correct.
One can move from a team's efficiency differential to Wins Produced (a measure of player performance derived from efficiency differential and explained at stumblingonwins.com). When we look at each Lakers' Wins Produced, we see that the team is led by Lamar Odom, Paul Gasol, Kobe Bryant, and Matt Barnes (the addition of Barnes is the primary reason the Lakers have improved a bit on last year). Of the team's 32.7 Wins Produced, 28.3 can be linked to the production of this quartet.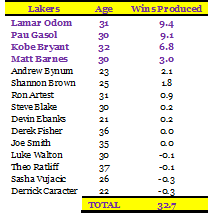 Unfortunately, each of these players is 30 years of age or older. Since player performance tends to peak when a player is in his mid-20s, each of these players are on the downside of their careers.
And that means, West will be eventually right about the Lakers. This team is fairly old, and at some point it is inevitable that age will end a player's career. So someday -- if the Lakers cannot find productive players to replace their aging veterans -- this team must decline.
But that someday does not appear to be today. The Lakers are still a pretty good defensive team. And overall, this is a team that still ranks among the leagues' best. And this is because the Lakers still employ several productive players. Yes, these players are old (by NBA standards). Come playoff time, though, these aging players may still be able to win another NBA title.