It's a sign of the jaded modern sensibility that when a corporation does something charitable, even if it's downright enjoyable, we respond with minor suspicion -- just what do they want from us? We seek the rub somewhere, certain that it's lurking around the next corner. In the case of the Virgin Mobile Freefest held last weekend at the Merriweather Post Pavilion in Columbia, MD, the public had a chance to see acts from Pavement to MIA, Joan Jett to Ludacris, entirely free, with a simple request to donate time and money to a worthwhile charity. Just what's going on here?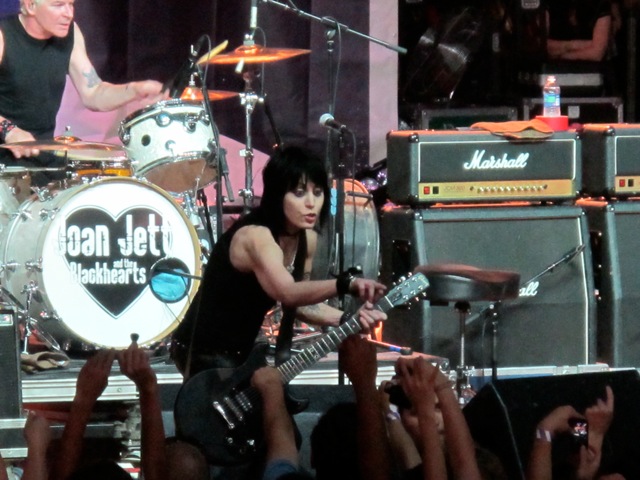 Joan Jett: 'Love with three people is a beautiful thing -- as long as one of those people is me.'
What's going on is this: Virgin Mobile and the team from the stalwart 9:30 Club in D.C. put on three stages of music while raising awareness and money for charities helping homeless youth. Sasha Bruce Youthwork has dealt with child homelessness in the D.C. area for over thirty years. Executive director Deborah Shore puts the number of children who have spent at least one night away from home at 1.5 to two million. That often leads kids toward longer, more dangerous periods on their own. Last year, the festival raised $80,000 and commitments of 30,000 hours of community service from attendees. At the Pavilion this year were children who had passed through the program, some now attending college and others still involved with Sasha Bruce, helping younger children. Hearing those kids talk, clear-eyed without a trace of self-pity, is a powerful thing. They were happy to discuss the benefits of Sasha Bruce -- but they also wanted to see Ludacris.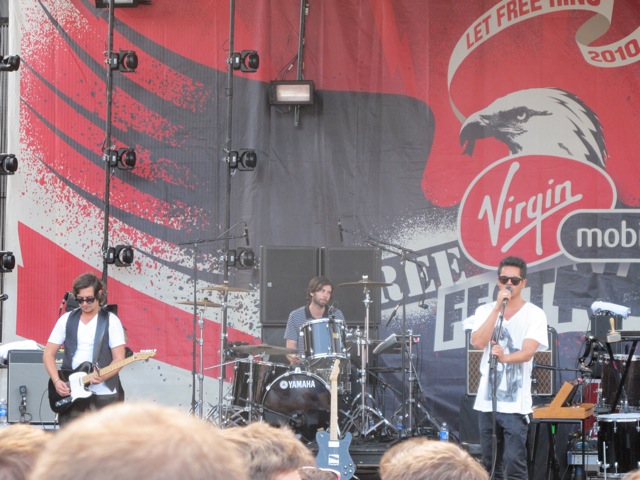 The Temper Trap: propulsive intentions in the Maryland heat
Good intentions aside, how was the music? Quite good, as it happens.
The Temper Trap, a five-piece outfit from Australia, traffics in atmospheric, guitar-driven rock played over martial beats. They're infectious without apology, but also break down into drum-heavy instrumental passages that propelled the crowd despite the sultry heat. Beneath the trees in the Dance Forest, Wolfgang Gartner, a DJ from Austin, delivered an energizing 90-minute set that managed to delight the shirtless fraternity brothers and glitter-flecked pseudo-ravers alike. Later, Joan Jett, in impossibly tight pants, snarled her way through an effective, economic set with favorites dating back to her days with the Runaways.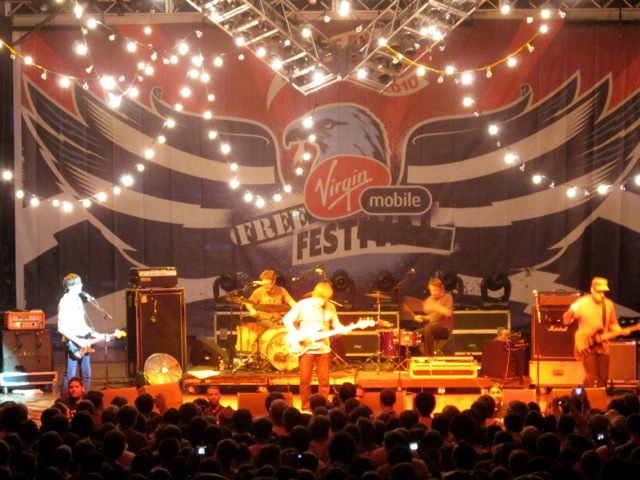 Definitive irony via Pavement
Before the Pavement set, Stephen Malkmus captured the mood perfectly, as is his way, when he said 'We're here for charity with a little cell phone high jinks thrown in.' Pavement was unflappable: expansive and sharp, contemplative and biting. "Gold Soundz" and "Range Life" now register as minor classics that wear their knowingness lightly. Their finale, the bittersweet gem "Here," was the highlight of a day that rewarded good intentions.