The best memorial to the Holocaust that I have seen surprises you from a corner of Kibbutz Mishmar Ha'emek in northern Israel.
A gentle, green slope drops off into a basin of Jerusalem stone. The solitary figure of a woman rises over the basin's walls. Her face is turned into her shoulder. Her arms point straight down, toward her lap. She is holding onto something.
Even from a distance, it tugs at your heart.
In the five weeks I spent working in this village, walking past the monument known as Pinat Hagola, the Corner of the Diaspora, was always special. This is an important memorial, where the words we can speak about the Holocaust are implicit and, amid the silence, the things we cannot say are present.
It is worth the trip to visit.
This is one of the first Holocaust memorials in the world, conceived by the Polish-born artist Zeev Ben-Zvi before the end of the war. The full proportions of the disaster were then not yet clear in Israel, but Ben-Zvi realized something terrible was happening. News of the Warsaw Ghetto Uprising shattered the artist and, as the story goes, Ben-Zvi believed he could not go on with his work until he had made a sculpture to honor the lost Jews of his native Europe - especially the children.
He decided to build it in Kibbutz Mishmar Ha'emek, where he could put his sculpture close to a school and shape the surrounding landscape to be a part of the artwork. Ben-Zvi worked for months, asking only for a shelter and meals while he stayed in the kibbutz. He invited children from the school, just up the path, to help in his work. In 1946, it was done.
Visitors enter the basin through a stone path next to the slope. The woman is caught in a moment of desperate recognition. Her arms are long, far too long for her body. Her fingers are splayed. She is trying to hold onto a child that is crying to her, arms outstretched. But she cannot hang on, and her shawl-covered head curls to her shoulder in grief.
Look closely, and you can see where the sculpture is scarred by the impact of bullets or shrapnel from the Battle of Mishmar Ha'emek in 1948.
Beside the woman and child are three other panels, sculpted with faceless pictures of suffering.
Seven figures huddled together in a row, heads bowed and facing the wall.
Four bodies bent down on top of one another, bowing to lift a single figure that slumps over them, hands stretched out in desperation.
A child curled into a ball, hidden in a tiny space.
A plaque quotes Tosia Altman, a committed advocate for the kibbutz movement and a leader of the Warsaw Ghetto uprising: "Israel is perishing before my eyes. I spread my hands, but my arms are too short to offer deliverance. Save us!"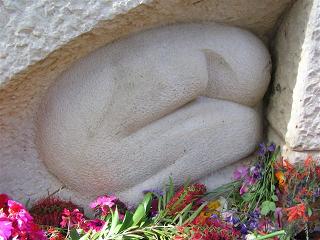 Ben-Zvi's sculpture takes you into the moment of most profound anguish. It takes you into the moment of realization that a person is lost. That is what we see in the mother's face. And from the child's tilted head and open mouth, we hear a deep, instinctive cry, one we cannot answer, only echo. Behind all this pain, we feel fiercely the presence of a kindred spirit, a whole person. We feel proud and protective of that whole person. This memorial does not stop with what happened -- it helps the visitor reflect on the humanity of those it happened to, and affirm it. This place honors them, and their dignity reflects back at us.
It's the polar opposite of the sprawling Holocaust memorial that I see from my window back home in central Berlin. (Photos) Here, the focus is squarely on what happened rather than to whom it happened. The memorial, approved after years of deliberations, consists of an entire city block covered with gray concrete slabs reminiscent of tombstones. They start out low and rise higher and higher toward the middle of the monument, creating the effect of tunnels in the gaps between them. It drives home again and again the reality that humans industrialized killing here 70 years ago.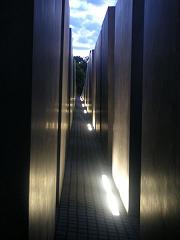 The memorial is not pretty. As such, it avoids the problem of creating an aesthetic experience -- which at some level means a pleasing or spiritual experience -- in connection with the Holocaust. Architect Peter Eisenman has criticized other Holocaust memorials for being too sentimental; he says his work is deliberately disorienting and devoid of meaning. I find it more numbing than thought-provoking, though. I think it does more to close the path to comprehension than to open it. To me, the surest sign that this army of quadrangles has failed is seeing how awkwardly tourists behave around it. Some sit on the low slabs to relax; some hop from one to another. Some play hide and seek in the center of the memorial. Most seem unsure what to make of it. The immediate sense of dignity, that hushing power, is missing. The absence of a life-affirming center to the piece might in a way be the point, even its didactic purpose. But in Germany's most important architectural statement on the Shoah, I see it as a flaw.
To be fair, the memorial incorporates an underground museum that goes a long way to break down the abstraction with exhibits such as a "room of names" featuring biographies of people killed in the Holocaust. And Berlin has smaller, powerful memorials to the Holocaust - for example, a sculpture honoring the Jews who worked at clothing companies around the Hausvogteiplatz.
To me, Mishmar Ha'emek's Pinat Hagola is an example of what we should strive for in public art built in memory of tragedies. Often, the smallest places can say the most.
Have you seen a particularly powerful Holocaust memorial? Please tell us about it by leaving a comment.
This is the last of a three-part series about Kibbutz Mishmar Ha'emek. Check out the first two posts:
Photo credits: First image, Akiva Kaminski. Second image via Imry Ron. Third image, Wikimedia Commons: Torinberl.
SUBSCRIBE AND FOLLOW
Get top stories and blog posts emailed to me each day. Newsletters may offer personalized content or advertisements.
Learn more