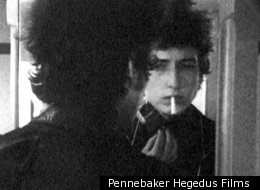 If you put the various Dylans over the last 50 years in a row--from earnest folknik of 1962 to the current Vincent Price Fall-of-the-House-of-Usher Dylan--the witness behind the one-way mirror would object that these perps have nothing in common. I mean who are all these guys? Oh, well, you'd have to say, it's a sort of Desolation Row type police lineup.
Bob Dylan, like any genuine American genius is a chameleon. His solution to the question of identity is that of the three-card monte player. Pick a card. Nope, not that one. Sorry, no, not that one either.
To understand as wildly eccentric and inventive a character as Dylan you have to take his self-mythologizing, tall-tale spinning, perverse statements, contrary points of view as seriously as the so- called facts of his life. What other approach would be appropriate to a character who believes he was born in the grooves of a 78 record, and has spent his life--imaginary and actual--dealing with the gap between the two?
David Dalton is the author of Who Is That Man? In Search of the Real Bob Dylan.
As if the enigma of Bob wasn't mysterious enough, check out his home town, Hibbing, Minnesota. That picturesque Main Street! But you know what happens to towns like this in sci-fi movies. It's just begging for some alien entity to descend and vaporize it. Something really horrible did happen to Hibbing but it wasn't extraterrestrials that did it. Main Street ends at the site of the biggest man-made hole in the world--an existential allegory of industrial greed gone mad if ever there was one. Like a village in a fairy tale, Hibbing cannibalized itself in search of iron ore, in the process undermining the very foundations of the town. When the ore ran in the 50s, so did the jobs, and the town underwent a depression from which it never entirely recovered. If the biggest hole in the world had an effect on Dylan, why hasn't it shown up in any of his songs? Or has it? Or is that what he's been doing, filling it up?

Dylan in Don't Look Back miming the words to "Subterranean Homesick Blues." It goes something like this: Maggie comes fleet foot Face full of black soot Talkin' that the heat put Plants in the bed but Bob wrote this stuff so why would he need cue cards? Actually, when English starts to sound like speed-freak Esperanto, it's we who need cue cards. What kind of music is this exactly? It's sort of as if Baron Frankenstein had grafted Jack Kerouac onto Chuck Berry and shot them up with methedrine. Oh, yeah, and incidentally he's just invented the rock video 16 years before MTV and rap 15 years before Grandmaster Flash and the Fabulous Five. Dylan was way ahead of his time--at this point he was traveling at the speed of light. (Oh, and that's Allen Ginsberg chillin' in the corner like some hash-eating Merlin.)

Here's Bob's brain. Actually--and I'm not exactly proud of this--but we actually stole a copy of Bob's brain in order to write Who Is That Man? That's why it's the only, genuine, authentic, psycho-biography of Dylan you will ever read. We sneaked it off of a cat scan from when he was, you know, in the hospital in 1997 with, uh, histoplasmowhatever. Jesus, the things we descend to in the name of "investigative journalism." And, okay, we already knew quite a bit about what goes on in his head--that's what his records are. It's pretty crowded in there. I mean just check out the topics from his Theme Time Radio Hour: coffee, jail, fathers, Lefty Frizzell, Blue Hawaii, people with "Little" in their names, Prince Buster, dogs, People Who Were Cheerleaders (Ann-Margret, George W. Bush), radio, the Bible, electric chairs, water, time, Gertrude Stein, guns, sleep, Thanksgiving leftovers, People Who Died Playing Cards (Wild Bill Hickok, Buster Keaton, Arnold Rothstein), the moon, Snow White, Etta James, women's names, hair, luck, tears, shoes, Texas, trains, Ernest Tubb, spring cleaning, and Lou Reed. Dylan has a psychic membrane so porous he's actually contagious.

Elvis is probably thinking, "Which one of those freaks should I shoot first." They're the odd couple--the really odd couple. Bob is a little stunned. First of all, he didn't realize Andy was gay; why would he? Andy's always seen out with Edie and Bob is so innocent in the arts of deception, in his own way. Andy and Bob dress alike, almost exactly alike-- leather jacket, jeans, shades. And they even the same drug of choice: speed. And they talk the same, too. That is, not at all. Until one day Bob got to the Factory and there's a bunch of gay speedfreaks pirouetting to a Maria Callas record, blasting, and talking in the spin-cycle, methedrine speak about where Judy Garland hid her pills. They're just two aliens from hyphenated galaxies, but now it's time for business "Hey, I think I'll take that one," Dylan told a surprised Andy. It was payment for three minutes of work (sitting for his cinematic "screen test"). This caught Andy speechless, not hard to do. Dylan proceeds to put the Elvis on top of his car, like a deer poached out of season. Toys with it at home, allegedly putting a hose through Elvis's crotch. Anyway he had so little regard for this work of high art he traded it to Albert Grossman for a couch! A couch! Albert's widow, Sally Grossman, sells it for $650,000. It's priceless now. Last laughs on Bob.

Shh.... Bob's thinking.... Dylan is the Prince of Denmark at his moodiest. Don't even look at him--it could dislodge those volatile molecules in his brain--he's that sensitive. Anyone who can hear the night watchman click his flashlight and the all-night girls out on the D train at the same time has some very sensitive cerebral machinery. It's as if Hamlet just imagined the whole play he's in-- it must be something like Elsinore on endless winter nights-- sexual tension spiking between the murders, suicides, poisonings, plots. You could say, well, it's all just inside his head, but the problem is now it's inside ours as well. How are we ever going to get those black-lit spectral images out of our heads: "the ghost of 'lectricity howls in the bones of her face," "the skeleton keys in the rain," and "jewels and binoculars hang from the head of the mule"? You're waiting for your subway train, you're in the psycho-pharmacologist's waiting room and suddenly they pop into your head unbidden, like brilliantly illuminated like stroboscopic flashes. Jesus, we've ingested him! And there really isn't a pill for that--yet.

ho knew that Pope John Paul II dug Bob? Did he sit in some ancient grotto with a bowl of sensimella and listen to Bob Dylan's Greatest Hits? And then apply biblical type pot-head exegesis to the lyrics? "You say the answer is blowing in the wind that blows things away," he tells an astonished Dylan. "It is the wind that is the breath and life of the Holy Spirit..... You ask me how many roads must a man walk down before he becomes a man. I answer: There is only one road for man and it is the road of Jesus Christ." "Jesus," Bob must have thought, "the Pope's turned into another Dylanologist!" The Pope loves "Blowin in the Wind" but Bob, contrary as ever, refuses to sing it. As he once asked Paul McCartnery, when asked to sing the dreaded song at the Concert for Bangladesh, "Are you going to sing 'I Wanna Hold Your Hand'?" Apparently there was a bit of a brouhaha before Dylan's appearance. According to the Times of London, the pope's chief aide, the former cardinal Joseph Ratzinger (now Pope Benedict XVI), was "so appalled at the prospect of the pontiff sharing a platform with the 'self-styled prophet of pop' that he tried his utmost to stop the spectacle." According to Benedict, he doubts to this day whether it was right to let this kind of so-called prophet take the stage in front of the Pope. He thinks that rock music is the work of Satan. Forget Dylan, the pope has even ordered guitars banned from all masses. We always hoped rock music was dangerous, but who knew the guitar itself could threaten to overthrow Christianity?

Ever since Elvis, a movie was a must for any obnoxious little rocker who had reached a certain pitch of stardom. The vampire of 4th street wanted to see his new self, the New Model Hipster and just at that moment--well, maybe a year or so earlier--a new way of capturing reality on film had been invented by a troika of filmmakers, among them the cinéma-vérité wizard D. A. Pennebaker, who directed the classic Dylan documentary, Don't Look Back. But Bob wasn't that happy with this approach, which he called "Pennebaker by Dylan," so he took footage of his 1966 tour of Europe and edited it into his own nutty film, Eat the Document. Dylan rises up from behind a piano, cupping his hands over his nose. "Rick Danko and I are going to snort some methedrine" Dylan announces blithely. "This is what it's like. This is life on the road. Film it, let the truth be our judge." And we're off. It's a euphoric dopamine rush: high- speed, frenetic, disjointed, and disorienting. We're only 30 seconds into Eat the Document and our cerebral cortex is jammed. We've got a serious contact high. The camera lurches, careens, crashes into things, gets distracted, wanders off, interrupts itself. The camera leers at the world through its wiggy 10mm fish- eye lens and registers it on phosphorescent film stock. The piano has been drinking, the furniture is restless, the wallpaper is changing its spots. No wonder ABC wanted it destroyed. So funny, the boys were actually trying to do something for television, even allowing for commercial interruptions!

This is Bethel, you know, the actual place where Woodstock took place, the very event he avoided like the plague in 1969. The whole Woodstock Nation thing so freaked him out he actually left the country, went to an island off the coast of England and performed a (pretty lousy) set at the Isle of Wight Festival. The bumper stickers for that festival said "HELP DYLAN SINK THE ISLE OF WIGHT!" That's how heavy the guy was in those days. Bob did attend Woodstock '94, however, and in a supernatural gesture made the rain stop for the exact duration of his set. And he still claims he isn't God? Then last year he was back again. Now he can't get enough of the place. This time he virtually levitated the joint. I began to think Bob's not only a Living National Treasure, he's, y'know, a freaking psychic entity, man--and we were all participating in a kinda group soul. Okay, the air was pretty thick with hydroponic pot, but, still.... As if Bob's return to the site of the original Woodstock Festival weren't ironic enough, at Bethel Woods there's a museum devoted to the '60s-- as if it were fifth- century Athens or something. Tie- dye T-shirts, I swear, are displayed with the same historical appraisal as Louis XV furniture. It's like Karl Marx said, the first time around history is a big rock festival that everybody takes far too seriously, the second time it returns as farce.

So, who is he? Which one is he? Bob isn't exactly sure himself. "It could be I or it could be the 'I' who created me. And also, it could be another person who's saying 'I.' When I say 'I' right now, I don't know who I'm talking about." Hell, we'll just interview Bob ourselves and ask him. We're optimists! You have to be up for it, the business of interrogating Dylan, because it's one of the most infuriating, exasperating, self-deluding, pointless, and masochistic exercises in all of pop music. And, with whatever wily ploy we plan to spring on him he's as slippery as an eel, a Talmudic twister, a syntactical snake, and besides he's the Jack of Diamonds, he holds all the cards and he's been turning the tables at this game for 50 years now. We know what we're up against. There's a listing on the internet of the Ten Most Incomprehensible Bob Dylan Interviews of All Time, but these aren't the problem--we like the incomprehensible Dylan. Hey, the most incomprehensible are the ones we like! What else do you need to know about this guy? Okay, Bob, just grab your shades, the polka-dot shirt, and we're done.

Who is this? Some character who just walked out of an Edgar Allan Poe story, the villain from a silent movie, a riverboat gambler. Who is this dude? It's the most unexpected and spooky incarnation Dylan yet. Has this wily, wizened old coot--straight out of American folklore--been there all along, the enigmatic face behind Dylan's many disguises? He was on the cover of a Chinese magazine when he performed at the Worker's Stadium Arena in Beijing in 2011. Let's face it: by the early 80s even the multiphrenic, shape-shifting Bob was on the horns of a dilemma--epitomized by an album called Empire Burlesque--Dylanologists are still debating what the hell the title means (Google it!). But, let's face it disco and the Don Johnson jacket on the cover were a little out of Dylan's range. His solution was the Never Ending Tour. He's devised the oddest of the recluse's tricks: hiding in plain view onstage for the last 24 years.