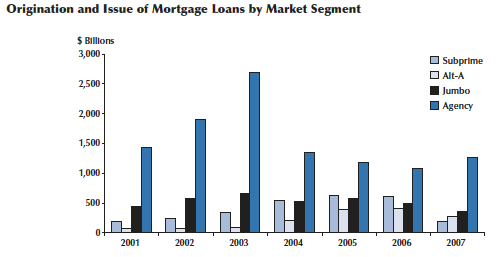 Fed Funds Rate


I can give you a history of how many different types of floating rate loans we tried simply because the market wants more floating rate than it wants fixed. Every one of them blew up until Jim Montgomery created the California ARMs with caps and a floor. We never had a floating rate that didn't blow up on us. And that one is only a collar. All of these other structures that we have now never stood the test of time. You have nothing to prove to me that it's not going to blow up in your face.

So the only structure that we know that has stood the test of time, when they don't monkey with it, is the 15-year self-amortizing and the 30-year and the Jim Montgomery [coffee?] ARM, although that's only a collar. So when there are violent interest rate moves it gets kind of scary.
The relatively worse performance of private-label MBS-financed mortgages was consistent across origination years and, within each year, across nearly all groups of loans with similar LTV ratios and FICO scores.
SUBSCRIBE AND FOLLOW
Get top stories and blog posts emailed to me each day. Newsletters may offer personalized content or advertisements.
Learn more