In an essay written in the 1930s, the poet Paul Valéry reflected on an extraordinary era:
Degas plus Renoir; Monet plus Cézanne; and in the same way, Verlaine plus Mallarmé...
A rich period it was indeed in Paris--with its wealth of discoveries in painting and poetry between 1860 and 1890...
No city has been painted as often by as many talented artists in a short span of time as Paris in the late nineteenth century. This remarkable body of work is featured in a current exhibition at Paris' Hotel de Ville, "Paris in the Time of the Impressionists," comprised of paintings borrowed from the Musée d'Orsay during that museum's renovations.
The exhibition displays Paris from many points of view, by painters with many different attitudes. There are somber images, including an early Gauguin of the Seine, bleak in the snow, the river dark green, a few pedestrians hunched against the cold, dressed in black; a melancholy van Gogh of the terrace of La Guinguette cafe in Monmartre, in dark greens and browns; and a Carriere of Place Clichy at night, shrouded in a dense fog. But the celebrated images are bright: an 1875 Monet of the Tuileries, in soft, light greens, pinks, and oranges; an 1877 Monet of the Gare Saint-Lazare, looking out through the white smoke of the station to a sunny blue sky; a 1901 Luce of the Quai Saint-Michel, with the façade of Notre Dame glowing in the red light of sunset; and a 1903 Pissarro of the Seine and the Louvre, bathed in the pinks and light blues of early morning.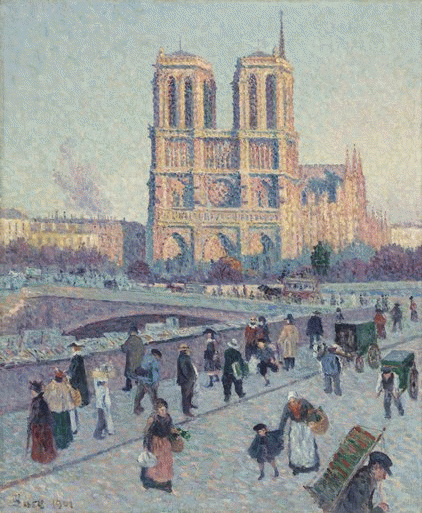 The Quai Saint-Michel and Notre-Dame, Maximilien Luce, 1901, Musée d'Orsay
The Impressionists painted the city as if it were the countryside. They gave pride of place to its parks, and when they painted its buildings, they gave them the bright and varied colors of nature. Theirs are the lasting images--the ones we think of as we walk around the city, and that we carry with us when we think of Paris from a distance. This delightful exhibition collects a number of works of high quality, both familiar and less so. A walk through it leaves no doubt as to the accuracy of Valéry's prediction "that that period of thirty years will appear more fruitful and important than the famous era of romanticism, from 1825 to 1855."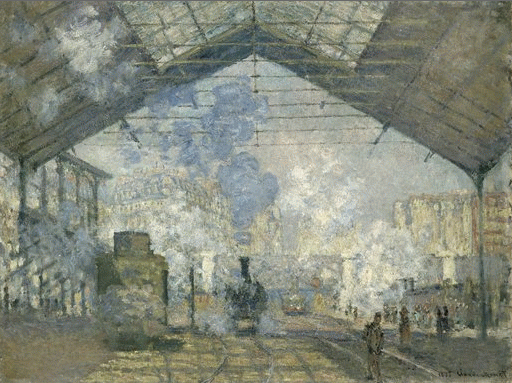 SUBSCRIBE TO & FOLLOW CULTURE SHIFT
Every Friday, HuffPost's Culture Shift newsletter helps you figure out which books you should read, art you should check out, movies you should watch and music should listen to. Learn more