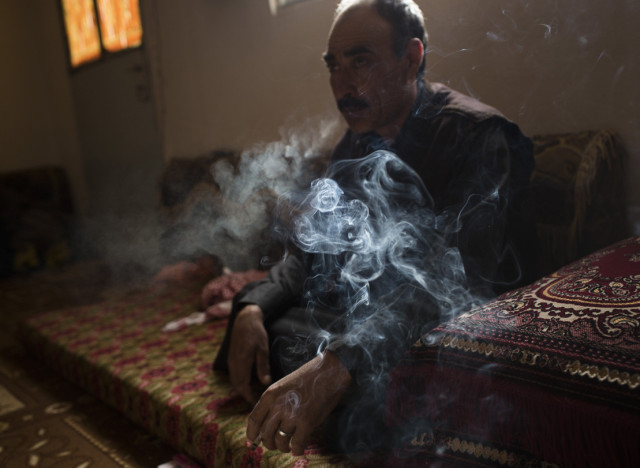 Soud Hazza was a sheep herder in Syria before fleeing to Jordan as a refugee when fighting found its way to his home village of Maqsar Hisan. Everything he left behind is confirmed to be destroyed and now as a refugee he is forced to sit idle, legally prohibited from working. (March 30, 2014. David Maurice Smith/Oculi.)
Not since the horror of World War II has the planet seen a forced migration the size of the Syrian diaspora that began three years ago when seemingly innocuous government protests escalated into a bloody civil war. The subsequent implosion has left 9 million Syrians displaced, 2.5 million of whom have fled across borders into neighboring countries as refugees.
The Kingdom of Jordan has taken in over 600,000 Syrians since the fighting began, struggling to house the unanticipated numbers of new arrivals in refugee camps whose resources have been pushed well beyond their limits. An estimated 80 percent of the Syrians in Jordan have hunkered down outside camps, fending for themselves to avoid the poor conditions and detainment associated with camp life. The trade off: Outside the camps Syrians have less access to the aid on offer and are more susceptible to the unsavory forces attracted to those in positions of desperate need.
Wherever Syrians have found themselves, in addition to having lost their homes and their livelihoods, they are saddled with the emotional traumas inflicted by witnessing their communities destroyed and families and friends senselessly murdered. While proving challenging beyond all initial estimates, the difficulty of providing logistical solutions to their influx will pale in comparison to the greater long-term task of healing these deep wounds.
This post is the first of two parts by Oculi collective photographer David Maurice Smith documenting Syrian refugees in Jordan, initially looking at those living outside camps in the urban areas near the Syrian border.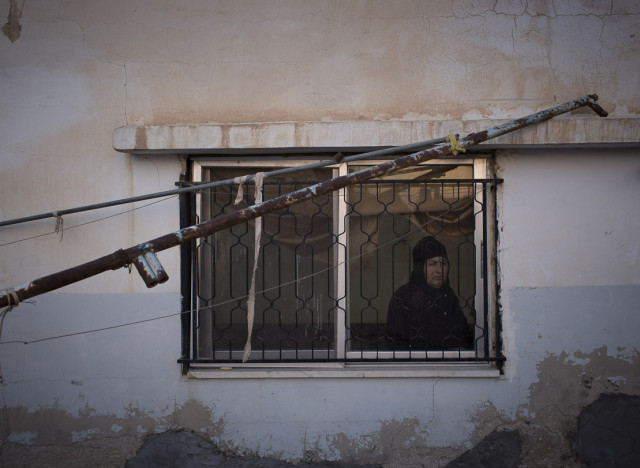 An elderly Syrian woman, face marked with traditional tattoos looks out the widow of a rented house in Azraq, Jordan. (March 29, 2014. David Maurice Smith/Oculi.)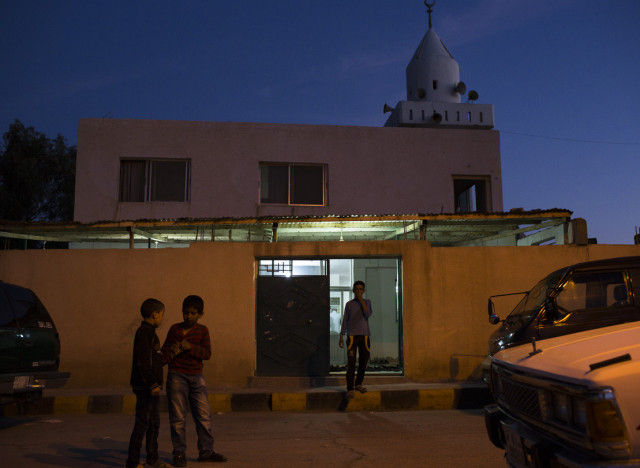 The central mosque in Azraq, Jordan. For many of the male Syrian refugees now calling Azraq home the mosque has provided a needed feeling of connection and stability. (March 29, 2014. David Maurice Smith/Oculi.)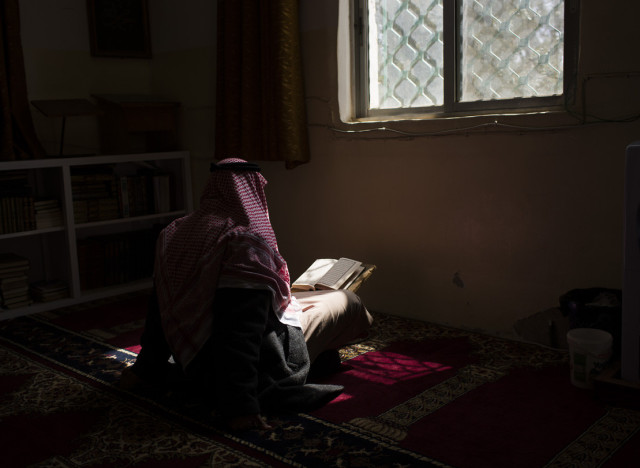 A man reads from the Koran at the central mosque in Azraq, Jordan. (March 31, 2014. David Maurice Smith/Oculi.)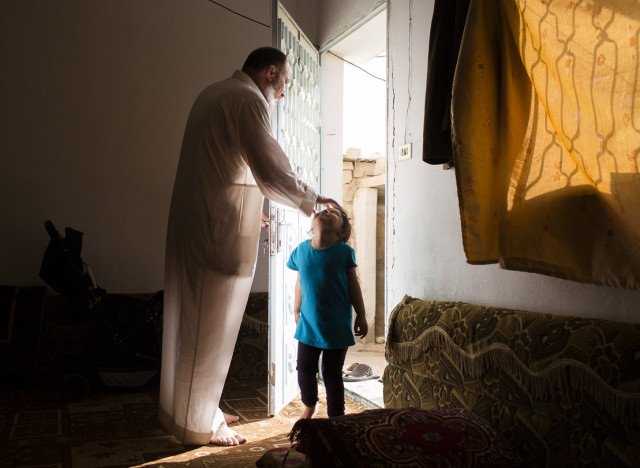 Hammoud Banikhaled greets his four year old daughter Ghazal at the door to their rented house in Azraq. A farmer, Hammoud fled his rural village of Masqar Hisan with his wife, mother and five children, leaving behind his eldest son who had been imprisoned by the regime. (March 29, 2014. David Maurice Smith/Oculi.)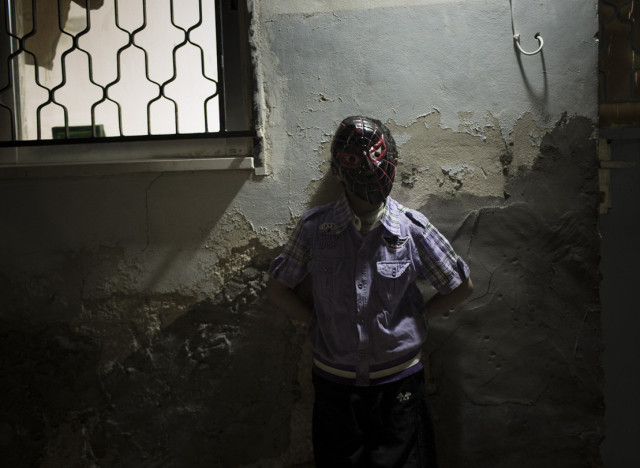 Six-year-old Imran Banikhaled pauses during play outside his families rented home in Azraq. Since arriving as a refugee in Jordan, Imran has not been able to go to school and has taken a job working in a local shop. (David Maurice Smith/Oculi.)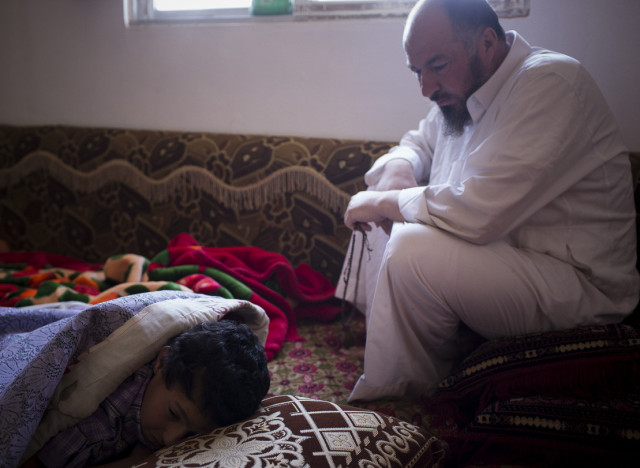 Hammoud Banikhaled rouses his six-year-old son Imran early in the morning to go to his job working in a local shop. All the men in the family have found temporary jobs to help support the family. (March 30, 2014. David Maurice Smith/Oculi.)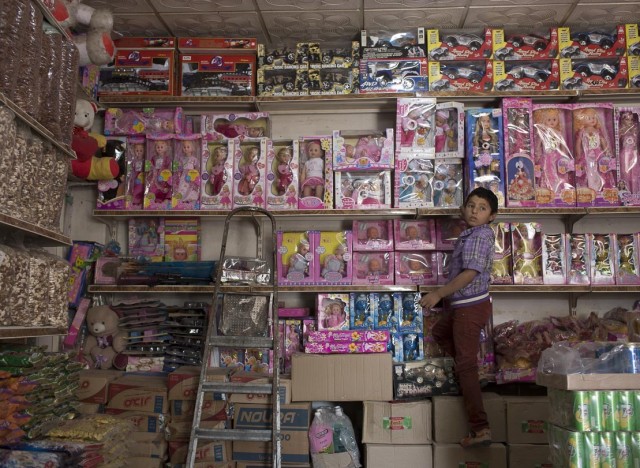 Six-year-old Imran Banikhaled at his job in a local shop in Azraq. (David Maurice Smith/Oculi.)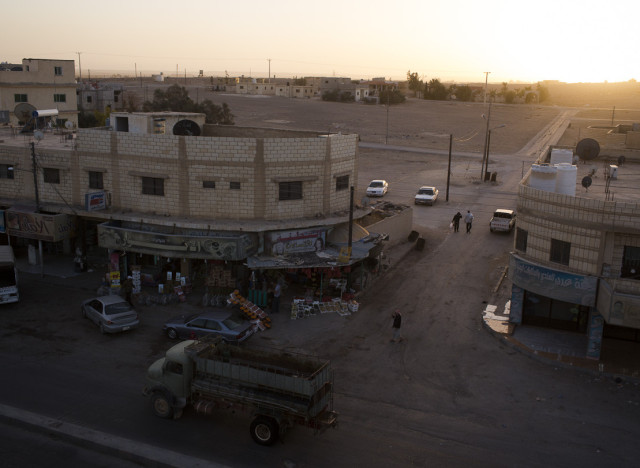 The town of Azraq, Jordan. With a name translating to mean "blue" in Arabic (a reference to the abundant water pools that used to grace the region), Because of its location near the Za'atari refugee camp and the Syrian border Azraq has become a destination for many Syrian refugees. (March 31, 2014. David Maurice Smith/Oculi.)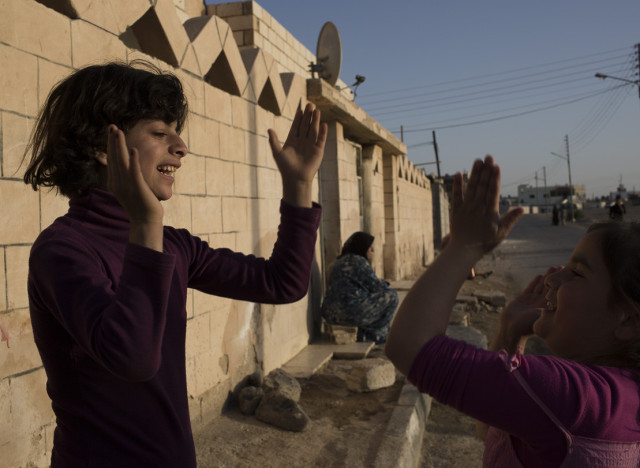 Syrian girls play games on their street in Azraq, Jordan. (April 1, 2014. David Maurice Smith/Ocui.)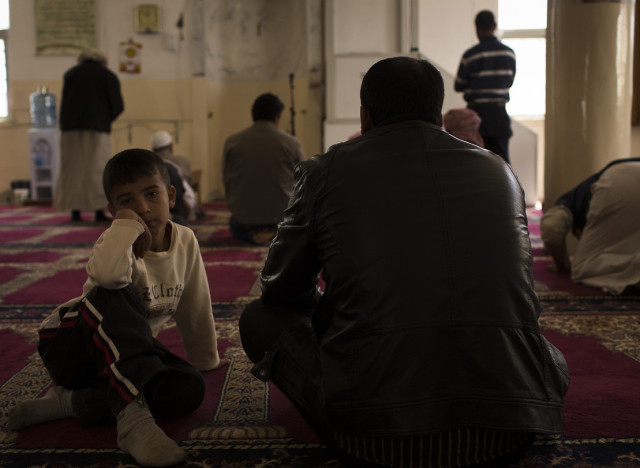 Inside the central mosque in Azraq, Jordan. For many of the male Syrian refugees now calling Azraq home the mosque has provided a needed feeling of connection and stability. (March 31, 2014. David Maurice Smith/Oculi.)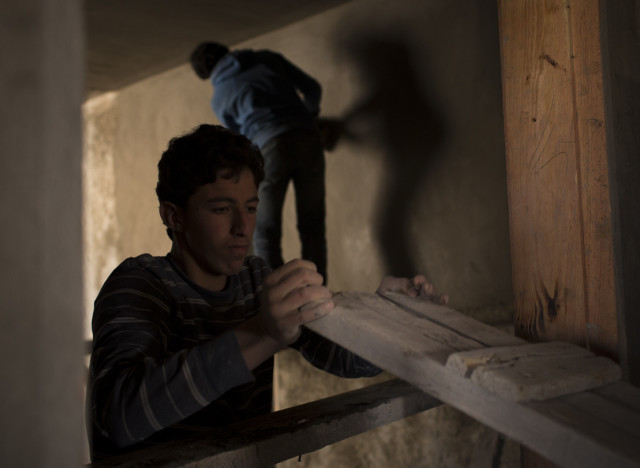 Sixteen-year-old Omar Banikhaled works as a renderer to help support his family in Azraq, Jordan. As a refugee Omar is not legally allowed to work and risks being sent back to Syria if caught. However like so many other men, the immediate need of helping provide for their family outweighs the risks involved. (March 31, 2014. David Maurice Smith/Oculi.)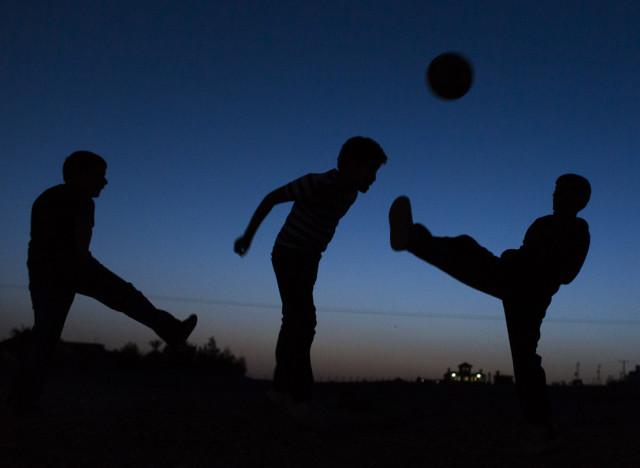 Young Syrian refugees play soccer at dusk in Azraq, Jordan. (April 1, 2014. David Maurice Smith/Oculi.)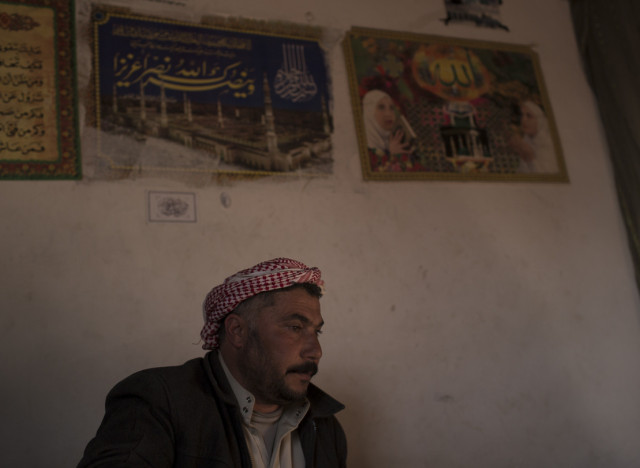 Awad Alsayaleh lives in a canvas tent with his wife and six young children in the town of Azrtaq, Jordan after fleeing their village near Homs almost a year ago. They spent several weeks moving from one town to the next in Syria evading the regime's bombing campaigns, until making there way to the border with Jordan. (March 31, 2014. David Maurice Smith/Oculi.)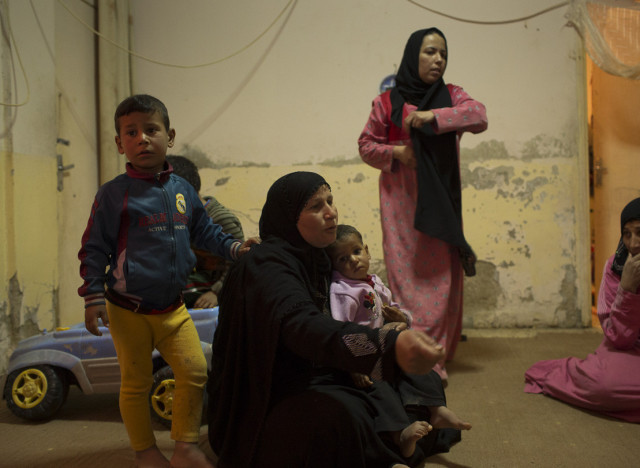 Sharkieh Hamada (seated in black surrounded by family members) describes the harrowing journey that brought her husband and six children to live in Azraq after fleeing for their lives from their home in Homs, Syria. (March 31, 2014. David Maurice Smith/Oculi.)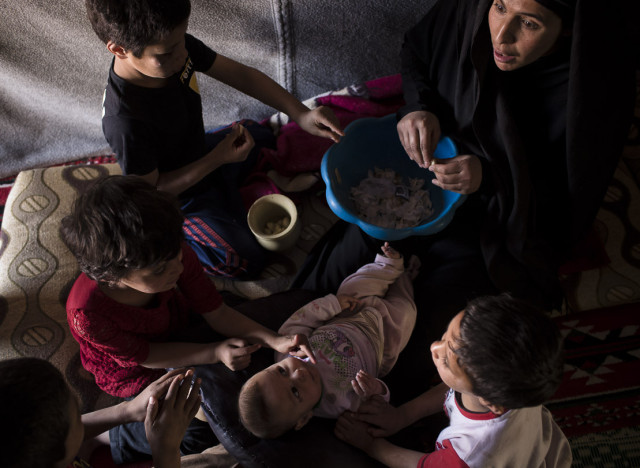 Faten Khdairi surrounded by five of her six children in the temporary shelter that they have errected on a plot of land they rent in Azraq, Jordan. The family fled Homs over a year ago after their home was bombed on two separate occassions. (April 4, 2014. David Maurice Smith/Oculi.)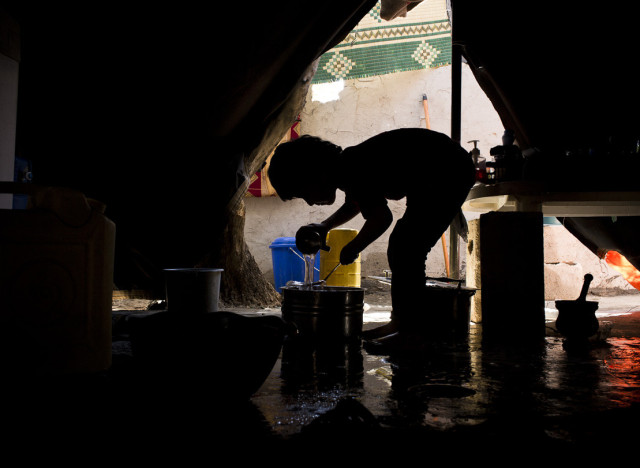 Ghusn Khdairi cleans dishes in the kitchen area of the temporary shelter her family rents in Mafraq, Jordan. (April 4, 2014. David Maurice Smith/Oculi.)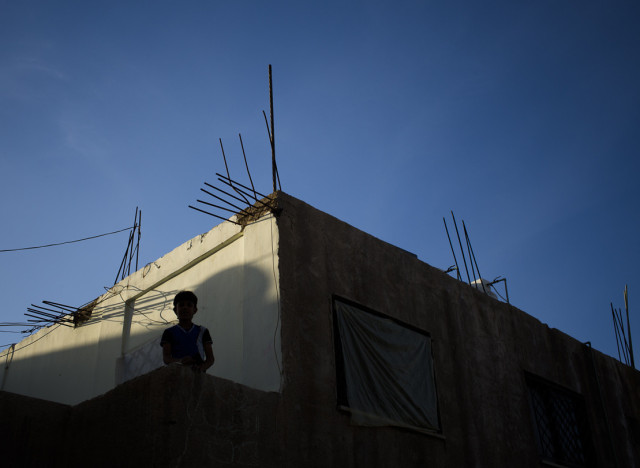 Dusk in the Al Hussein neighborhood in Mafraq, Jordan. The area has a high concentration of Syrian refugees due to its proximity to the Syrian border and the Za'atari refugee camp. (April 6, 2014. David Maurice Smith/Oculi.)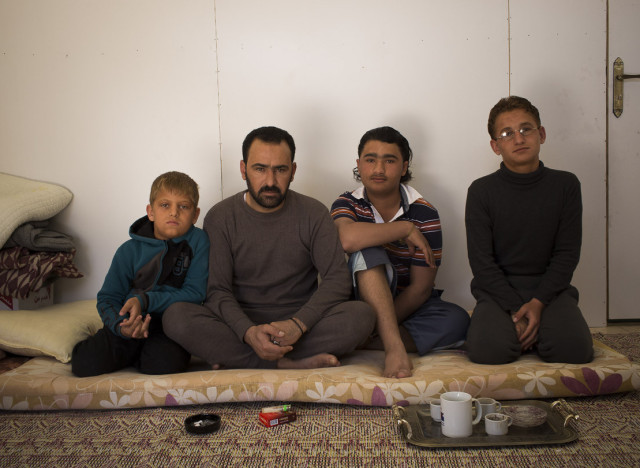 Sameeh Faware with his four sons in the modified shopfront they call home in the Hei Al Hussein neighborhood of Mafraq, Jordan. Sameeh, and his boys left Syria with nothing but the clothes on their backs during a bombing campaign on their neighborhood in Homs. For the boys life has been hard: prior to their escape their mother was found dead, presumably the victim of a regime sniper. (April 5, 2014. David Maurice Smith/Oculi.)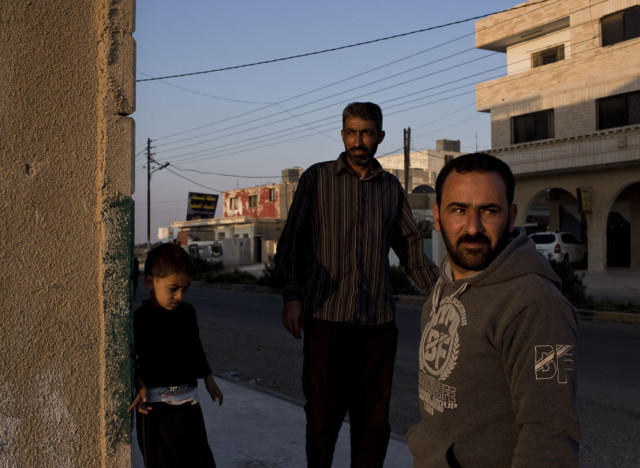 Sameeh Faware (right) with one of his four sons (left) and a neighbor on their street in the Hei Al Hussein neighborhood of Mafraq, Jordan. (April 5, 2014. David Maurice Smith/Oculi.)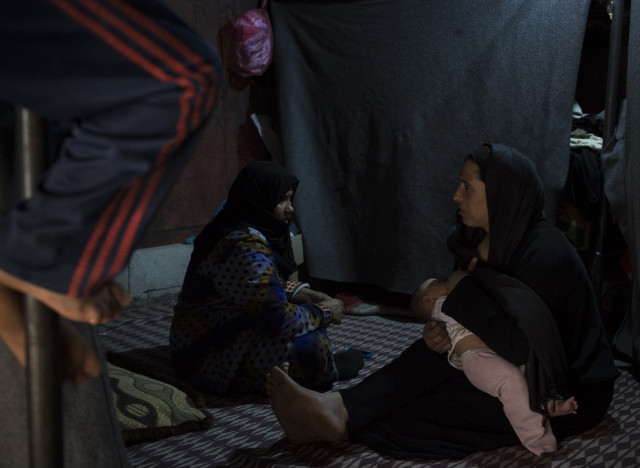 Faten Khdairi feeds the youngest of her six children in the temporary shelter that they have erected on a plot of land they rent in Azraq, Jordan. (April 4, 2014. David Maurice Smith/Oculi.)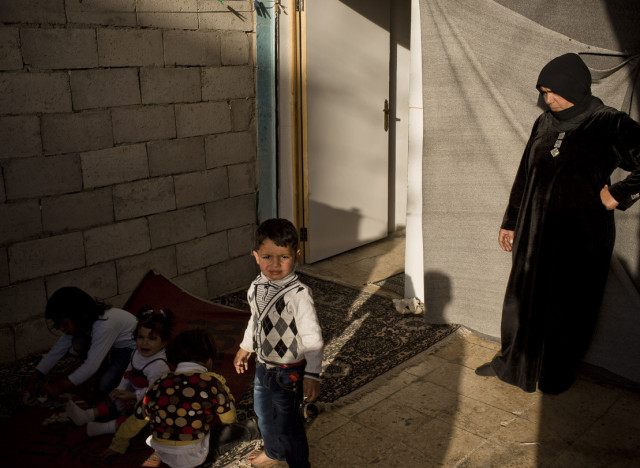 A Syrian family gathers outside the shopfront that the are renting in the neighborhood of Al Hussein, Mafraq, Jordan. (April 6, 2014. David Maurice Smith/Oculi.)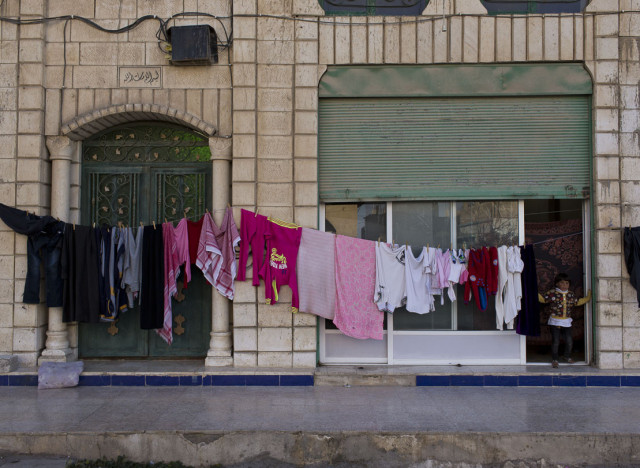 A young Syrian girl pauses in the doorway of the empty shopfront that her family has rented on a busy street in Mafraq, Jordan. With over 600,000 refugees flooding into the country, many desperate Syrians are renting rooftops, storage containers, shopfronts, and sheds from Jordanians eager to benefit from the increasing rents associated with the growing demands. (April 6, 2014. David Maurice Smith/Oculi.)